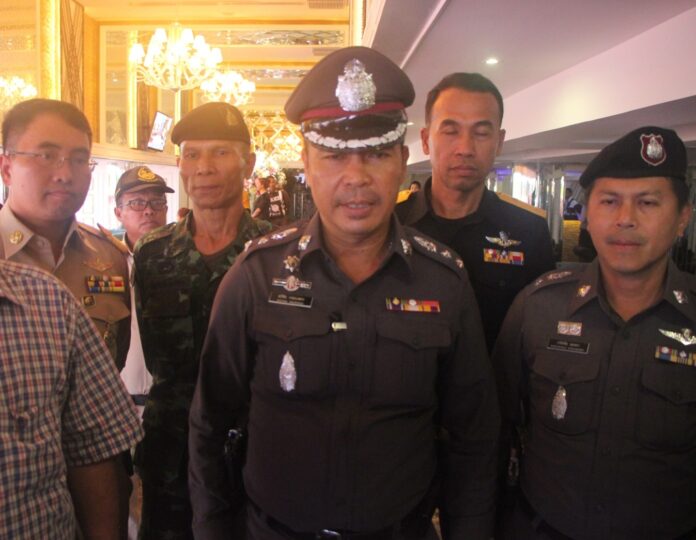 PATTAYA — The new commander of Pattaya police said preventing crime and keeping tourists safe are his top priorities.
Formerly police commander in the southern province of Trang, Col. Apichai Klobpetch made the pledge on the fourth day on the job in the coastal resort town renowned for its checkered nightlife, high criminality and endless stories of scams and fraud.
In a phone interview, Apichai outlined three policies Pattaya police will pursue under his command: better roads, policing and safety.
"First, we will manage the traffic, to provide convenience to tourists and reduce accidents. Second, we will decrease crimes. We will put a control on crimes, to make them happen as rarely as possible," Apichai said. "Third, and this is the most important one, taking care of tourists' safety. We will provide security for their lives and possessions."
Apichai said he is undaunted by Pattaya's reputation as a place where tourists are assaulted and scammed almost on a daily basis.
"I'm not troubled," Apichai said. "We will develop our police force to work with strength. We will keep their morale high."
On Wednesday night Apichai led an inspection of five massage parlors in Pattaya's red light district to look for any wrongdoing. He said he found none but instructed the owners to strictly respect the law.
Apichai talks to the owner of one of the massage parlors in Pattaya on Wednesday.
Apichai's appointment is a part of a massive shakeup in the national police force, which has seen hundreds of officers reshuffled around the country.
Apichai replaced Col. Sukthat Pumpanmuang, who had been the head of Pattaya Police Station since early 2015. Sukthat, now the commander of a police station in the relatively more peaceful province of Chachoengsao, said he has full confidence in in his successor.
"I went to the same class in the police academy with him," Sukthat said. "I believe he's ready to tackle the challenges. He used to work in the southern border provinces, so he can handle it."
Asked to reflect on his past job, Sukthat said he's "satisfied, to a certain degree."
"I wouldn't say the situation in Pattaya got better under my watch," Sukthat said. "It's not exactly 'better.' We managed to hold the line. Pattaya is a tourist city, so we certainly faced many issues."
His advice for Apichai? Be prepared.
"Prepare your mind well to face any issue, because it's a tourist city," Sukthat said. "Each day, so many issues happen. So many issues. It's not really serious, but they are mostly about money. I want him to be prepared."
Related stories:
Pattaya Baht Bus Driver Beaten by Tourists
Sex Worker Arrested for Attacking Italian Tourist in Pattaya 
Young Recidivist Arrested for Snatching Tourist's Bag in Pattaya