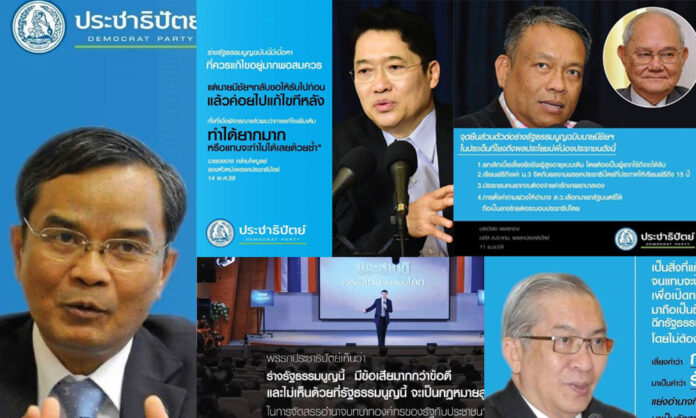 BANGKOK — The Democrat Party appeared to launch a slick online campaign Thursday featuring its top leaders criticizing and opposing the draft charter promoted by the junta, complete with the party's logo and branding, except for one catch. Reached for comment, a party leader said he has no clue where it came from.
"Someone faked it," said deputy party leader Ongart Klampaiboon. "I think the Election Commission should look into it."
The party was caught off guard, Ongart said, and has not met to discuss the matter.
"We can't quite assess its intent," said Ongart, who was featured in one of the posters.
"This draft charter contains a lot of language that should be amended, but Meechai [Ruchuphan, head charter drafter] instead asked us to accept it first then amend it later, despite the fact that after the scrutiny, it was found amending it would be very difficult or almost impossible," read the poster attributed to comments Ongart made on May 14.
The quote, he said, was mostly accurate.
Other images and quotes come from the likes of party leader Abhisit Vejjajiva and deputy leader Nipit Intarasombat.
Asked who might be behind the campaign, such as members of the opposition Pheu Thai Party, the Redshirt movement, pro-democracy activists or even some elements within his own party, Ongart said didn't know.
"We don't want to guess. But using our logo is problematic," he said, adding that each senior Democrat member featured in the posters must check if they've been misquoted in them.
It will be difficult for the party to meet and discuss the matter, as it has been illegal for them to do so since the May 2014 coup. Both sides of the political divide have criticized the charter going to public vote on Aug. 7 as undemocratic and regressive. However the military government has criminalized most forms of campaigning or criticizing it in public.
Rangsiman Rome, a student leader of the New Democracy Movement, or NDM, denied his group was behind it.
"We didn't do it. It's unrelated to NDM. I didn't even know it existed until I saw it on the Facebook of Thanapol [Eawsakul]," said Rangsiman, referring to the editor of left-wing Same Sky Magazine, called Fah Diew Gan in Thai. "This reiterates that nobody really supports this charter draft, however."
Thanapol said he just picked it up on Facebook and didn't know who created the campaign.
He predicted in his own Facebook post however that the chances of the Vote No camp prevailing is very high, "as high as the chance of seeing the National Council for Peace and Order canceling the referendum."
Related stories:
No More Than 22 Election Observers Expected Nationwide for Referendum
Regional Monitors In, International Monitors Out for Charter Vote
Redshirts Take Grievance Over Voting Watchdog Campaign to UN
No Thais Can Monitor Vote Because Law Didn't Say They Can, Commission Reasons