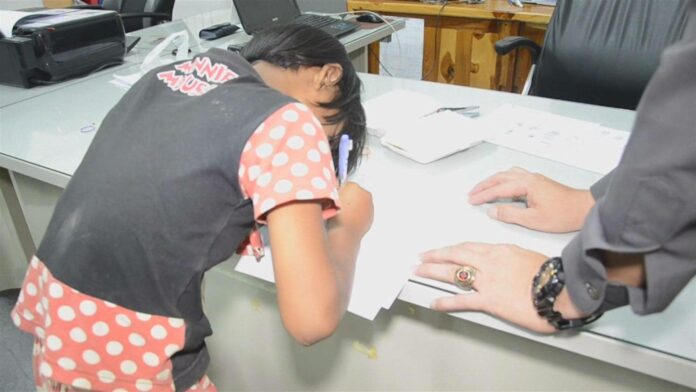 KAMPHAENG PHET — When two 8-year-old girls ripped a voter registration notice from a board near their school in Kamphaeng Phet province because they wanted the pink-colored paper, local police officers must have thought it was a cute, harmless incident.
But regional police commander Chanasit Wattanarangkul thought otherwise and on Tuesday ordered the local police chief removed from his post because he didn't file urgently report the vandalism.
The incident took place at Vachirasansuksa School, which has been designated a polling station for the Aug. 7 referendum, in which the public will vote whether to accept the new constitution drafted under the military government.
At around 5:30pm on Monday, the two schoolgirls removed the document listing registered voters from a wooden board there, and police officers were soon at the scene asking why they did it.
The original police report concluded the girls "believed the the pink-colored paper was beautiful" so they tore it off and kept it. The girls were released without charge.
Local police station chief Itthi Chamnanmor didn't file any report about the incident to his supervisor. For that failure, Lt. Gen. Chanasit transferred him to an inactive post and placed him under disciplinary investigation.
The notice, released to the media Tuesday, said Itthi broke protocol by letting Chanasit find out about the girls' antics from the media instead of an internal report.
Related stories:
Thai Election Monitor Fumes Over Being Barred from Thai Referendum
UN Refutes Rosy Thai Account of Meeting Over Referendum, Rights
Reporter Arrested While Reporting on Referendum in Ratchaburi