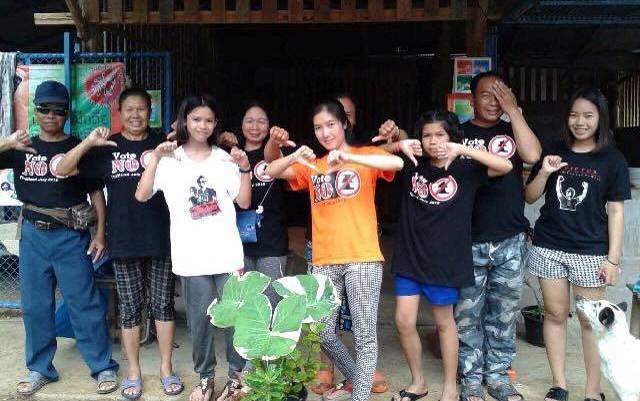 PHRAE — A group of residents of the northern province of Phrae were ordered to appear Thursday morning and answer questions about a group photo showing them wearing T-shirts opposing the draft charter, saying they might be have broken the law after the photo surfaced on Facebook.
As the charter referendum draws nearer, the military government's crackdown on public displays of dissent is intensifying nationwide. Vasana Kraway, 44, a Baan Hadphapan resident in Phrae's Long district said half a dozen officers entered their community Wednesday evening and summoned the headman to ask why people there had worn "Vote No" T-shirts as seen in the photo.
The soldiers said they might have violated the junta's ban on political assemblies of more than four people.
Vasana, who was in Bangkok on Thursday and appeared in the photo, said it was taken in April. Residents there are now in fear, she added, as the authorities took photos of the homes of those pictured.
"The military asked if this is akin to opposing [the junta] or not? The village headman told them this is not an act of opposition but more like a prank," Vasana said.
She said that she bought the T-shirts online and then loaned them to her neighbors for the photo.
She bought them from Vote No campaigner Anurak Jeantawanich who produced and sold them on Facebook. "We didn't think it would become a problem."
The visit from authorities came after Anurak posted the photo Wednesday to his Facebook page, in which he indicated the locale of those in the photo.
The well-known anti-charter campaigner insisted no law was broken. Though more than five people were in the photo, he said it was taken inside their community and just a group photo, not a political gathering.
"This is no demonstration. It was taken inside the home village of these people. If it's going to be construed as a political assembly, there must be signs demanding something," he said by telephone.
Asked if such actions would have an adverse impact on those wanting to wear his Vote No T-shirts to express themselves less than three weeks before the Aug. 7 referendum, Anurak said absolutely.
"It will have an impact. They are trying to shut the mouths of the people who are against the charter draft," he said.
Some villagers in the picture were summoned to meet the authorities at 11am on Thursday.