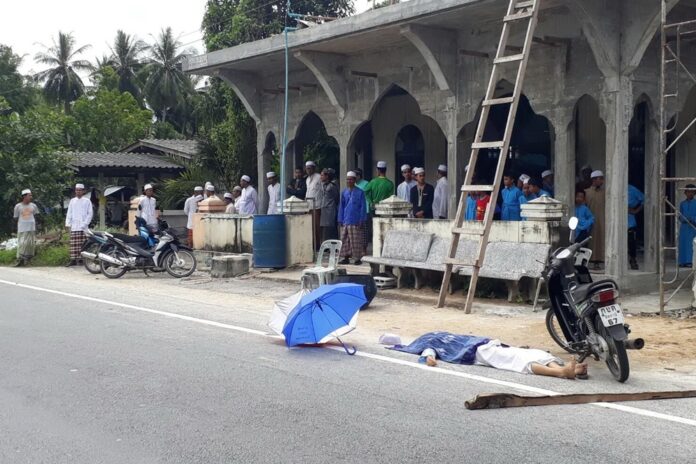 BANGKOK — Six people arrested by Malaysian authorities near the Thai-Malaysian border on suspicion of belonging to the Islamic State terror group included a Thai national, the Thai army chief announced Tuesday.
Citing information forwarded by Malaysia, army chief Chalermchai Sittisat said the Thai national, who was not named, had a record of involvement with a separatist group in the southern border region, though other officials declined to confirm the story.
"We have requested for that person to be sent back for prosecution in Thailand," Gen. Chalermchai said. "But Malaysia needs to proceed with this in accordance with their own laws first. I don't know when this person will be sent back to Thailand."
Read: Police Caught Off Guard by Memo About Possible ISIS Attack
Apart from the person's alleged link to the international militant group, Gen. Chalermchai said the Thai man belonged to BRN, the most active and well-armed among all separatist groups in Thailand's Deep South.
He also said it's unclear how deeply involved with the Islamic State the six people were.
"It does not mean all of the six suspects are all connected to each other," Gen. Chalermchai said. "Being connected to ISIS could be engaged at many levels. They might be at the level of receiving ideas through its social media propaganda."
The general added that there is no record of ISIS movements between Thailand and Malaysia so far.
Thailand's southern region that borders Malaysia has been a hotbed of secessionist violence since 2004. The insurgents aim to secede the three provinces of Pattani, Yala and Narathiwat and revive the independent sultanate of Patani.
Although the southern separatists are not historically part of a wider global jihadist movement, there have been reports that ISIS has been keen to establish a presence in the region through efforts such as distributing local-language newspapers advocating its causes in Malaysia and the Deep South.
A spokesman for the Ministry of Defense said Malaysia told Thai authorities the six were arrested "with bomb-making equipment," so they were suspected of working on ISIS' behalf.
But the spokesman said there were no other details, including their identities and nationalities.
"They said these people were 'without clear residence.' That's what Malaysia told us." Maj. Gen. Kongcheep Tantravanich said. "They were arrested in Malaysia. We didn't get to question them. We haven't even seen their faces yet. So we can't give you any details about it now."
Asked about Gen. Chalermchai's claim, Kongcheep suggested that the army chief might have received different intelligence compiled by his own agency.
"If there's really a Thai national involved, police will fly to Malaysia to handle the issue," Kongcheep said. "Please wait for the information to come first. If I had the information, I would have told you already."
Junta chairman Prayuth Chan-ocha also said the government is looking into the matter but did not elaborate.
Minister of Defense Prawit Wongsuwan likewise declined to confirm the report. He only said the intelligence agencies were working with their Malaysian counterparts on the issue.
Related stories:
Authorities Play Down Fears of ISIS in Thailand
ISIS' Malay-Language Media Unlikely to Win Hearts, Minds in Deep South, Experts Say
Govt Investigates Reports of ISIS in Deep South