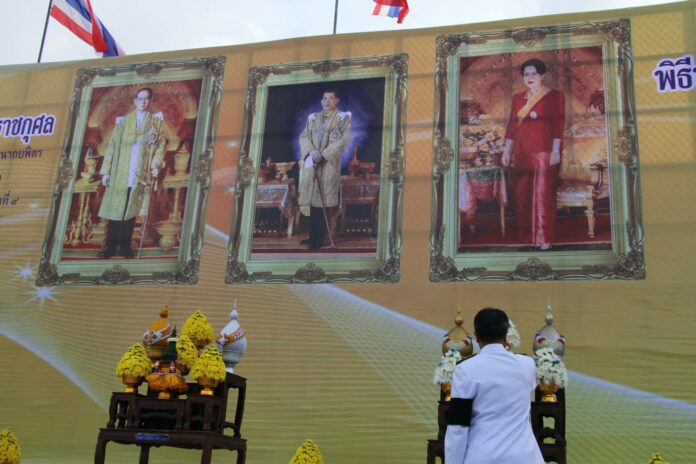 BANGKOK — A somber mood overshadowed the first celebration of King Vajiralongkorn's birthday as the monarch of the realm as Thais continue to mourn his father, King Bhumibol.
Contrary to the air of pomp and bright colors that marked the late king's birthday – an important public holiday for the past six decades – state events held for King Vajiralongkorn's 65th birthday Friday mostly involved religious rituals and pledges of fealty to the crown.
Junta chairman Prayuth Chan-ocha is expected to praise His Majesty the King for his dedication to public service in his weekly speech to air tonight.
"As the head of state, His Majesty has conducted royal missions in the footsteps of his father. His heart is full of compassion," Gen. Prayuth is slated to say in the speech, a script of which was released to the media on Friday afternoon.
It's the first time Thailand is celebrating the birthday of its new king, who ascended the throne after the death of his father in October. King Bhumibol died at 88 after ruling the country for more than 60 years.
Friday morning, a public holiday, saw state agencies in each province hold merit making ceremonies in honor of both monarchs. In Bangkok, Prayuth attended the rituals along with other government officials.
At the Sanam Luang, the military fired 21 artillery rounds in salute near the site of a pyre being raised to cremate King Bhumibol in October.
Unlike royal birthday celebrations in previous years, there are no fireworks or military parades planned this year and no lighting decoration along major streets and intersections.
The government earlier this week urged participants of events honoring King Vajiralongkorn to dress in black or polite colors.
King Vajiralongkorn was born June 28, 1952. He's the first son and second child of King Bhumibol and Queen Sirikit. He has four siblings: princesses Ubol Ratana, Sirindhorn and Chulabhorn.
He was appointed crown prince in 1972, a title he held for the following 44 years. After a month of interregnum, he ascended to the throne in December 2016. However, His Majesty's formal coronation ceremony is expected to take place after the cremation of King Bhumibol.