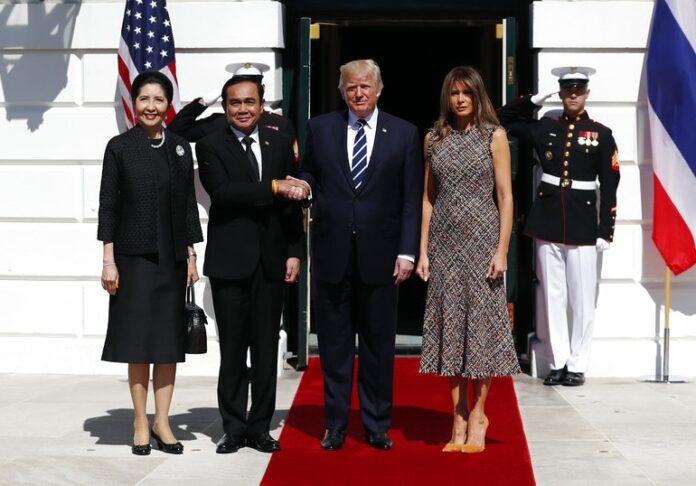 BANGKOK — Commenting on the fashion sense of first ladies and leaders' wives is a media past time everywhere. Get it wrong in Thailand, however, and one might find themselves in jail, as former Thammasat University rector Charnvit Kasetsiri is discovering.
For misidentifying the purse first lady Naraporn Chan-ocha carried at the White House as a brand-name product, Charnvit will be charged with violating the Computer Crime Act, police said Thursday. The act bans spreading false information online, which it describes as "importing false information into a computer system."
"We will issue him a summons for him tomorrow," Col. Olan Sukkasem of the police cyber crime unit said.
Read: Pheu Thai Politico Wanted for Tweets Insulting Prayuth
The charge stems from a Facebook post Charnvit reshared on Jan. 11 to Facebook. The post shows Naraporn accompanying her husband, Prime Minister Prayuth Chan-ocha, to meet US President Donald Trump in October. It calls attention to the handbag she is carrying and places it beside an image of a similar Hermes bag, implying they are the same.
"Thai leaders must look expensive not cheap," Charnvit wrote in English and Thai when he reshared the post originally from a user called Ploy Siripong. Police said they are tracking down the original poster.
Charnvit later posted the photo of Naraporn with a caption asking, "How much is this?"
After the posts went viral, officials told the media Naraporn was carrying a locally made purse which she purchased from a royal folk arts project – not Hermes.
Olan said the misidentification showed Charnvit intentionally spread false information against government officials, and that it was police duty to prosecute criminals.
"Of course, you can criticize them, as the media, politicians and activists have done," Olan said. "But those criticisms are not false accusations. When accusations are false, and when they target puu yai such as government officials, provincial [officials] and judges, they can't fight court cases with the public."
Charnvit denied the allegations on Thursday. In an online post, the former Thammasat rector said he was not criticizing Naraporn – even if she had actually been using a luxury purse.
Olan said Naraporn had not filed any complaint. It was police who took action against Charnvit on their own, he said.
"It's my job. I'm not doing it because she's the prime minister's wife," the police colonel said.
The charge followed revelations that deputy junta chairman Prawit Wongsuwan was in possession of at least 25 luxury timepieces worth millions of baht which he did not disclose in his mandatory asset report. The scandal has drawn protests from transparency activists.
After a month of refusing to speak about the watches, Prawit said Tuesday that he'd borrowed each and every one from friends and had returned them all.