BURIRAM — Junta chairman Prayuth Chan-ocha has been presenting his everyman credentials in eastern Thailand this week: riding motocross, promising to build a sports hub and discussing past rivalries on a topic of local passion – football – to the stadium cheers of 30,000 people.
"When I was the chairman of the Army United FC, whenever we competed with Buriram, we always lost," Gen. Prayuth told the audience Monday, his body wrapped in the kind of waist sashes favored locally. "I still harbor this vengeance! But sports is sports. When I couldn't beat you in a fight, all I could do was to keep trying."
At his side throughout, dressed casually in shorts and T-shirt, was Newin Chidchob, the political godfather recognized as the de facto leader of Buriram's Bhumjaithai Party political clan.
Prayuth, who's been lining up regional political allies in recent weeks, became the latest government leader to meet Newin in his own fiefdom, a place where his predecessors have courted his command of a formidable parliamentary bloc – 34 seats in the last election.
By Tuesday, rival politicos were slamming the junta leader's trip – home to more than a million voters – as nakedly campaigning for the next election by pledging to inject state funds into the province.
"Everyone sees it that way. It's a process for him to canvass for votes," Democrat Party spokesman Ramet Rattanachaweng said today. "It's quite clear now."
Prayuth himself denies it.
The man who led the 2014 coup ostensibly to change Thai politics may have succeeded, according to a Pheu Thai spokesman. Commenting on Prayuth's buddy time with Newin, Anusorn Iamsa-ard said politics now come down on two sides: for and against Prayuth.
"Voters in the next election will find it very easy to decide." Anusorn said. "They can choose parties that support Gen. Prayuth, and parties that don't want Gen. Prayuth."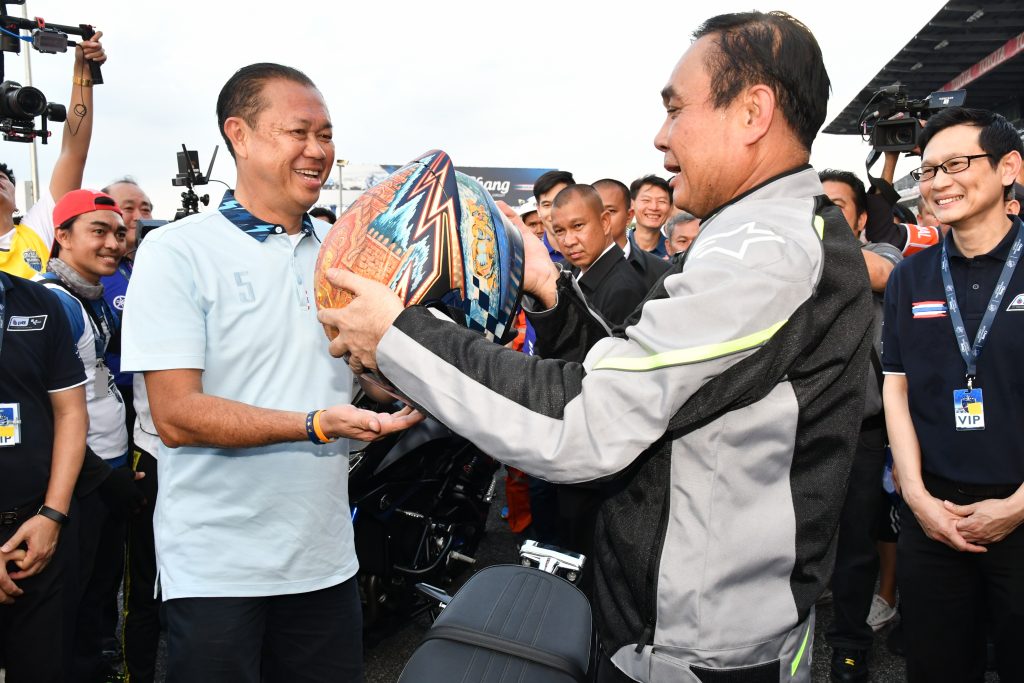 "It shows that the government is not running this country through normal means," transparency activist Srisuwan Janya said. "They abused power for personal gains and advantage in the next election."
Prayuth arrived in Buriram on Monday for the latest stop on his "mobile cabinet meeting" tour. The ceremonials were set to take place today.
His tour of the region and parts of neighboring Surin province, comes as Prayuth faces allegations he has been poaching politicians from different factions into his fold that he may continue as prime minister when an election is held.
The retired general, who ousted the elected government four years ago this month, has said the politicians all came to him willingly.
Cheers for Cash?
Buriram may be the least likely place to be graced with an F1 race track, but it was there Newin brought high-level racing to one of the poorest provinces. And there he was yesterday, handing Prayuth a helmet and racing bike for a spin before a cheering crowd.
But the highlight of the visit came later, when Prayuth was due to address the Thunder Castle, a football stadium and source of provincial pride that helped cement Newin's status as a powerful rainmaker.
There, 30,000 people were assembled – by Newin's order, according to some reports – and practiced chanting Prayuth's name to the sound of drums prior to the junta boss taking the field.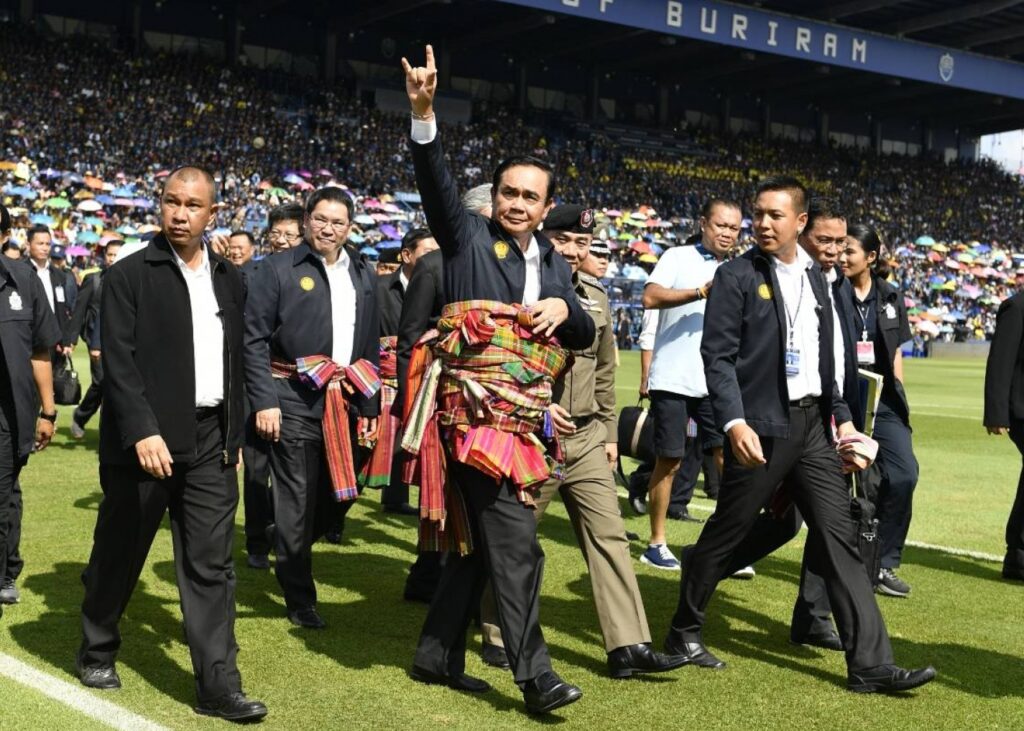 Newin, who in 2012 said he was done with politics, spared no subtlety in telling the crowd they must do their best to win the most from state coffers.
"We must get at least 10 billion baht!" Newin thundered to the crowd. "I'm asking you to endure the sun and the heat for this moment."
When it came his turn to speak, Prayuth promised to deliver money to improve Buriram's infrastructure and economy. He denied seeking any political favors.
"I am not here for politics like what many people say. I'm not siding with anyone. I love everyone," Prayuth said. "I want to make this country strong, and Buriram is one of the 12 cities that tourists cannot miss."
Newin did not answer his phone Tuesday, and a junta spokesman declined to comment. Chaovarat Chanweerakul, who led Bhumjaithai until 2012, likewise declined to speculate on any unpublicized agreements reached.
"I don't have any comment to make," Chaovarat said. "I am not following political news anymore. I'm just looking after my health nowadays."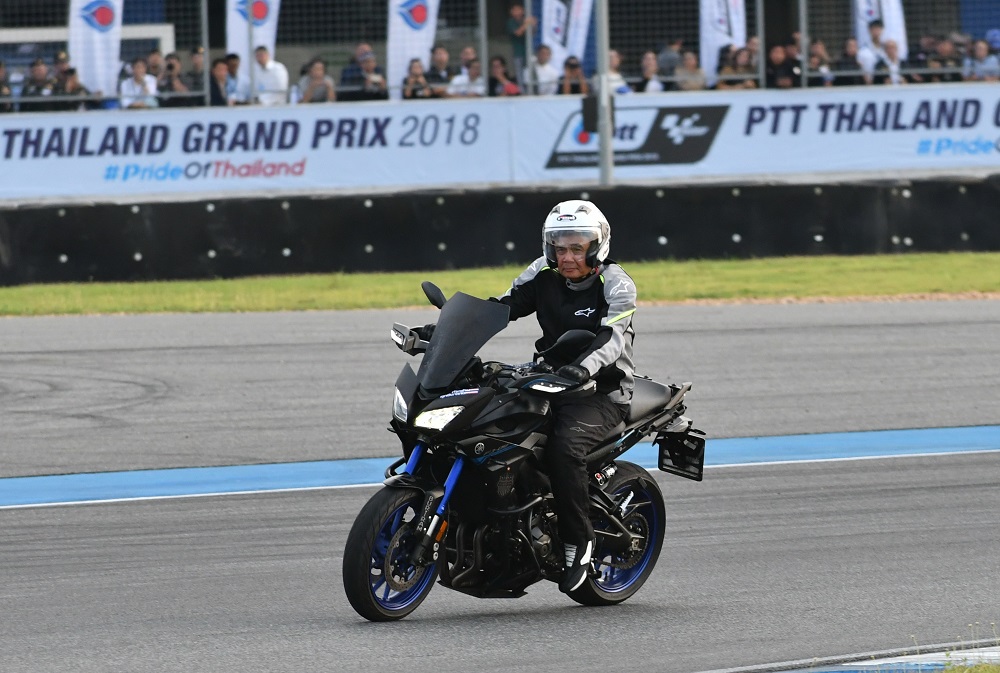 Srisuwan, a transparency activist who's filed more than 1,000 complaints against the government on matters large and small, said Prayuth may have violated the constitution by promising funds without going through his cabinet as necessary to first get a resolution.
"Dangling state funds as bait for political gains is disgusting," Srisuwan said.
He said he's planning to file a complaint to the national anti-graft commission.
Pheu Thai's Anusorn warned that yesterday's spectacle could set a dangerous precedent for other provinces seeking to get a bigger slice of pie.
"Will people who refuse to shout Prayuth's name lose access to the money? Will the rain not fall equally across the sky?" Anusorn said. "It could become a new political culture where every province tries to host a cabinet meeting and shout and lick his boots in order to get money."
Prior to today's cabinet meeting, Prayuth reiterated that he's not buying politicians. Only he and the cabinet will decide how much money is allocated based on the actual needs of each province, he said.
Winning Newin's Heart
Prayuth is far from the first political leader to court Newin – whose past portfolios include the agriculture, commerce and finance ministries – and his voting bloc. Banharn Silpa-archa, the opportunistic late head of Chartthaipattana Party, did the same. As did Thaksin Shinawatra, Samak Sundaravej and Abhisit Vejjajiva.
Inside the parliament, his shifting loyalty has spelled the difference between victory or defeat. It was Newin who ditched Thaksin during a constitutional crisis in late 2008 and swung his group to Abhisit, making him the first Democrat prime minister in nearly a decade.
"It's over, boss," he's said to have told Thaksin on the phone.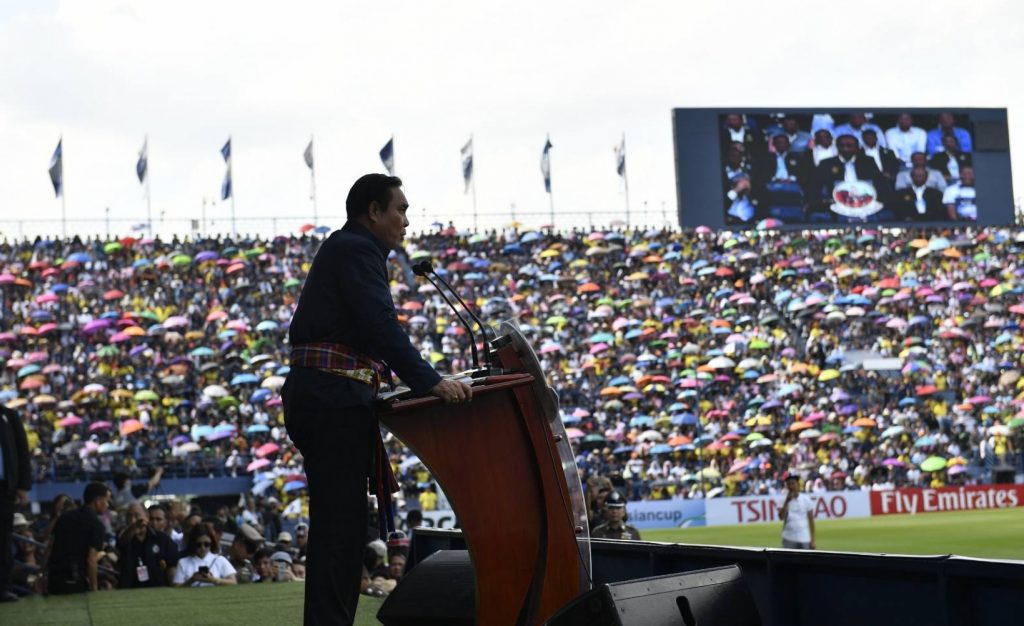 In the last election, Newin's Bhumjaithai was the third largest party in the parliament, after Pheu Thai and Democrat.
Could Prayuth secure Newin's support for the next election? Democrat spokesman Ramet said it's too early to tell and warned that the junta leader should know the public is monitoring every step.
"Society is closely watching whether he's taking advantage of other rivals," Ramet said. "But our party isn't concerned. We will keep fighting through normal means."
Prayuth has repeatedly ruled out running or supporting any party in the upcoming election, slated to take place in 2019, after the junta postponed it multiple times.
After Democrat leader Abhisit publicly denounced him for "sucking" politicos in anticipation for the next election, Prayuth hit back.
"I'm not a vacuum cleaner," Prayuth said on April 24. "Go ahead and criticize me. I don't care. I'm here only to work."