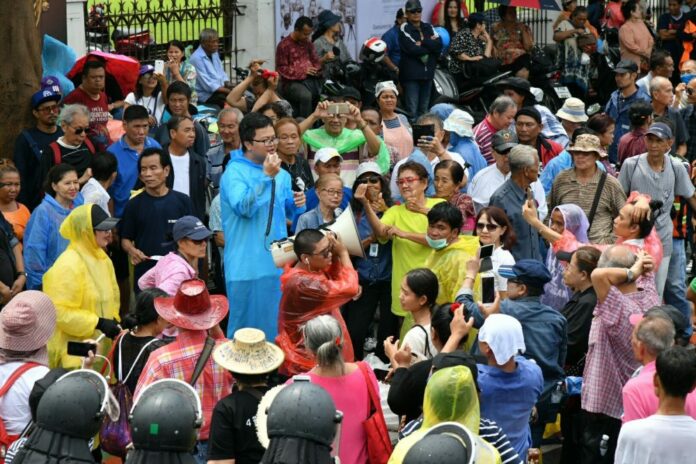 BANGKOK — The junta on Wednesday filed additional charges against 21 people who staged and joined last week's pro-democracy demonstration.
For the protest on May 22, the fourth anniversary of the May 2014 coup, a junta rep wants them prosecuted on charges of sedition and violating the regime's ban on political protests. The complaints were filed earlier today by Col. Burin Thongprapai, a legal representative for the ruling junta.
The accused include key members of the pro-democracy movement who already stand charged with numerous violations for their persistent defiance against the military regime, including Nuttaa "Bow" Mahattana, Rangsiman Rome, Sirawith "Ja New" Seritiwat and Ekachai Hongkangwan.
Read: Protest Called Off After Police Seize Leaders by Force
Nuttaa said police have yet to inform her of the complaints, which she only learned about from the media.
"I believe they might issue a summons soon," Nuttaa said.
Organizers of the May 22 protest sought to march on the Government House to demand an election be held this year, but police stopped them from leaving Thammasat University. After some protesters slipped past the blockade and marched down Ratchadamnoen Avenue, they were detained by the police several hundred meters short of their destination.
Nuttaa said the she and other activists haven't decided what their next steps would be.
"We will have a meeting soon," she said. "We'll discuss both our legal cases and direction."
At least two activists were undeterred by the legal peril. Ekachai and his friend Chokchai Paiboonratchata, who was also named in the junta's complaints, staged a two-man protest in front of Government House just today in which they demanded the junta apologize for harsh treatment of the pro-election movement.
Related stories:
Related stories:
Police Chief Transferred After Allowing Foreign Reporter to Interview Activist
Reporter's Notebook: Peaceful Rally Falls Apart in a Heartbeat
Court Grants Bail to Pro-Election Activists
Tense 22 Hours of Tuesday's Thammasat Rally in 22 Photos
Protest Called Off After Police Seize Leaders by Force