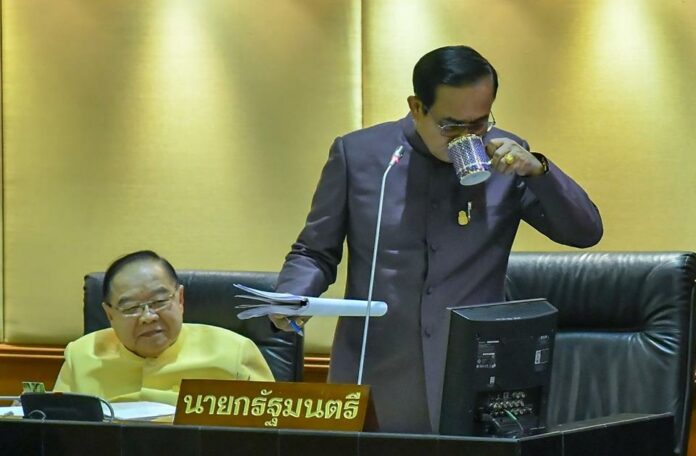 BANGKOK — Prime Minister Gen. Prayuth Chan-ocha's Thursday plea for the position of prime minister to be spared from insult went unheeded on social media, where it was swiftly met with more mockery and insult.
Junta leader Prayuth's suggestion to the assembly that his "honorable" position should be above reproach was slammed by critics online.
"The position of prime minister is honorable, but if it was attained through robbery … then it is dishonorable," veteran grassroots activist Baramee Chaiyarat wrote online.
Senior Pheu Thai former MP Watana Muangsook expressed similar sentiments Friday.
Watana said that while the position is honorable, Prayuth should remind himself that he was never elected to the position and therefore has no legitimacy as prime minister.
"[Prayuth] should exercise his power carefully for the benefit of the people, return power to the holders of power and not keep on deferring elections," Watana said.
Prayuth's comments were made during a long speech he gave ostensibly to introduce his government's budget proposal for next year.
"I want to maintain the position as honorable. Those attacking me should be careful," Prayuth said Thursday.
With both print and broadcast media often exercise self-censorship on anything too harsh of the ruling junta, social media has become the last bastion of relative free speech. Some netizens have been arrested and charged for mocking Prayuth online.
Related stories:
Facing Prison For Mocking Prayuth, Woman Chooses Exile
Activist Charged for Sarcastic Facebook Poll Mocking Prayuth