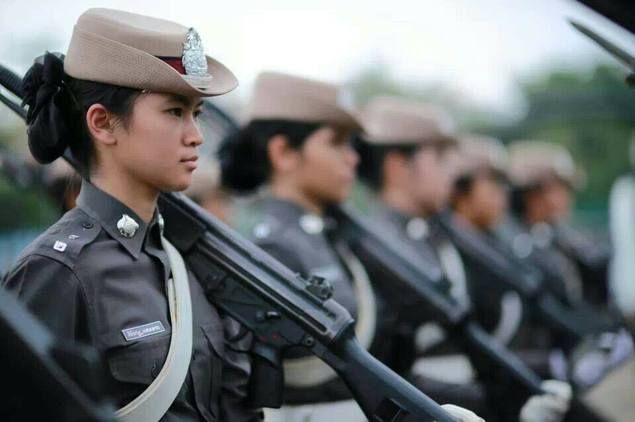 BANGKOK — Police commissioner Chakthip Chaijinda on Wednesday defended plans to bar women from the police academy.
Gen. Chakthip said today that the academy – the only career route to the upper echelons of the force – will only accept applicants from the all-male Armed Forces Academies Preparatory School starting next year. He pushed back against accusations of sexism and said women will still be able to become cops through other channels.
"This policy does not discriminate against women, and it won't affect the female officers in the force," Chakthip said.
Read: Women Banned From Police Academy Starting 2019
The change would prevent women from enrolling in the police academy, which graduates cadets with the rank of lieutenant, thus making them eligible for important posts.
The academy, located west of the capital in Nakhon Pathom, is considered the major gateway for those seeking to become commissioned officers. Rank-and-file officers graduate from the non-commissioned academy, which would continue to accept women.
The change would undo a historic 2009 move to admit women into the academy and shut them out of advanced positions. It would also be an abrupt U-turn from two years ago, when police considered promoting women to be station chiefs, an unprecedented move.
The officer behind that idea, then-Bangkok police chief Sanit Mahatavorn, expressed disappointment that many in the upper brass appear mired in backward views.
"Many see women as unfit for some jobs, because they involve hard work and risk to their lives. They, well, they believe women can't work as well as men," Sanit, now retired, said in a Tuesday interview. "But I think they should give women the opportunity to do things we thought they couldn't. Maybe they will even do it better than men."
Under the new policy, civilians – male and female – can still become lieutenants by meeting other requirements such as having a bachelor's degree in relevant fields, according to police spokesman Krissana Pattanacharoen.
The news surfaced this past weekend when a Facebook page run by female investigative officers posted an internal police memo announcing the change. The page admin argued the policy would all but eliminate women investigators because their only pathways are through the academy or by obtaining law degrees.
The admin, who does not identify herself on the page, declined to speak to a reporter.
Chatkaew Wanchawee, who's said to be the country's first ever female investigator, likewise declined an interview.
Another female investigative officer, Kawaleesiri Phasukthanapaisan, said Tuesday she only heard about the change through the media. She declined to say how she felt about it.
"It's up to the policy of the commanders," said Kawaleesiri, who's stationed in Pattaya. "Because we'll keep working. It won't affect us."
Sanit, the former metro police chief, said he wished the force had given women more opportunities for advancement.
"Many male policemen get drunk and skip work. Women don't do that." Sanit said. "They have little distraction outside the workplace. I think they are more effective than men when it comes to running things."