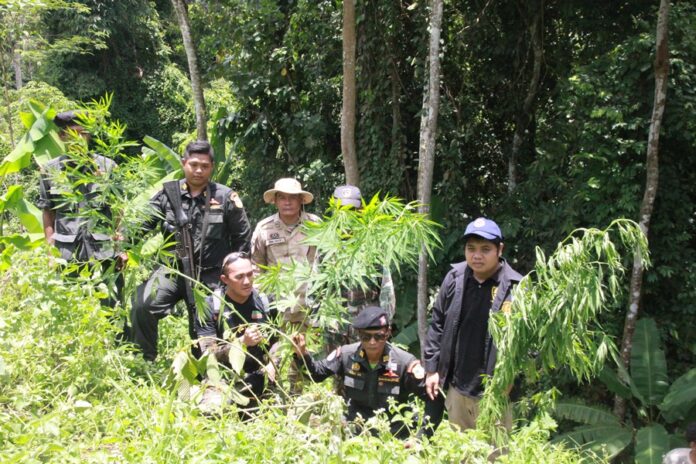 BANGKOK — The military government said Wednesday it would put forward a stopgap measure to allow medical marijuana before December.
As the interim parliament debates broader legislation, health officials said they would fast-track the process by reclassifying non-psychotropic cannabis extracts from a Category 5 narcotic – which does not allow any use at all – to Category 2 – which permits limited use.
"We will upgrade extracted cannabinoids, which are now under Category 5, to Category 2. This would permit extracted cannabinoids to be used for medical treatment, just like morphine," Food and Drug Administration chief Tares Krassanairawiwong said.
The substances would then be usable to treat four conditions: multiple sclerosis, nerve pain, chemotherapy side effects and seizures in young children.
Tares's deputy Surachoke Tangvivat said only extracted substances would be legalized. The THC which gets people high contained in the leaves and buds would remain prohibited.
Speaking to reporters, Justice Minister Prajin Juntong described the proposed move as a "short-term measure" that would pave the way for future legalization of medical cannabis.
Asked when the unspecified measure would be implemented, Prajin said he hoped it would be out before December.
"At this moment we need to have every issue covered. We have to look at the results from clinical trials, lab results and researches on animals and humans," Gen. Prajin told reporters. "We have to cover the entire process. Otherwise, we might open a loophole for foreign pharma companies."
But an expert neurologist and medical cannabis advocate slammed Prajin's proposal. Thiravat Hemachudha said that keeping the drug classified at Category 2 would make it as hard to come by as morphine and therefore be of little benefit to patients.
"This proposal would bring place severe restrictions on medical facilities and procedures. Looking at the regulations, physicians would not dare use it," Thiravat wrote online. "Very few patients would benefit from it."
Limiting access to CBD-based painkillers would only serve to keep patients going outside of the law to obtain it or cannabis from illicit sources, Thiravat warned.
The proposal made by Prajin and health officials is a piecemeal effort while a much larger rewrite of Thailand's drug laws is being debated that would not only legalize medical cannabis – and allow some farmers to grow it – but also kratom.
It's not immediately clear when the bill would be passed, but the lawmaker who brought it to debate said at yesterday's public hearing he hoped to present it as a "New Year's gift" to the public.
Tares, the FDA chief, said his plan would not conflict with the lawmakers' effort.
"We are going in same direction," Tares said.
Correction: The previous version of this article said opium is a Category 5 drugs. In fact, it's in Category 2 which already allows medical use.