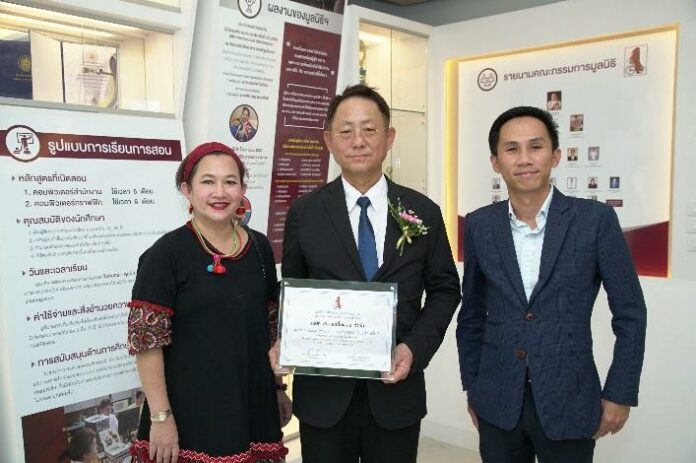 NONTHABURI — To continue its mission of forging a good society, Daikin, a world-class expert in air  conditioners, today announced that it donated air conditioners to the Thai With Disability Foundation in Nonthaburi for use in the Thai with Disability Foundation's new multi-purpose building titled "Ruam Thang Fun". The corporate social responsibility activity was in accordance with the company's core mission of elevating Thailand to a quality society.
Mr. Bundit Srivallapanondh, Managing Director of Siam Daikin Sales Co., Ltd, represented his company at the opening ceremony of the Ruam Thang Fun multi-purpose building of the Thai with Disability Foundation (TDF). On hand to welcome Bundit and receive the donated air conditioners was Mr.Theerawat Thanyalakpark, President of the TDF.
Mr. Bundit commented, "This activity is part of an important mission that Daikin is committed to – that is to provide networks of people with disabilities with an opportunity to access and utilize the learning space of the Ruam Thang Fun building that is located in the premises of the Thai with Disability Foundation.  We are ready to continue helping create a quality society. On this occasion, Daikin donated 10 air conditioners costing 47,900 baht each and totaling 479,000 baht."
The two-story Ruam Thang Fun multi-purpose building provides disabled learners with all the comfort and convenience of a universal design. The building houses a computer room, two lecture rooms, a multi-purpose learning room, library and other facilities that are key to vocational education about computing.
The goal of this 2,000-square meter building is to provide the physically disabled with education activities such as computer training workshops  in the convenient and standardized facilities. Other networks and organizations of the physically challenged are eligible to access the building's facilities that have a wide range of educational uses to develop potential of the physically challenged.
Founded in 1995, the Thai with Disability Foundation engages in developing the potential of the physically handicapped and people with mobility impairments. The foundation provides disabled people them with careers support and prepares them for careers in computing services by organizing computer training workshops that have so far produced 1,500 graduates.