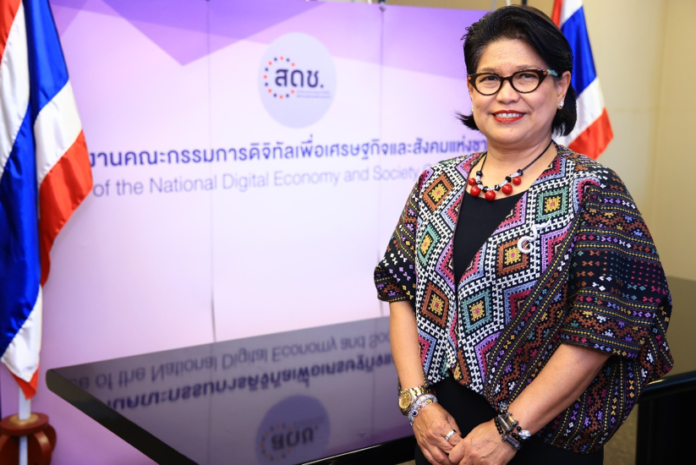 "We will collaborate with the private sector to focus on sustainable development": ONDE, MWC Shanghai 2021
22nd February 2021 – National Digital Economy and Society Commission, Ministry of Digital Economy and Society, Thailand (ONDE) said in "MWC Shanghai 2021" event that it will focus on Digital Transformation and improving Digital Economy in Thailand, as well as helping Thailand become a Digital Hub in ASEAN, by utilizing national policy and collaboration with the private sector to lay the foundation of digital infrastructure for 5G, internet, and network innovation for sustainable future.
As the world embarks on recovery from the pandemic, there is growing recognition of the need for a green and inclusive growth. The digital technologies can and will play a critical role to pave the way to net-zero emissions and bring equitable education to more beneficiaries. To tackle the challenge, Huawei, with the participation of UNESCO, and co-sponsored by GSMA, the School of Economics, Fudan University, and The Paper,  hosted "Connected for shared Prosperity", an online and offline forum aiming to advance sustainable development during the Mobile World Congress Shanghai 2021.
With Thailand having experienced one of the highest digital development advancements, Mrs. Vunnaporn Dehastin, Secretary-General of the National Digital Economy and Society Commission, gave the honor to provide a speech on "National Policy Driving Digital Technology and Sustainable Development: Building Digital Hub of ASEAN", joined by government representatives from other countries. She also elaborated on Thailand's policy to advancing the country to become a digital hub in ASEAN, the vision behind it and the aims to boost economy, improve social well-being, and achieve sustainable development.
"We have developed Thailand Digital Economy and Society Development Plan from a national level. This plan acts as a blueprint to revolutionize government operations, business practices, and people's lifestyle. The plan covers building a country-wide, high-capacity digital infrastructure to provide accessible and affordable internet, digital transformation through initiatives such as Digital SMEs, Digital Agriculture, and Digital Industry, and a collaboration with Huawei on opening 5G Ecosystem Innovation Center (EIC) in Bangkok last year. This center is as a sandbox for digital innovations of 5G applications and services across various industries. These innovations will create new business opportunities for SMEs, startups and educational institutions, paving the way to achieve Thailand 4.0 and build the digital hub in the ASEAN region. This goal must be achieved through cooperation between the public and the private sectors, at both domestic and international level. Together, we can overcome the challenges and build a better future." she said.
Regarding sustainable development, Mrs. Vunnaporn stated that digital technologies have positively impacted the society, especially during and after the pandemic. Digital economy promises new ways for business to grow, brings social well-being, and aligns with Thailand sustainable development goals and global trends which prioritize tackling climate change, reducing carbon emissions, pursuing new renewable energy resources, and supporting circular economy through green ICT solutions.
Based on the Speedtest Global Index 2020, Thailand ranks at the top out of 176 countries in fixed broadband internet speed testing, also the first country in South East Asia to launch commercial 5G services. In addition, there are many initiatives the government has launched to improve public service, such as Government Data Center and Cloud service (GDCC) project, aiming to improve the efficiency and decrease the government budget for digital infrastructure development. Other initiatives include the Pracharat Internet Project, installing free high-speed internet networks through a total of 24,700 with more than 80,000 km of fiber optic, and Digital Community Center Project, with 2,277 sites in 77 provinces, and over 2,300 volunteer staff.
The "Connected for shared Prosperity" offline and online forum, hosted by Huawei, saw Catherine Chen, Corporate Senior Vice President and Director of the Board, Huawei give an opening speech. She was joined by representatives from other countries, experts in innovation and digital technology. The purpose of the forum is to tackle climate change and advance sustainable development during the Mobile World Congress Shanghai 2021, with the participation of UNESCO, and co-sponsored by GSMA, the School of Economics, Fudan University, and The Paper. In addition, Huawei would like to promote Thailand as a digital transformation role model for other countries in South East Asian region.
About Huawei
Founded in 1987, Huawei is a leading global provider of information and communications technology (ICT) infrastructure and smart devices. We have more than 194,000 employees, and we operate in more than 170 countries and regions, serving more than three billion people around the world.
Our mission is to bring digital to every person, home and organization for a fully connected, intelligent world. To this end, we will drive ubiquitous connectivity and promote equal access to networks; bring cloud and artificial intelligence to all four corners of the earth to provide superior computing power where you need it, when you need it; build digital platforms to help all industries and organizations become more agile, efficient, and dynamic; redefine user experience with AI, making it more personalized for people in all aspects of their life, whether they're at home, in the office, or on the go.
For more information, please visit Huawei online at www.huawei.com or follow us on:
http://www.linkedin.com/company/Huawei
http://www.facebook.com/Huawei
For media contact, please reach Carl Byoir & Associates:
Suthatip Boonsaeng (08-7685-1695, 0-2627-3501 ext. 102) [email protected]
Sorawis Jumnansilp (08-1494-9339, 0-2627-3501 ext. 211) [email protected]