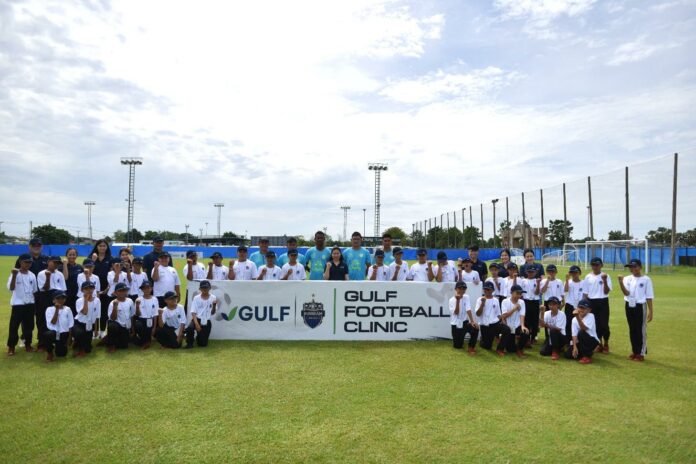 Gulf Energy Development Public Company Limited (GULF) joins forces with Thailand's leading professional football club, Buriram United Football Club to continue the "GULF Football Clinic" for the second year at Chang Training Ground 1, Buriram province. A team of coaches trained and mentored 34 young footballers with basic football skills to pave the way to their dreams of becoming sport professionals. The participating students and teachers have travelled from Wat Ta Kuan School, Map Ta Phut District, Rayong Province to join this activity.
Mr. Tanon Tantisunthorn, Chief Corporate Affairs Officer at Gulf Energy Development Public Company Limited said, "GULF Football Clinic is a part of the Gulf Football Camp project, which consists of three major activities; the renovation of the community's old football field, the Trial Tournament of youth football to recruit outstanding young talents for the apprenticeship at world-class football club; and the community's football clinic. GULF wants this project to be a comprehensive foundation to unleash these youth's potentials. Participating in this football clinic will not only sharpen their sports skills that are useful for physical education, but also strengthen their soft skills like patience and self-discipline that they can apply in their daily lives even though they no longer aspire to be a professional athlete."
Mr. Chonchanok Chidchob Director of Youth Development at Buriram United Company Limited said, "We hope that this football clinic will be a great starting point that develops youth's skills and offers opportunities for them to carry on that aspiration towards career in sports industry"
Ms. Thanyalak Siriparu and Mr. Thanet Pano, teachers from Wat Ta Kuan School stated, "The students joining this activity are all football enthusiasts. We see that this activity helps develop their basic skills of sports and sparks their dreams to become sport professionals through practicing with coaches. The participating students will also pass this inspiring experience on to their friends and family. We would like to thank GULF for recognizing the importance of sport and delivering great opportunities to the students of Wat Ta Kuan School."
Pattakorn Makarom or Nine, student representative from Wat Ta Kuan School shared the experience, "I aspire to be a footballer one day since I love to play football after school. The coaches here taught me a lot of skills e.g. touch and ball control, heading, and dribbling. I am so delighted and grateful to join this activity and to have an opportunity to learn from great coaches. I will make use of the skills I have gained to practice playing football with my friends going forward."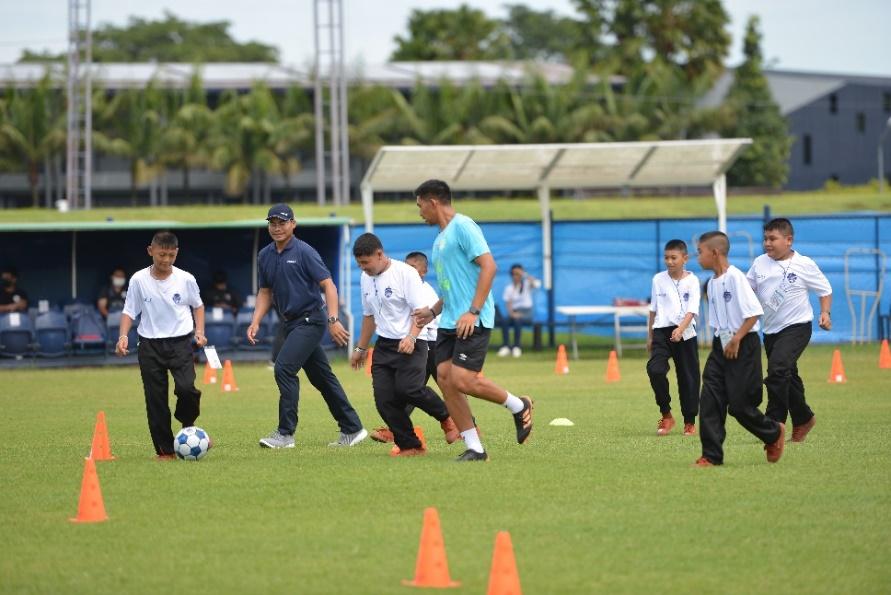 In addition, young footballers participating in this project had visited Phanom Rung Historical Park and enjoyed the AFC Cup 2022 match between Tainan City FC (Taiwan) and Eastern Long Lions (Hong Kong) at Buriram Stadium.
Buriram United Football Club and Gulf Group join forces with the aim to lay the foundation and develop Thai football industry starting from youth to inspire and encourage them to build upon that aspiration to become a professional footballer in the future.
#GulfFootballClinic
#BuriramUnited