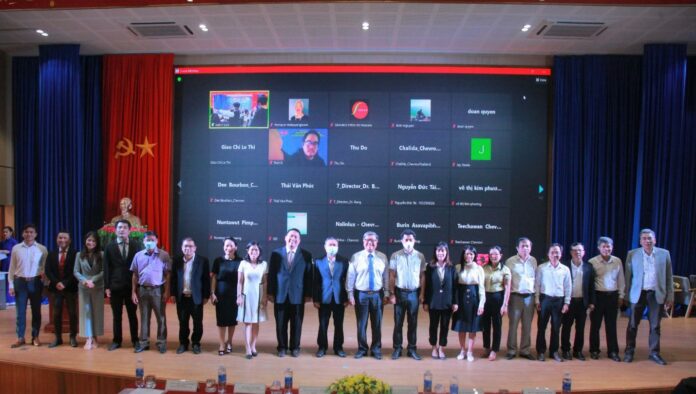 The University of Danang – University of Science and Technology (UD–DUT) has partnered with the Southeast Asian Ministers of Education Organization – STEM Education Centre (SEAMEO STEM–ED), to launch the "STEM Career Academies in Central Vietnam Project", to support Danang City's goal of becoming a Smart City by 2030.
The program, funded by Chevron, will adopt best practices from the Chevron Enjoy Science project in Thailand to promote STEM education in Danang City.
Associate Professor DOAN Quang Vinh, Rector of (UD–DUT), said that the program is set to adopt a regional approach for raising social awareness and building STEM education and human resource capacity.
"Being one of the three universities offering science and technology programs in Vietnam, UD–DUT is responsible for training highly qualified technical and technological human resources and implementing scientific and technological activities to meet the development of Central Vietnam and the nation," he said. 
This project has three main components: 
(1) STEM Workshops. These aim to promote awareness and capacity building for higher–secondary teachers and students in support of STEM education and STEM Career Academies development in Central Vietnam, 
(2) STEM competition. This will be organized to motivate higher–secondary students to develop innovative STEM projects and engage them in teamwork, communication, problem solving, as well as prepare them for future careers, and 
(3) STEM short–course professional development. This will cover a series of certified short courses to develop students on selected specialized professional skills and essential soft skills which are required by employers. 
The STEM Career Academies project plans to pilot one career academy in technology and engineering with professional development curricula for four selected industrial sectors; enroll 20 STEM employers or enterprises; and enlist the commitment of 10 high schools. Upon completion of the pilot, the findings of a study on the program's effectiveness will be presented to relevant government and private stakeholders for consideration of program expansion. 
"Through inspirational activities including a science exhibition, camps, workshops, and competition, we aim to increase the public awareness of STEM education," Associate Professor DOAN Quang Vinh said. 
He noted that Chevron is one of the world's leading integrated energy companies with a long history of investing in STEM education to empower younger generations and prepare them for their future careers. The Chevron Enjoy Science  project has reached over 2 million students, trained over 16,000 educators, and benefited more than 700 schools across Thailand. 
Dr. Pornpun Waitayangkoon, Centre Director of SEAMEO STEM–ED, added that STEM Career Academies will show how best practices learned from Chevron Enjoy Science can be implemented outside Thailand. The project marks a good opportunity to promote engineering technology in Vietnam and address Vietnam's future industrial needs.  
She explained that the 18–month project aims to kick–start regional STEM education collaboration, a first in ASEAN. The project expects to equip students in Vietnam with necessary skills, particularly those related to digital and technology. Upskilling students is an urgent issue for Danang City, a significant economic center of Vietnam, which strives to become a Smart City by 2030. 
"The academies set the goal to produce necessary human resources for Smart City–related industries. We hope to involve 10 schools and 20 private employers in need of STEM human resources in Vietnam," she said.    
Kurt Glaubitz, General Manager, Corporate Affairs, Asia Pacific, Chevron, said "If people and communities are to thrive, education and job training are of critical importance. A workforce armed with the skills needed to succeed in  
the jobs of tomorrow is important to a country's ability to compete in the global marketplace. Working with our grantees, we take a comprehensive approach to investments in education by getting students excited about STEM and encouraging them to pursue STEM courses and, ultimately, STEM careers." 
Chevron is supporting the STEM Career Academies in Central Vietnam Project through a US$150,000 gift. UD–DUT is contributing US$44,500.