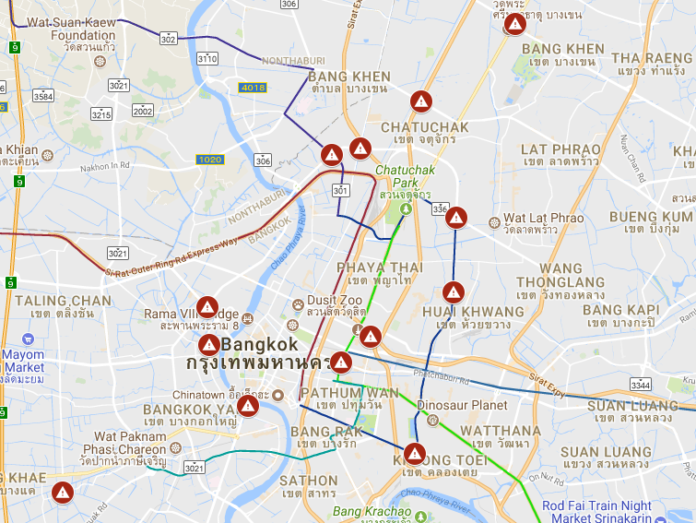 BANGKOK — Almost 30,000 Bangkok motorists will get tickets in the mail for illegally changing lanes yesterday, the first day a new traffic surveillance system went live.
Hoping the new measure will reduce accidents and heavy congestion, Bangkok traffic police reported their satisfaction with the results after the cameras, installed at 15 major intersections across the city, caught more than 27,000 lane cutters.
"Officers are now in the process of issuing tickets to the offenders today," said Col. Kitti Ariyanont, deputy commander of the division. "They will be delivered to them within seven days."
Read: Ticket Cams to Bust Bangkok's Lane Cutters
Motorcycles were found to be the No. 1 offenders. The Siriraj Overpass, located near the Thonburi-side hospital, saw the most offenders – more than 3,500, followed by the Sam Liam Din Daeng and Huai Khwang intersections.
The authorities said the number of registered offenses during the first half of today fell by 30 percent compared to the same period on Wednesday.
Tickets will be issued to a bank-managed ticketing system and mailed to offenders. They will be able to access their records using a passcode on the traffic police website.
Kitti said the new system could be expanded to monitor violations in other areas, such as riders not wearing helmets, as well as investigating crimes and detecting them in progress.
No details were offered on how privacy would be protected.