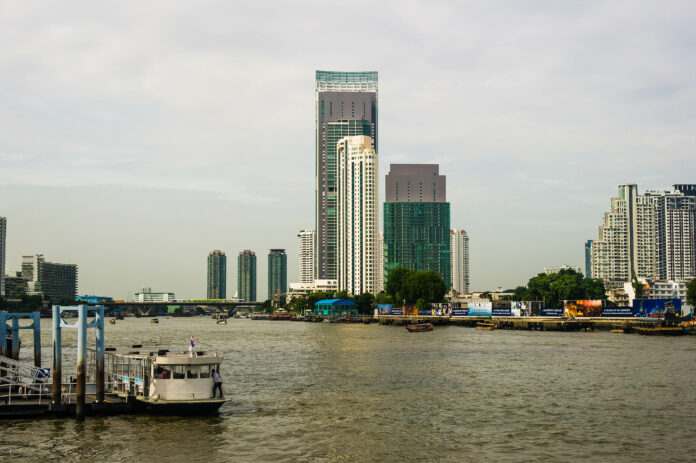 BANGKOK — City Hall is pushing for construction of concrete walkways along the Chao Phraya River even though the government dropped the controversial idea, an opponent of the project said Monday.
Though opposition groups cautiously celebrated victory when a government-led preservation committee said in April that the project would be called off, formal cancellation has yet to be announced. A founder of Friends of the River said City Hall is likely to continue with construction of at least portions of the promenade.
"As far as I know at the moment, they won't build it in the Rattanakosin area," Yossapon Boonsom said. "But now they're trying to push ahead with the first and the third phase. We still have to keep following and actively opposing it."
He was referring to parts of the boardwalk planned to be laid from the Rama VII Bridge to the Dusit district, and from the same bridge to the Bang Phlat canal.

On April 11, the president of the Association of Siamese Architects said the government committee – led by junta deputy Gen. Prawit Wongsuwan – decided to exempt the river banks along the Rattanakosin area from redevelopment. The overall plan would be redesigned to improve the riverside "spot by spot and not by laying a whole walkway."
City Hall said it would comply with the change if notified.
Almost two months later, the government has yet to make the decision formal, with Yossapon saying a meeting to settle the issue had yet to be arranged.
He also believes the original design – seen as ugly and destructive to the environment – could remain in place.
"If I had to guess, they would build it as they intended to, stretching into the river, but it might not be connected that long," he said. "But if it's extended into the river that much, only two kilometers of it will pose a huge impact anyway."
On May 9, Bangkok's public works department said the construction of the promenade from the Rama VII Bridge was green-lit as the area does falls outside of the old quarter, but the plan is still being reviewed by related departments and remains inconclusive.
The Bangkok governor also said the administration would go ahead with the two parts of the walkway with a budget of 4 billion baht, while the other two parts which will stretch over some parts of the old capital would have to be "redesigned" first.
Related stories:
Chao Phraya Boardwalk Plan Dead in the Water: Architects
Evictions Continue as Funds Set for Chao Phraya Promenade
Opponents, Proponents of Chao Phraya Boardwalk Open Fire
Locals Ready to be Evicted for Chao Phraya Boardwalk, Official Says
River's Friends Float Hope for Public Hearings on 14B-Baht 'Promenade'
Chao Phraya Promenade Should be Sent Back to Drawing Board, Architects Say