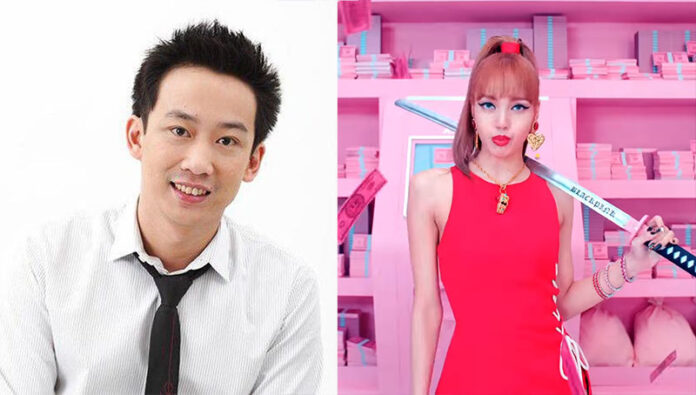 BANGKOK — Ardent fans of one of the current hottest Korean girl groups went into a frenzy Wednesday at the news their band of choice was endorsed by none other than the son of perhaps Thailand's most polarizing political figure.
The K-pop twittersphere erupted when Panthongtae "Oak" Shinawatra, the 38-year-old son of fugitive former Prime Minister Thaksin Shinawatra, publicly declared himself as one of K-pop girl band Black Pink's loyal "blinks."
Fc ผู้ชายก็เรียก blink ใช่มั้ยคร้าบบ ฝากเนื้อฝากตัวด้วยนะคร้าบ #lisa #blackpink #blinkpack https://t.co/eONC9RjGib

— Oak Panthongtae (@oak_ptt) July 3, 2018
"Official fanclub members, including men, are called Blinks right?" Oak tweeted Tuesday night, gaining almost 3,000 retweets by Wednesday. "Thanks for letting me join krup!"
In response to tweets from other fans, Oak said that he owns several Black Pink albums. His favorite member is Lalisa Manoban, better known as Lisa, the only Thai member of the band.
The four-member band signed to Seoul-based YG Entertainment debuted in 2016 and are known for hits such as "Whistle," "Playing With Fire" and current summer hit "Ddu-Du Ddu-Du."
Sharp-eyed netizens first discovered Oak's declaration in a Tuesday comment on Lisa's Instagram, where he wrote "I am a #blink (blinkpack)."
Oak is executive vice president of television channel Voice TV and director of the satellite telecom company founded by his father.
Some people who are dual fans of both Black Pink and the Shinawatra political dynasty cheered his joining the fandom.
"I'm so happy you like her too, P'Oak," tweeted @GammybearBP. "Don't forget to buy her merch, albums, mags and her clothing collection."
ดีใจมากๆๆที่พี่ชอบน้องค่ะ และพี่ค่ะ อย่าลืมซื้อบง ซื้อบั้ม นิตยสาร เสื้อผ้าคอลเล็กชั่น LS ของลิซที่ทำร่วมกับนาโนกอนนะคะ😂😂😂😂😂😂 และที่สำคัญขอต้อนรับสู่ความอดทนของการรอ เพราะน้องค่อนข้างดองตัวเองเหมือนป๊ะป๋าซาจังนิมค่ะ😂😂😂😂😂

— กัมมี่แบร์ (@gammybearBP) July 3, 2018

But other loyalties were challenged. Those some who adore Lisa were troubled by having something in common with a political figure and movement they reviled.
"You and her are on different worlds. Don't do anything that bothers her," wrote @Am_blink_ikn in a now-deleted, but widely captured series of tweets. "What do you mean by saying that you 'personally like' her? I just can't swallow it. On your Instagram, you follow only nine people and eight of them are Shinawatra clan members."
That's when social media erupted into a day-long debate over whether or not it was okay for Oak to like the band. The bomb-throwing @Am_blink_ikn even deleted their account, yet people continued to retweet her messages.
"Kim Jong Un likes Red Velvet," @Vychw tweeted, referring to another band. "How did that bother Red Velvet at all? Stop being retarded. Stupid fanclub behavior like this makes the artist look dumb."
คิมจองอึนชอบ red velvet แล้วสร้างปัญหาอะไรให้เค้าไหม อย่าปัญญาอ่อนเนอะ สันดานแฟนคลับแบบนี้แหละที่จะทำให้ศิลปินโดนด่า

— wynnie (@vychw) July 3, 2018
In the end, Oak said he did not want his fanboying to cause any trouble.
"I will just admire her from afar," Oak tweeted in reply. "I don't want to be a source of discord."