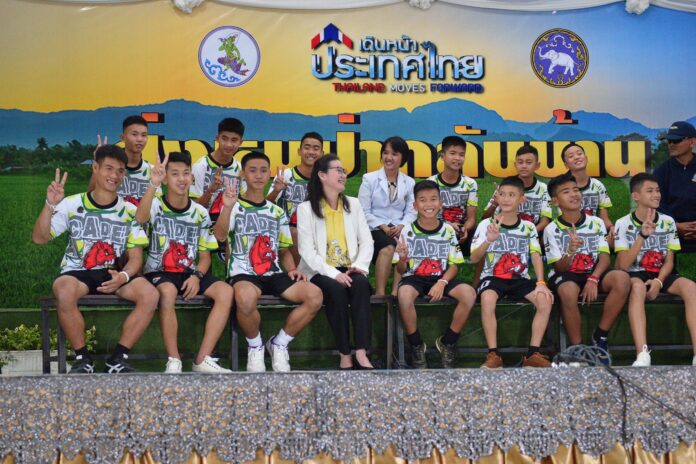 CHIANG RAI — "I was afraid …  afraid that if I didn't go back home soon, my mom would be angry at me," Chanin "Titan" Wiboonrungruang said.
Appearing in their "Wild Boars" jerseys at a heavily scripted news conference, Titan, his 11 teammates and coach explained how they survived 11 days in a flooded cave Wednesday evening upon their release from hospital.
Answering pre-screened questions, coach Ekkapol Chantawong said that after practicing football July 23, he and the team decided to explore the cave, which some had visited before. An hour after they entered, the water rose, trapping them inside.
"I didn't panic. I tried to calm down and figure a way out," said Nattawut Takamsai, 14.
After the 13 could not find a way out of the cave that night, coach Ekkapol told the boys that they should spend the night there. They slept near a clean water source and planned to figure a way out the next day.
The boys were told by their coach not to use their flashlights at the same time to conserve batteries. As has been previously reported, the 13 survived from water drops falling from stalactites and laid still to not waste the energy.
It's the second night when the boys were getting weary.
"I almost fainted. My body was weak. I tried not to think about food, because I would get hungrier," Titan, 11, said.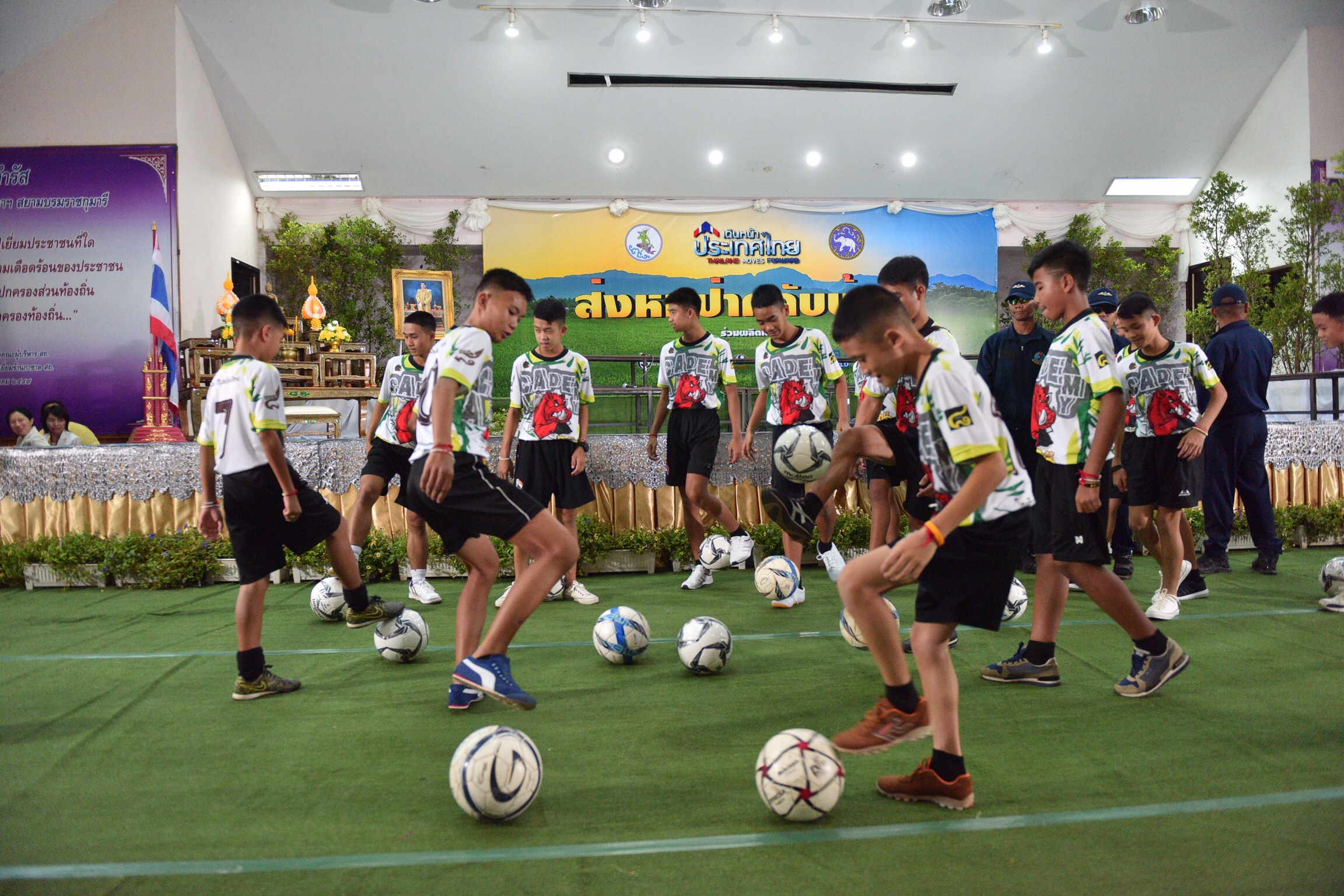 First the Wild Boars' plan was to wait for someone to help rescue them, but as they saw the water rise another three meters, they tried to find a way out.
During the day, the boys and coach would take turn digging into the cave walls. They succeeded in digging up to three to four meters deep, another boy, Prajak Sutham, said.
"At least we were doing something, not only sitting around and waiting for help," Ekkapol said.
It was on day 10 that they suddenly heard voices that weren't their own. One of the boys, Adul Sam-on, said he grabbed a flashlight and descended down to the water and saw two foreign divers there.
"It was a miraculous moment. They asked me, 'How are you?' and although my brain wasn't really functioning, I replied 'I'm okay,'" Adul said.
Soon after they were joined by navy SEAL divers and a doctor who stayed with them nine days until all were rescued. After filling their stomachs with food, the boys said they killed time using chalk to draw on the cave walls and playing checkers with rocks.
"For nine days we had many things to share. They are like my children now," army doctor Lt. Col. Phak Lohanchun said, adding that the 13 are welcome to visit him in Korat during their semester break.
"Earlier I wanted to be a professional footballer, now I want to be a SEAL too," said 14-year-old Ekkarat Wongsukchan.
The hour-long interview ended with the boys and coach thanking Lt. Cmdr. Saman Kunan, a former SEAL who died during the operation.
Before leaving the stage, the team prostrated before a portrait of King Maha Vajiralongkorn.