BANGKOK — Night owls go to the Malaysia Hotel for its khao tom or to continue drinking at dawn after tiptoeing out of nearby Wong's. Gay travelers have known it as an affordable place to stay and pick up young Thai men.
Few however may know the full history of this storied hotel, among those built to welcome American soldiers at the height of the war in Vietnam, where late comedian Robin Williams once occupied a room to shoot "Good Morning, Vietnam."
For example, the name of the hotel– which turns 50 next month – has nothing to do with Thailand's neighbor to the south. Devised to be memorable for foreigners, the name was derived from the owning family's ancestral Chinese name – Ma. That also explains the statue of the rearing horse outside and the hotel's logo, as maa is Thai for horse.
Sitting in Soi Ngam Dupli not far from MRT Lumphini, the Malaysia Hotel was a typically dire block of mid-20th century concrete until a decorative, extruded golden panel was bolted onto the exterior about a year ago as part of extensive renovations.
It has remained in the hands of the same family that built it, now handed down to second- and third-generation owners.
On a recent afternoon in the hotel's famed restaurant, Mayuree Rungsaeng reminisced on life before the hotel, when she was a child living in a canalside home on two rai (3,200sqm) of land with her family, who then sold cloth in Chinatown's Sampeng Market.
Back in the early '60s, Bangkok had a lot fewer hotels. As the Vietnam War began to escalate in 1965 and the economy boiled with American dollars, the capital embarked on a major building spree that brought new development, roads, foreign investment and a glut of tourists. Dozens of hotels mushroomed across Bangkok. They included the Rex, Sheraton, Siam Intercontinental, Chavalit (Ambassador, today), Amarin and Mandarin hotels.
Read: Bangkok's 1960s Retro-Cool Hotels Live On (Photos)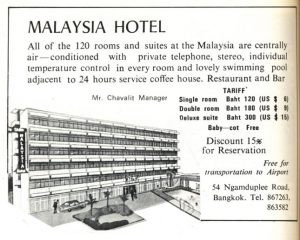 Mayuree's family was among those to seize the opportunity. They built a 120-room hotel with six floors and called it Malaysia.
Upon opening in December 1967, the hotel quickly grew popular among American GIs visiting Bangkok for R&R for its convenient access to places such as Lumphini Park, the U.S. embassy, the Joint United States Military Advisory Group, or JUSMAG – not to mention Patpong and other red-light districts.
"There were so many GIs checking in and checking out; the one sure thing I remember is they all wore cool uniforms," said Wilai Kapoon, who in her over 30 years at the hotel has gone from maid to receptionist.
In the beginning, rooms started at a handsome 120 baht per night. After the American withdrawal from Vietnam, the loss of business forced the hotel to cut rates in half to only 60 baht.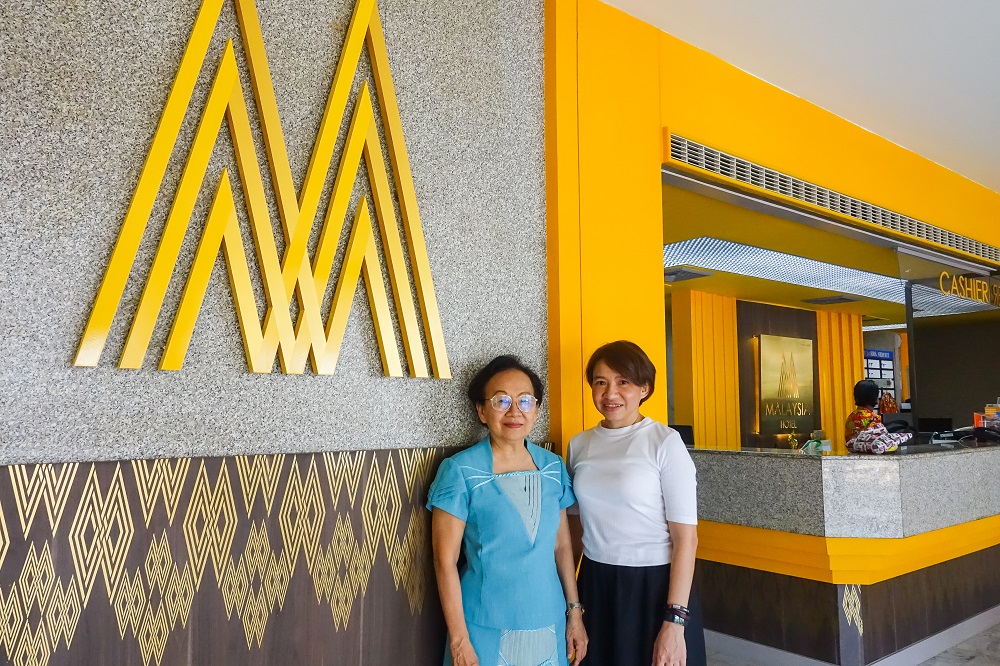 Thus came the first "Cheap Charlie" budget farang backpackers at a time when Khaosan Road was just another unremarkable soi.
The hotel even provided inspiration to '70s French punk band La Souris Déglinguée, aka LSD. "Malaysia Hotel," released in 1983, is a one-minute track sung awkwardly in Thai.
"Hey, mister musician. Why did you come to Thailand? Why did you stay at Malaysia Hotel?" a woman sings. "To smoke cigarettes and marijuana, chai mai?"
Beyond inspiring European rockers, the hotel played a role in Hollywood film industry as well. Known to few people, one of the second-floor rooms was transformed into a '60-era radio station for shooting 1987 comedy-drama "Good Morning, Vietnam." In the film, Robin Williams is a DJ for the Armed Forces Service Radio in a role that earned him a best actor nod from the Academy Awards.
In 1987, during the so-called Golden Age of Thai Tourism, foreign tourists arriving at Don Mueang Airport would be handed a list of recommended hotel by the Immigration Bureau. The Malaysia Hotel was among them.
The late 1980s is when the neighborhood heated up as a destination for casual gay sex. And it wasn't only foreign travelers coming to the Malaysia then. The legendary Babylon gay sauna opened nearby on Soi Sathorn 1 in 1988, and soon rent boys could be found day and night around the hotel, often loitering in its parking lot gazebo.
The business class discovered the hotel in the early '90s. The hotel opened its "internet corner," a basic business services area near the lobby with a few computers connected to the internet. At the time, few hotels offered internet service, said Chanthiman Rungsaeng, Mayuree's daugher and now the hotel's managing director.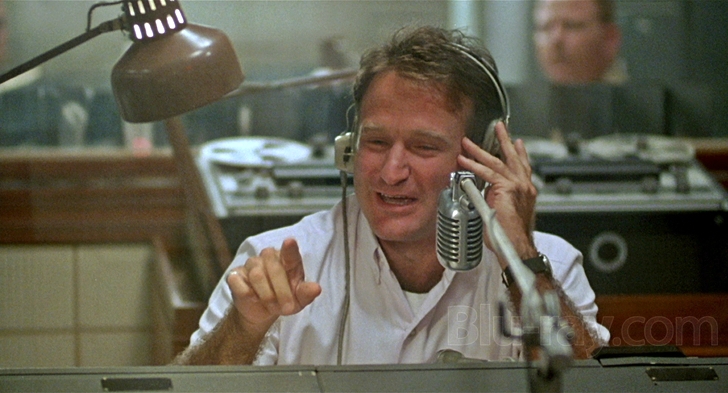 Since then, the Sathorn area had filled up with commercial buildings, embassies and offices. Now the five-decade establishment packs in language-learners, businessmen and visa-hunters. The hotel hosts temporary student residents taking intensive German courses at the nearby Goethe Institut.
Some of the GIs who haunted its halls in their youth have trickled back in, along with retirees from around the world, namely England, Germany and the United States. Some say they regard the hotel as their second home; Chanthiman said their "most VIP" guest stayed there for 20 years.
One regular is French national Alain Gerveix, who said he comes to Thailand two or three times a year for pleasure and to take intensive Thai language courses.
Gerveix said his first impression of the Malaysia was its convenient location near public transportation and a swimming pool where Gerveix can "work outside" on his Thai language homework next to the pool.
Despite describing himself as a "very shy" person, the 69-year-old said he's familiar with all hotel staff. "I know everyone here," he said.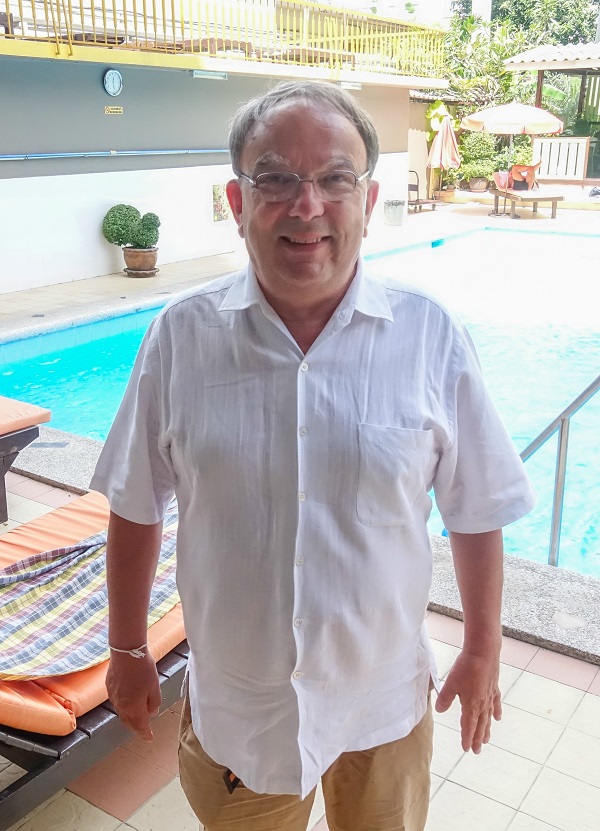 Often found at a square stone table by the pool is a 59-year-old American artist who uses her perch to write about her hero, the late King Bhumibol.
Maura Moynihan, who the staff call "madam," is among those who routinely enjoy long-term stays at the Malaysia. She first visited Thailand in 1975 at the beginning of what would become a lifetime passion for Thailand's culture, art religion and, perhaps most of all, King Bhumibol.
Read: American Artist Paints Love For King Bhumibol
"I just walked in and fell in love with it," she said, making admirable mention of the swimming pool's cleanliness and summer beach atmosphere.
She was parked in front of the dining room's large TV on Oct. 26, the day the late king was cremated, with 100 other Thais and foreigners watching the funerary procession. She said the staff hugged and soothed her as she cried her heart out.
"I wish I could never leave Thailand. The Malaysia [Hotel] is my family," she said
Today, Malaysia Hotel has expanded its facilities from its single original building to a newly built four-story addition. The family has moved off-premises, and rooms in their longtime home next to the main building – including Mayuree's bedroom – are now rented out. Room rates today range from 1,100 baht to 1,700 baht.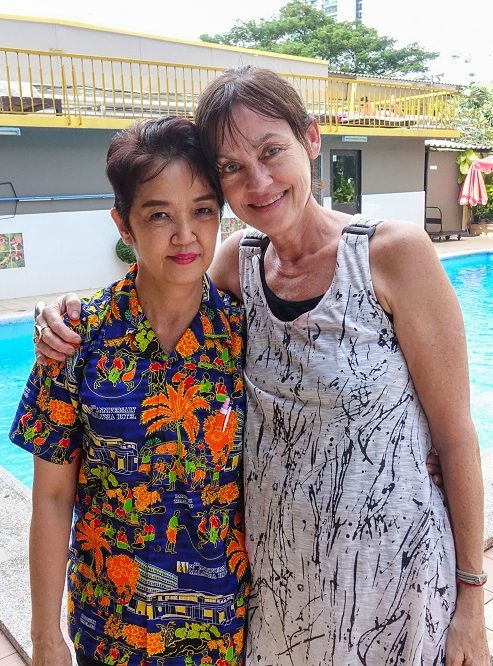 Though the high season usually runs November through Songkran in April, the hotel says it greets a smaller number of guests year-round, who come in for its amenities of massage, food and drinks.
On most nights, the small Malai Restaurant on the ground floor is bustling. Open day and night, it serves a long list of comfort foods and crowd-pleasers such as ham sandwiches, pickled crab, stir-fried pork with salted black olives and butterfly pea-boiled rice. The sizzling-pan Turnip Cake is its signature dish. Made from shredded radish and studded with shrimp, mushroom, taro, peanut, mushroom and more, the recipe won cooking contest The Dish in October 2016.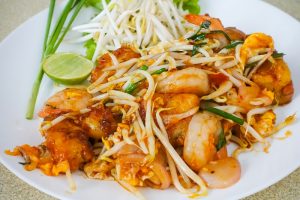 Some of the cooks came from the former Rex Hotel on Asok Montri Road, which was knocked down a few years back. Chanthiman recruited them because she was a fan of Rex's khao tom joint.
The Malaysia Hotel turns 50 on Dec. 3. In August it completed renovations including repainting its gold-colored facade, vibrant murals and refurbishing room decor and furniture.