BANGKOK — To celebrate the epic story of a galaxy far, far away, Star Wars fans are taking the whole "May the fourth be with you" thing to another level this year with several special events planned Thursday.
Although the biggest regional event will be May the 4th Be With You Festival in Singapore from Thursday to Saturday, fans in Thailand can celebrate the special day, which this year marks 40 years since the release of Star Wars: A New Hope, at the following venues.

Photo: Game Over Lounge Thailand / Facebook.
Gamers are invited to join forces, watch movies, play trivia games and chess before dancing to DJ Hexer's tunes starting at 11pm. The best Star Wars costume will get a chance to win a special prize. Admission is free.
The event will start at 5:30pm at Game Over Lounge in Liberty Plaza, Thonglor. It can be reached by motorbike taxi from BTS Thong Lo's Exit No. 3.

Photo: Levels Club / Facebook.
Party people can shout the catchphrase and watch a special Star Wars dance performance while Darth Vader works the decks in the booth. So, prepare well by dressing as a Star Wars character for a chance to win prizes. Admission is free.
The fun starts at 9pm at Levels Club & Lounge in Soi Sukhumvit 11, which is a 15-minute walk from exit No. 3 of BTS Nana.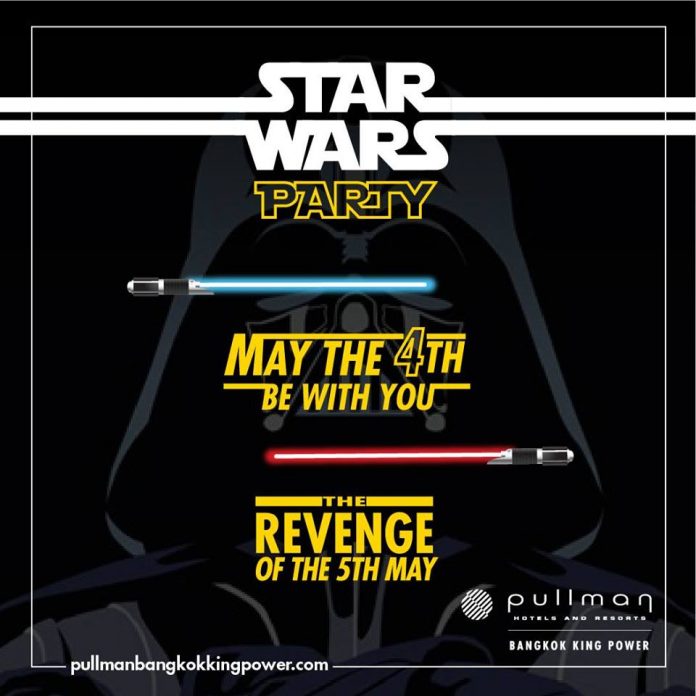 Photo: Wine Pub / Facebook.
There would be no force without food. So, Pullman's Wine Pub is preparing a special course for Star Wars fans on Thursday and Friday to celebrate both May the 4th Be With You and its would-be sequel – "The Revenge of the 5th … May."
Dark Side Chips, Han Burgers, Chocolate Tie Fighters and Obi-Wan Kabob-ies will be all served for 999 baht. Cocktails are 250 baht each and visitors must choose a side, at least for drinks, drawing upon booze from the Dark Side, Blue Skywalker, Sith Cocktail and Yoda Soda.
Set your lightsabers to stun – wrong movie! – and wear the best costume to win a 3,000 baht cash voucher.
The tasty party will start at 6pm at Wine Pub, Pullman Bangkok King Power which is a five-minute walk from exit No. 2 of BTS Victory Monument.