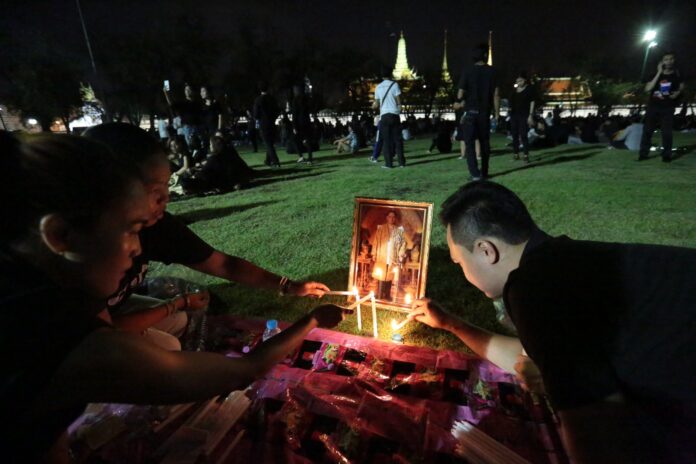 BANGKOK — As Thailand begins a new week since His Majesty King Bhumibol's death led to the declaration of a year-long mourning period, foreign tourists and residents might wonder what is okay and what is not.
From clothing to conversation, here's an attempt to answer some of those questions during this difficult time.
What Should I Wear?
Dress Appropriately: Black and white is best. While nobody outside of government is obligated to wear black or white, it is advisable to avoid wearing flashy colors or party clothes.
Certainly pay greater attention to expectations of modesty — people are less likely to be tolerant of things they might just roll their eyes at normally. Put on a shirt, guys, preferably one with at least short sleeves.
Wearing dark colored clothes such as blue or gray is okay too. Consider bringing a black coat or cover when going out into the public sphere as a sign of respect.
Okay to Share My Opinion of the Royal Family?
The monarchy has long been a sensitive subject, something that has grown into near-paranoia under the increasingly liberal application of the laws against insulting the Royal Family.
Insulting, criticizing or even discussing the monarchy in a way that upsets someone can get you in serious trouble, even though if you're a foreign national. Best advice: Listen to people but don't talk about the monarchy.
How to Pay Respects?
It's a historic time, and guests are welcome to participate in public expressions of mourning. Books for members of the public to sign their condolences are available at several locations including the Grand Palace's Sahathai Samakom Pavilion (daily 8:30am to 4pm) and City Hall (9am to 4pm) and district offices throughout Bangkok (9am to 4pm).
Is All Fun Prohibited?
Private party? Enjoy but consider the sensitivities of neighbors or passers-by who may not be happy if they hear you. Turn the speakers down from 11 and use your "indoor voice."
The government has clarified that entertainment in the private sector at bars or night clubs is okay so long as it is held behind closed doors.
What's Open?
Many events this month and next have been canceled, and nightlife venues from Nana and RCA to Khaosan Road have gone dark, though some remain open as usual.
Most tourist attractions will be open as usual. However, the Grand Palace, where the royal funerary rituals are taking place, will be closed to the public until Friday.
Most restaurants, cafes and movie cinemas will open as usual. We've been updating a list here. Whatever your plan is, check online or call ahead.