Top: Adesse Versions / Courtesy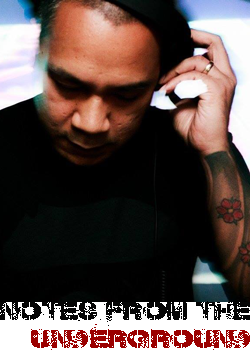 In the post-Dubstep era of 2012, many producers in other scenes experimented with fusing the heavy bass lines of Dubstep with Garage, House and Techno. This led to what we now call Bass music.
There's one tune in particular from those days that has never left my record box. Released with only a mysterious white label stamped "Adesse Versions," its wasn't your typical club-style track, but a hybrid of pulsating subsonic baselines fused with frantic hi-hats and half-tempo 808 claps. To this day it stands out amongst the tunes that I have collected from that era.
On it was a remix of a Jack Master track called "Bang the Box." As I would later find, Adesse Versions was the alias for UK producer Kevin Gorman, who since 2001 has released club bangers on labels such as Numbers, Cocoon and Berghain's Ostgut Ton.
Adesse Versions started as a re-edits project but has since mushroomed into something much bigger than expected. His complex, cut-and-paste style of beat-making has earned him praise from dance music's big wigs such as Derrick May, Larry Heard and Giles Peterson.
As a treat for his fans in Bangkok, Adesse Versions will touch down Dec. 3 to work his magic on Whiteline's upper floor, late-night haunt at Safe Room. (There used to be a giant bank safe in there). The jammy jam is organized by DJ Jaydubb of Disco Robot fame and is part of his "get a room" series. I should say that I'll be a support DJ alongside Jaydubb, in the interests of full disclosure.
"Some parties you hear about afterwards, but never get to go to. We try hard to throw that kind of party and have you live to tell the tale," Jaydubb said. Since relocating here from New Zealand in 2010 he's been busy in the underground booking DJs such as NYC house legend John Morales, Trus'Me and Alton Miller.
This will be the second time Adesse Versions has played the Thai capital. The first was four years ago at Grease.
"It was a great little jam for those 'in the know,' maybe a bit too early for a critical mass of BKK-folks to appreciate the quality of this visitor" Jaydubb said.
When Adesse was here, he told Jaydubb that he "wasn't really all that keen on disco."
"He shared this collection of tracks with me that he produced but never released, which were mashups of classic '80s boogie/disco songs with '90s mainstream rap, R'n'B, vocals," Jaydubb recounted. "Sounds awful, right? And I hate mashups, but these were so skillfully done and fit so perfectly, I still play them out to this day."
Tickets for Get a Room are 250 baht at the door but word is Whiteline is unsure about closing its time and there could be a change in venue. So be sure to check for updates via the 'Get a room' facebook event page. Stay safe folks.
Until next time, Dub be good to you.