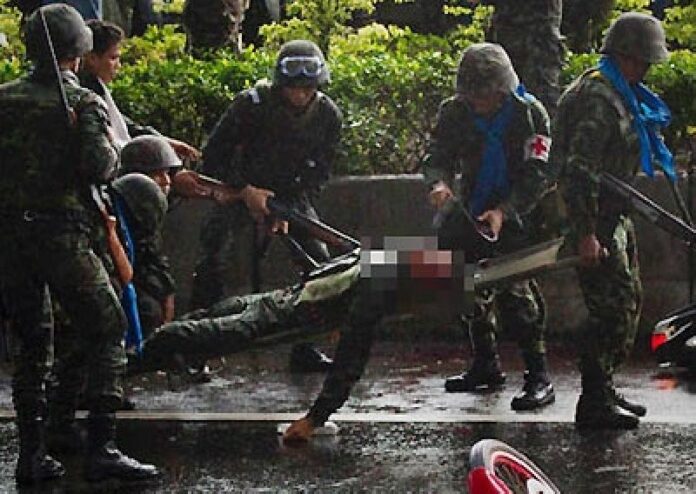 (30 April) The court confirmed that a soldier who died during a clash between the security force and Redshirt protesters in northern Bangkok 3 years ago was killed by one of the soldiers positioned in the area.
The incident took place on 28 April 2010 when a large group of Redshirts protesters left
their main encampment at Ratchaprasong intersection and moved along Vipharvadee Road toward Bangkok
suburb but were stopped by members of the police and armed soldiers near National Memorial.
Clashes ensued, with the soldiers discharging their firearms toward the protesters, who
retaliated with slingshots and other homemade weapons. The Redshirts eventually retreated to their
camp site in central Bangkok.
The Criminal Court has heard witnesses recount how Private
Narongwit Sala, a native of Karnchanaburi province, was riding a motorcycle with other members of
Radid Reaction Forces on Vipharvadee Road to maintain order during the clashes.
Private
Narongwit and his group was riding from behind the forwarding Redshirts protesters toward the lines
of soldiers around 15.00, witnesses said, when gunfires were heard from the military positions, and
Private Narongwit fell from his vehicle. A bullet, fired from direction of the military, entered
Private Narongwit in the head and killed him almost instantly, the court has heard.
Witnesses
from the military side also told the court it was raining heavily on that day, and due to the poor
visibility they thought Private Narongwit′s group was protesters headed toward the soldier lines.
They said they heard someone shouting Stop!, followed by hails of gunfire.
Private
Narongwit′s group was 50 metre away when the soldiers opened fire, they added.
The judge said
today that the accounts from various witnesses fit well with autopsy reports which confirmed that
the bullet which killed Private Narongwit was the type issued to soldiers during the clashes, and
that the bullet was clearly fired from the military position.
The court therefore delivered a
verdict affirming that the victim indeed died from soldiers? gunfire.
Our correspondent has
added that no relative or friend of Private Narongwit was present at the court hearing
today.
The court also revealed they will deliver a verdict on circumstances of the death of
Mr. Fabio Polenghi, an Italian photojournalist, on 29 May. Various evidences and witnesses –
including the BBC documentary Justice On Fire, suggest the security forces likely shot him dead
while he covered the military assault on Redshirt encampment on 19 May 2010. The military has always
denied the accusation.