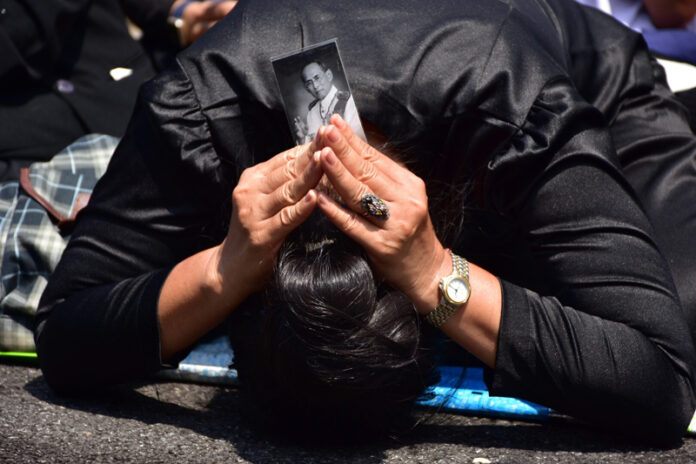 BANGKOK — Devoted mourners slept overnight around the Sanam Luang after King Rama IX's cremation to pay their respects to a procession carrying his urn that passed by Friday morning.
In the thousands, they spent the night on litter-strewn sidewalks near the royal field after the king's cremation to prolong their goodbyes. In the largest sleepover experience many had ever been through, mourners shared collective experiences of adoration of King Rama IX.
Others travelled into the area by foot, with many roads still blocked off. After the actual cremation went untelevised, many who had already camped in the area for days stayed until morning in hope of seeing the urn procession.
Volunteers handed out food and supplies all night to those who slept over. Some reported seeing a flock of nine white birds take flight near the time of the cremation, symbolizing a supernatural tribute to the king.
Read: Royal Funeral For #KingBhumibol Live Blog
The farmers from Chumphon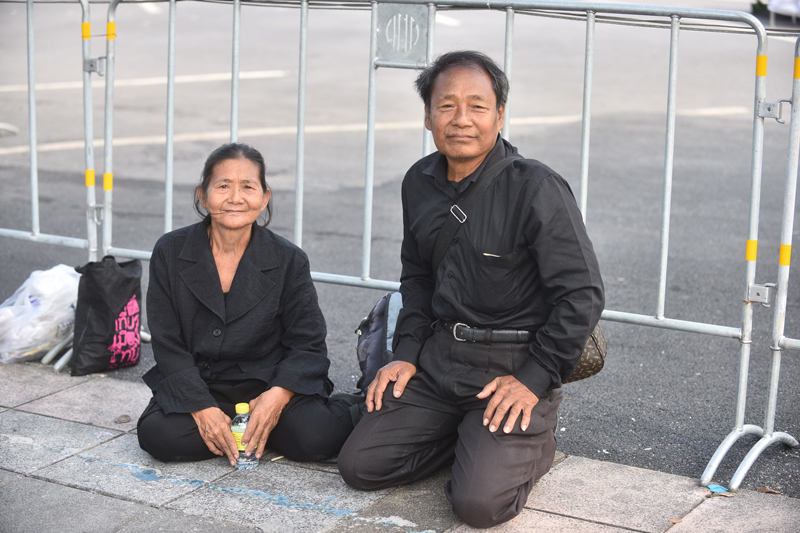 Prayoon Bamrungrat, 63 of Chumphon, her husband Udom Bamrungrat, 70, were still sitting at 9am on the uncovered street near an offering spot at the Government Lottery Office. There they watched a screen showing the procession transporting King Rama IX's urn to the Grand Palace.
The pair had come from Chumphon by train with kilos of sticky and mashed rice they had brought to hand out to fellow mourners.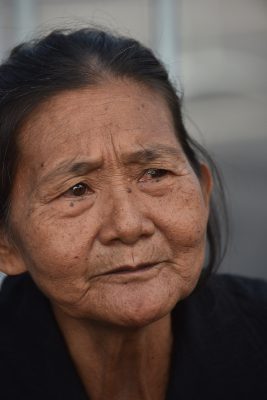 "When we got to Thonburi train station in Bangkok we couldn't find any transportation at nighttime, so we had to walk. Normally my body is weak, and it hurts to walk so much. But I wanted to see my royal father so I walked here with my husband," Chumphon said.
The couple had camped out in the Sanam Luang area since Wednesday and knew they wouldn't be able to witness the actual cremation.
"We tried to walk as close as we could. At least to see the spire of the crematorium would have been good," Prayoon said. She and her husband slept on the ground after the cremation.
Prayoon and Udom own a 10-rai (1.6-hectare) farm in Chumphon, where they have incorporated King Rama IX's teachings of sufficiency by keeping a fish pond along with their rambutan, durian and mangosteen crops.
"It increased our income. Everything in our orchard is symbiotic because of him. I will hold onto his teachings forever," Prayoon said.
The auntie from Kalasin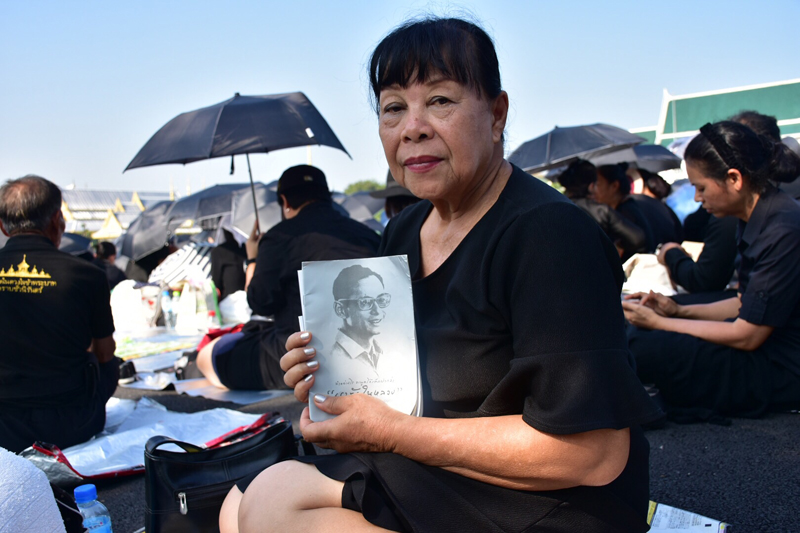 "The sky couldn't hold in her tears, so she cried," said Chusri Rojanakorn, 68, to account for the rain she said fell after the cremation was concluded.
Chusri had been in the Sanam Luang area since Thursday morning and by 11pm had secured a spot as close to the royal field as she could manage
"During the ritual, I felt that sky was clear and cloudless. But after it finished, heavy rain poured down, like the sky couldn't hold in her sadness anymore," Chusri said.
In the heat of the day, Chusri couldn't eat the food given by volunteers.
"My heart was blocked up. I couldn't speak. I kept thinking about all he did for Thais, like planting rice, rearing animals and creating jobs," she said.
"In all my 68 years, I'm so proud to have been born in the reign of Rama IX," Chusri said. "No matter in which backwater area we lived in, he reached us and never left us."
The Medical Team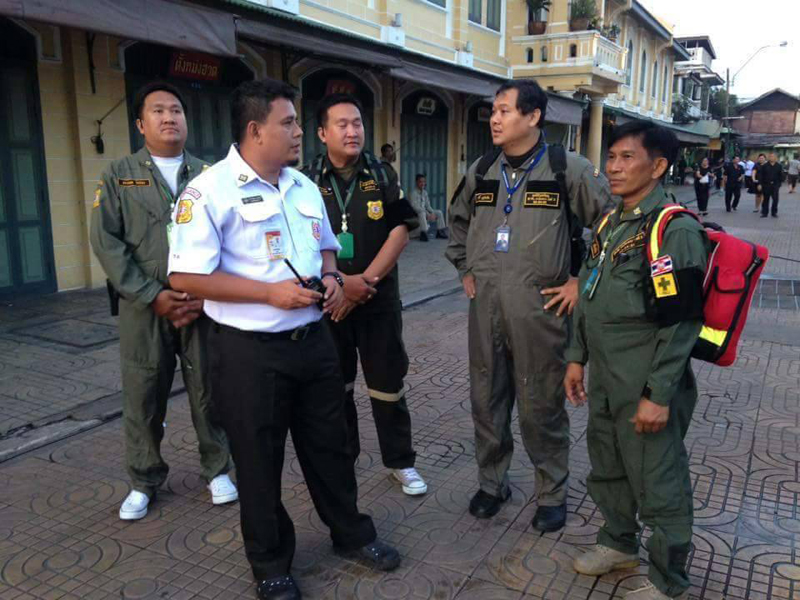 Anthaporn Rakroi, 35, a volunteer on one of 21 medical teams deployed for the royal funeral, handed out supplies and provided aid throughout the night.
"Some of the people on my team were recovering from colds, but we are proud to serve our fellow citizens who came to say their last goodbye," Anthaporn said. "Ten, 20 years from now I hope all the volunteers can tell their children that Rama IX was the father who gave everything to us without tiring."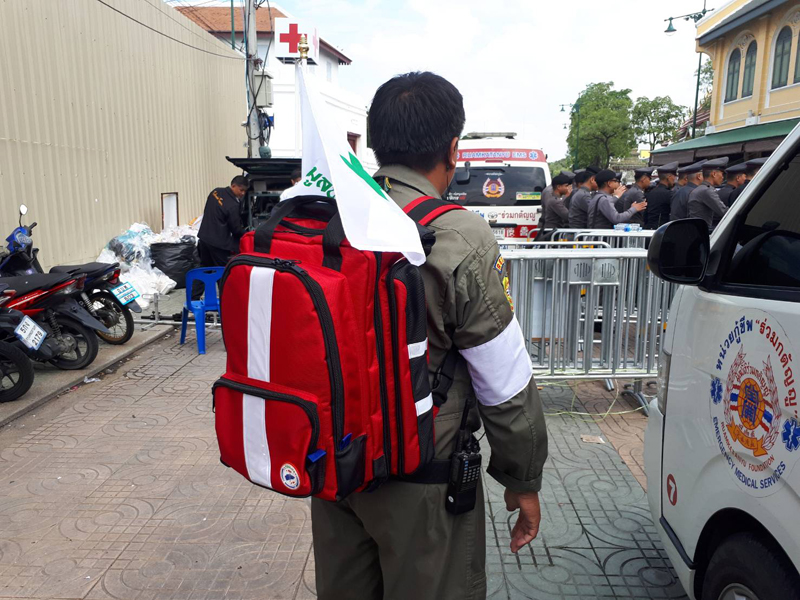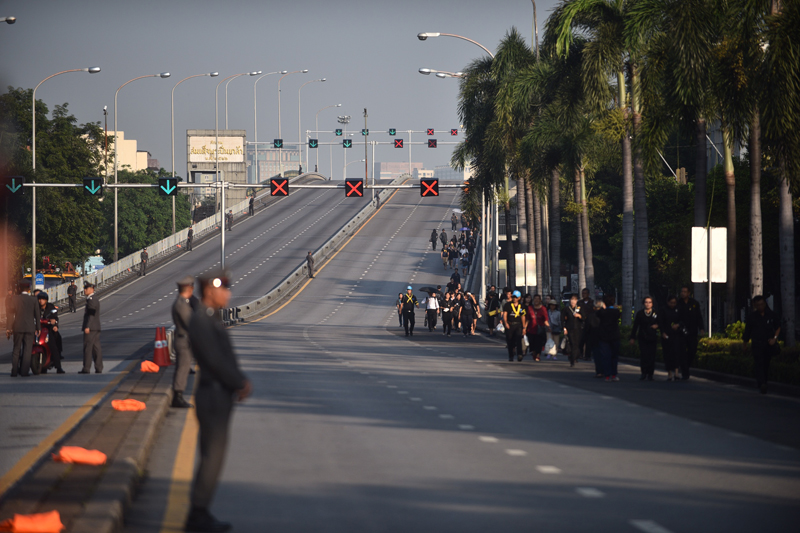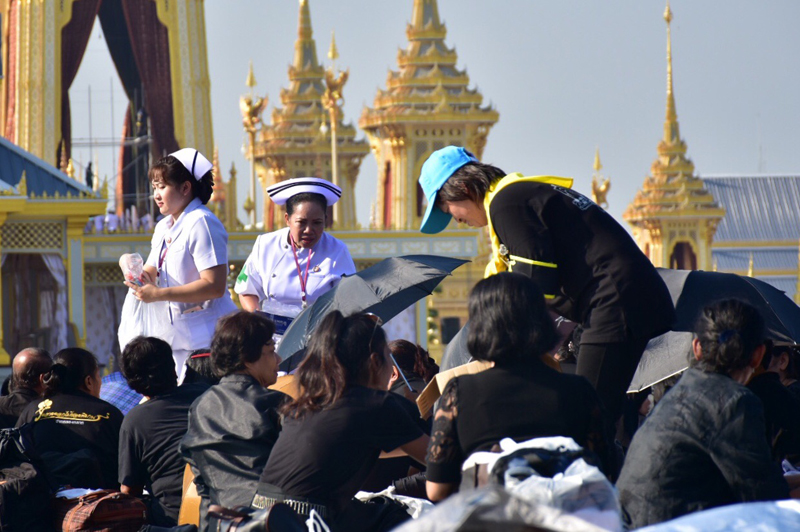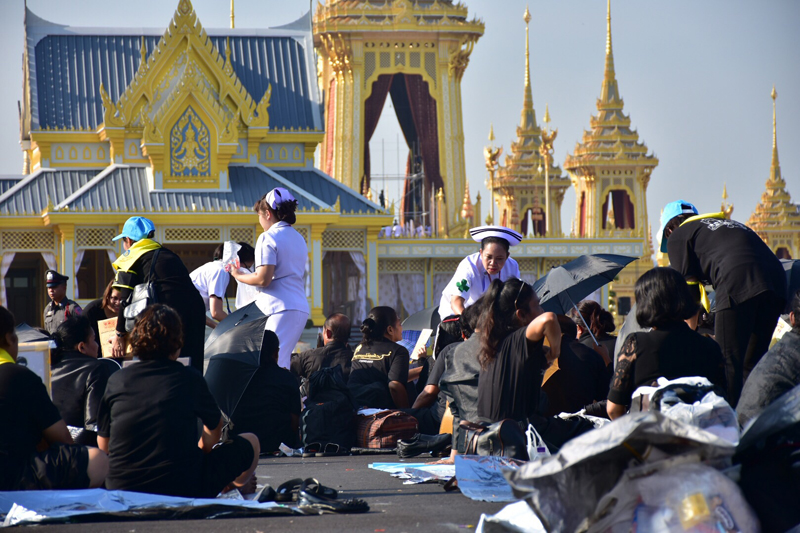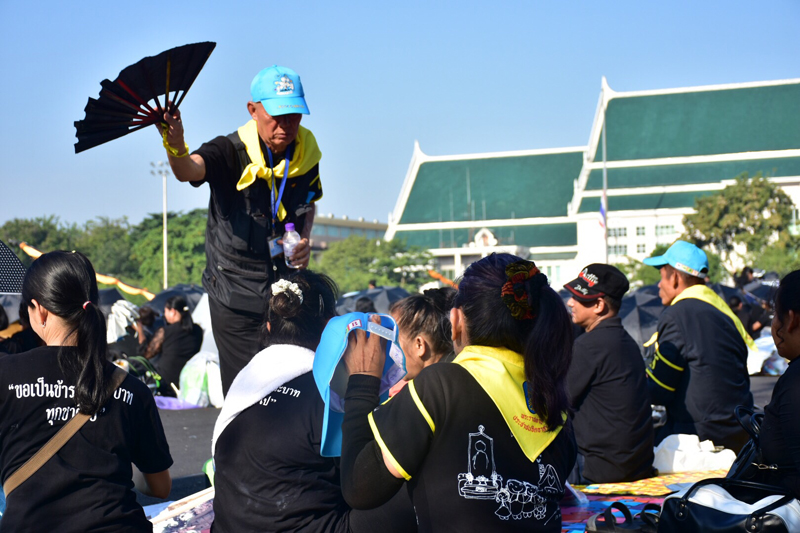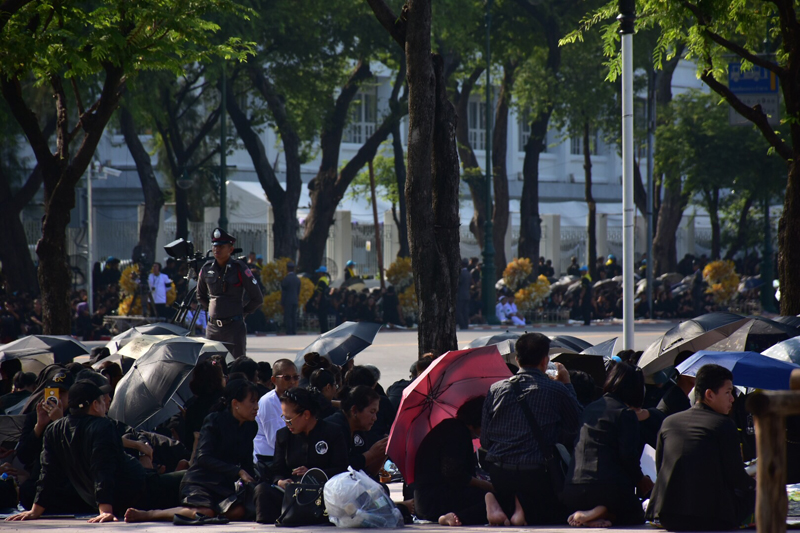 Mourners squat and prostrate themselves before the procession carrying Rama IX's urn passes by.