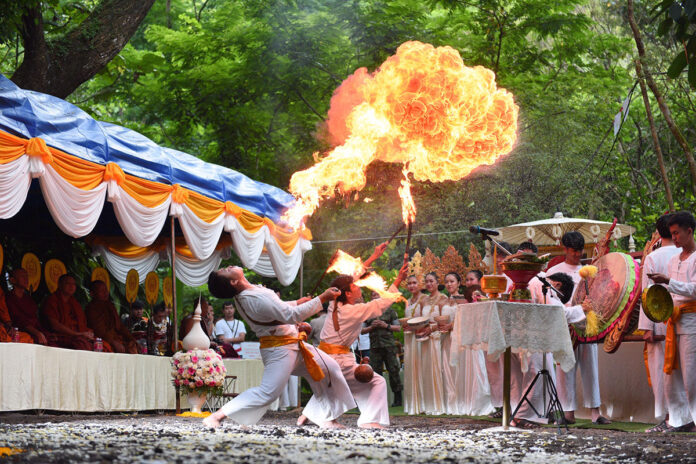 CHIANG RAI —A bevy of rituals were being conducted Monday to appease local spirits and make merit after the successful rescue of 12 boys and their football coach from a cave complex in northern Thailand.
Days after the 13 were rescued from Luang cave in Chiang Rai province, worshippers conducted rituals to appease local goddess Jao Mae Nang Non – after whom the hill above the cave is named – in a large show of food offerings and dances.
Niphon Arnchai, an expert in Chiang Rai cultural rituals who led the morning proceedings, said he was summoning nature spirits as well as spirits of past kings.
Food offerings of pig heads, chickens, snakehead fish, crabs, boiled eggs, Thai sweets, beverages and fruit were put out to appease the goddess.
Niphon also conducted ceremonies to appease other local spirits such as nagas and rituals to make merit for Lt. Cmdr. Saman Kunan, who died during the rescue mission. Offerings were also made to thank spirits for the safe return of the 13 people.