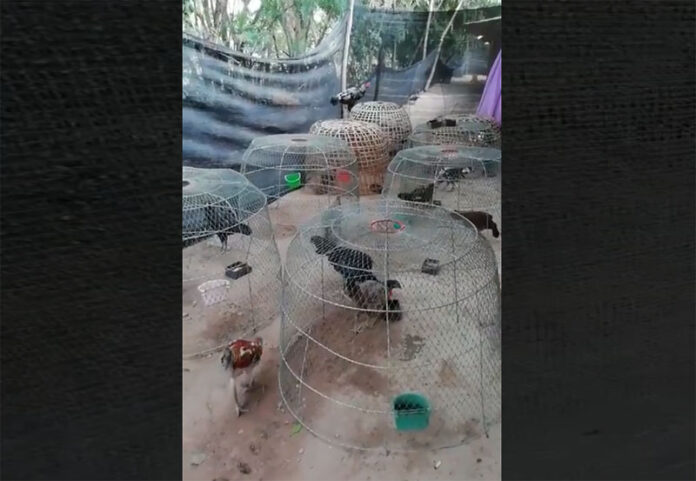 BANGKOK — The defense minister played down the seriousness of a conscript allegedly forced to raise sport chickens for a superior officer but said the matter was being reviewed.
Responding to questions about a viral video showing the unidentified man complain that he was physically and verbally abused by his unnamed superior officer in the southern province of Prachuap Khiri Khan, Gen. Prawit Wongsuwan said that the matter was being looked into.
"It's already being investigated," Prawit said.
Read: Chicken-Raising Soldier Abuse Needs Independent Probe: Activist
Asked if the use of conscripts as "servant soldiers" to do personal chores for their superiors would be abolished, Prawit stressed a semantic difference.
"There's no such practice, he's just being borrowed for use," Prawit said.
Every year around 100,000 young Thai men are drafted by lottery into military service. Reports of exploitation periodically surface, including stories of beatings and abuse that have even resulted in death. In 2015, a naval commander's servant soldier said he was punished by being chained to a tire. A cadet who died in November had organs missing from his body, and is suspected of being beaten to death as previous recruits have been.
Transparency activist Srisuwan Janya said Monday he would file a complaint with the anti-corruption commission today.
Netizens have been blasting the practice of using conscripts for personal gain.
"I want to ask the army commander to go check on your conscripts. They volunteered to serve the nation, but they have to raise chickens for poo yai's personal gain. Is that right?" Nim Suphon wrote in a comment on the video.
Related stories:
Chicken-Raising Soldier Abuse Needs Independent Probe: Activist
Navy Commander Denies Chaining His 'Servant Soldier'
Shackled Soldier Told to Respect Chain of Command
New Recruit Beaten to Death As Draft Season Begins
Soldiers Accused of Beating, Killing Young Recruit Made to Apologize
Army Plays Down Risks After Another Draftee Dies
Army Compensates Family of Thai Soldier Killed By Drill Sergeants