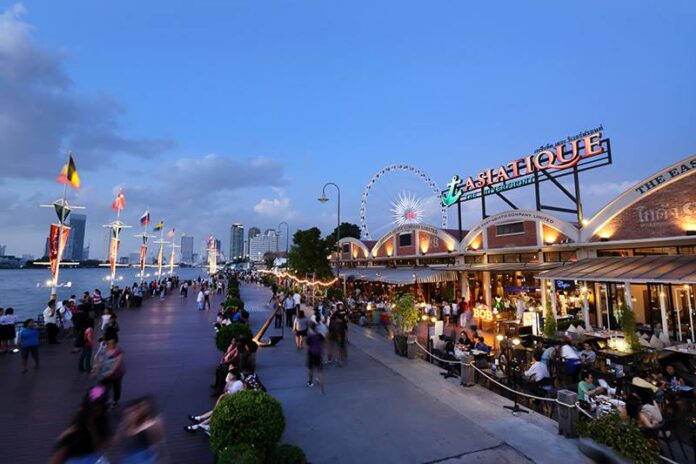 BANGKOK — In case you were concerned about Bangkok's access to community shopping malls, worry not, for another has been floated for the rapidly transforming riverside.
A government agency left high and dry when the former civilian government's rice subsidy ended will seek a developer to build a new mall to sprawl along the Chao Phraya River, similar to Asiatique The Riverfront.
If it happens, the mall will be located on 20 rai (3.2 hectares) of land owned by the Public Warehouse Organization, or PWO, near the Rama IX Bridge in the capital's Rat Burana district.
"If the project moves forward, PWO will definitely have revenue to feed ourselves," said its president, police Maj. Gen. Kraiboon Suadsong. "As now we can no longer make money from fee to manage the pledging scheme for rice and other agricultural products."
The agency, which managed government rice stocks at the height of the Yingluck regime's subsidy program, now leases the land as warehouse space, bringing in nearly 40 million baht annually.
Kraiboon said plans also call for a demonstration farm to illustrate the king's economic philosophy of living within one's means, which has been widely promoted by the government.
The plan was set to go before PWO's board on Tuesday.
If the mall comes to fruition, it will join an increasingly crowded commercial space along the river. In addition to Asiatique, which opened in 2012, other river mega-developments include Icon Siam, Tha Maharaj and Yodpiman River Walk.
Related stories:
Opponents, Proponents of Chao Phraya Boardwalk Open Fire
Locals Ready to be Evicted for Chao Phraya Boardwalk, Official Says
River's Friends Float Hope for Public Hearings on 14B-Baht 'Promenade'
Radical Makeover of Chao Phraya River Delayed
Chao Phraya Promenade Should be Sent Back to Drawing Board, Architects Say