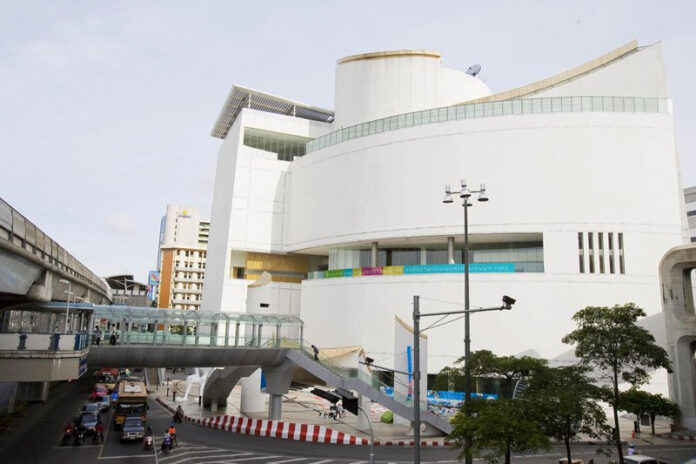 BANGKOK — Hours after prominent artists lent their voices to demands City Hall drop plans to seize control of a downtown arts venue, the governor who wanted to turn it into a coworking space caved in Tuesday afternoon.
Bangkok Gov. Aswin Kwanmuang cited popular demand for the Bangkok Metropolitan Administration, or BMA, decision not to take over the Bangkok Art and Culture Centre, or BACC, until its contract expires in 2021.
"I'm not a stubborn man. When I suggest something citizens disagree with, I'm ready to stop," Aswin said after a meeting of Bangkok's unelected board of directors.
Read: Famed Artists Say No to City Hall Takeover of BACC
Aswin said that BMA had an agreement with the BACC Foundation that permits it to manage the arts venue until then.
"When that time comes, then we can talk again. By that time, who knows who the governor will be? It will be up to them," Aswin said.
But he said City Hall would provide no financial support. In previous years, the BMA has supported the center with tens of millions of baht.
On Friday, Aswin had proposed taking over the BACC and turning it into a coworking space by filling the venue with tables and chairs, supposedly so students could have a place to work.
BACC Director Pawit Mahasarinand worries that Aswin's original ambitions could still come to pass. Tenures for the BACC board and executive committee are running out. Aswin directly controls the process of selecting new members for both, and Pawit said he could install people who would approve the coworking space plan without taking over.
Pawit said defunding the venue by cutting all funds for 2018 is a strategy to starve the venue.
"As for 2019, funding will be up to what the BMA's Department of Tourism, Sports and Tourism suggests," he said.
Aswin said that the proposed art venue takeover was unrelated to silencing dissent or other political factors.
The BACC grounds have been a popular place to stage protests since the military seized power four years ago.
"I'm not a politician. I didn't come from politics. I have nothing to do with the citizens who went to submit a complaint to the prime minister today."
Aswin said he did discuss the matter with junta leader Gen. Prayuth Chan-ocha, who installed him as governor in 2016, who reportedly told him to "listen to the citizens and stop if they say so."
Related stories:
Famed Artists Say No to City Hall Takeover of BACC
City Hall Signals Retreat on BACC Takeover Plan
The City Actually Wants to Turn BACC Into a 'Coworking Space'
Take Risks, Include More: New Bangkok Art Center Head
Meet Bangkok's New Governor: Aswin Kwanmuang