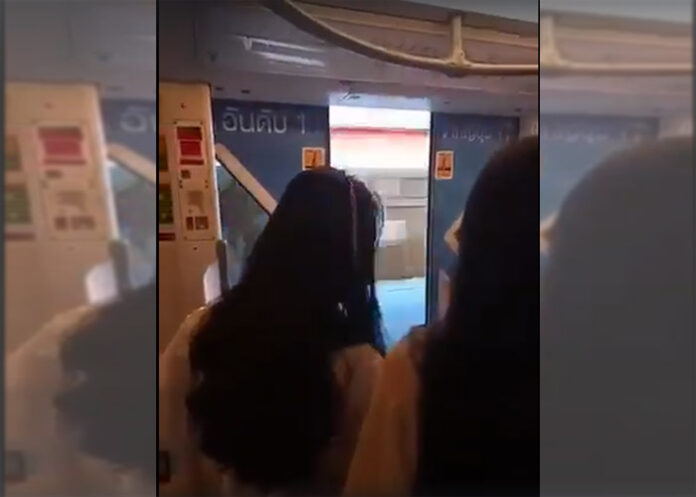 Update Aug. 8: Siemens on Wednesday confirmed that its own faulty maintenance work was responsible for the door malfunctioning, as reported Tuesday by City Hall.
BANGKOK — Another crowded day on the BTS brought with it a new and more terrifying failure.
The operator of the BTS Skytrain apologized Friday for a malfunctioning door that remained open several minutes on a moving train after footage of it was posted online.
Posted by What's Wrong with the BTS Today, a Facebook page created in June at the height of crippling disruptions to the popular rail network, the video shows the door halfway open with passengers nearby.
"Running with thrills. Enjoy the new experience, being on board while the door is open," read the caption. "Today on some train we don't know where. Try your luck."
The video had racked up nearly 780,000 views and been shared more than 7,600 times as of Friday morning.
Early this morning, the BTS tweeted an apology. It said the incident happened Thursday morning on a train that had just left BTS Mo Chit station for BTS Saphan Khwai.
"Many passengers sent us the video of the train door left open while it was running," the tweet read. "We'd like to thank you for the information and deeply apologize to you."
It added that the engineer stopped the train, fixed and locked the door "immediately" after it was open about two minutes. The train has also been taken for inspection to prevent the problem from happening again.
"We'd like to ask for your cooperation. Please do not lean against the door during any journey," it said.
Commuter dissatisfaction has been running high as the network relied on by many has repeatedly broken down in recent months. The operator blamed its frequent outages on radio interference with its signaling system, a problem it says has been fixed.
"Don't you have any kind of sensor to warn us of the danger?" Twitter user @1100 tweeted in reply. "Why is it so shoddy? Your engineers and management are the worst."
"It's impossible not to lean on the door. It's too crowded," @AmphaJ tweeted. "I lean on it because I don't want to fall down. There are not enough poles to hold on to."
Related stories:
Is BTS Broken? Find Out on Crowdsourced Info Page
Broken Again, BTS Told to Compensate Commuters