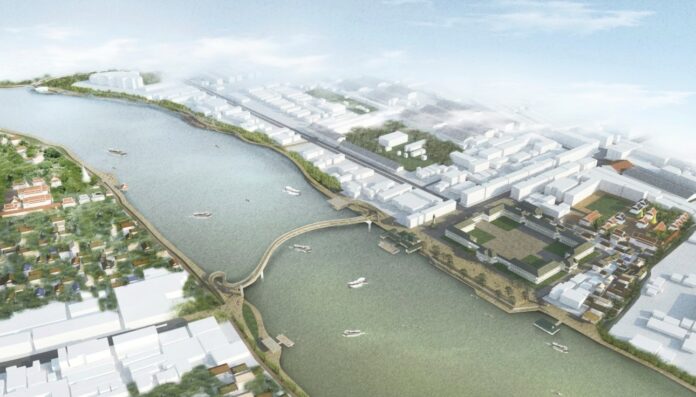 BANGKOK — Opponents of a plan to build boardwalks along the Chao Phraya River filed a lawsuit Wednesday seeking an injunction against further action and demanding its impact be fully evaluated.
Four government bodies including the interim cabinet and City Hall are accused in the suit of rushing the massive riverside redevelopment project without proper study of its environmental impacts and failing to share information with affected stakeholders. It was filed at the Administrative Court, a representative for several environmental and urban design groups said.
"The government is likely to open bidding on the construction soon," said Yossapon Boonsom, founder of Friends of the River. "If that happens before the project is studied appropriately, it could lead to serious damage, even for the private companies that may enter a bid. We want a special order halting the bidding for now."
It's been a long, contentious process since the controversial project was first approved in 2015.
With a budget of 14 billion baht, the military government said it wanted to turn the riverside into a world-class landmark. Opponents said pouring concrete walkways along the river was ugly, ill-conceived and failed to take into account impacts on communities and the environment. The plan immediately met stiff opposition.
In April, a government conservation committee – led by junta deputy Gen. Prawit Wongsuwan – said it would withdraw and rethink the plan as well as exempt banks along the Rattanakosin area in the old quarter, but no such order was subsequently issued.
The committee said then it would redevelop the river in a more piecemeal fashion, "spot by spot and not by laying a whole walkway."
In a reversal one month later, Bangkok's public works department said promenades between the Rama VII Bridge to the Dusit district and Bang Phlat canal were green-lit. Yossapon, who's also a landscape architect, said he believes there have been no changes to the original, maligned design.
Experts from the opposition groups last week hosted a debate over the project. They said that while it might have begun with good intentions, the government has never consulted with those who will be directly impacted by construction and called for a reevaluation of the whole plan.
On Tuesday, the transport and interior ministries approved 5 billion baht for two more river developments in Nonthaburi province: a 4.9-kilometer pedestrian/bicycle lane connecting the Maha Chesadabodindranusorn and Rama V bridges, and a 400-meter pedestrian bridge.
Officials said the Interior Ministry would oversee construction of the walkways while the Transport Ministry will be in charge of redeveloping piers and areas under the new bridge. They expect the plans to get a cabinet approval in two years.
The projects are part of a bigger plan initiated by City Hall's transport and traffic planners to spend 35 billion baht on building 140 kilometers of pedestrian bridges and paths along the river throughout metro Bangkok in Pathum Thani, Nonthaburi and Samut Prakan provinces.
Related stories:
City Hall Continues 'Canceled' River Boardwalk Plan
Chao Phraya Boardwalk Plan Dead in the Water: Architects
Evictions Continue as Funds Set for Chao Phraya Promenade
Opponents, Proponents of Chao Phraya Boardwalk Open Fire
Locals Ready to be Evicted for Chao Phraya Boardwalk, Official Says
River's Friends Float Hope for Public Hearings on 14B-Baht 'Promenade'
Chao Phraya Promenade Should be Sent Back to Drawing Board, Architects Say