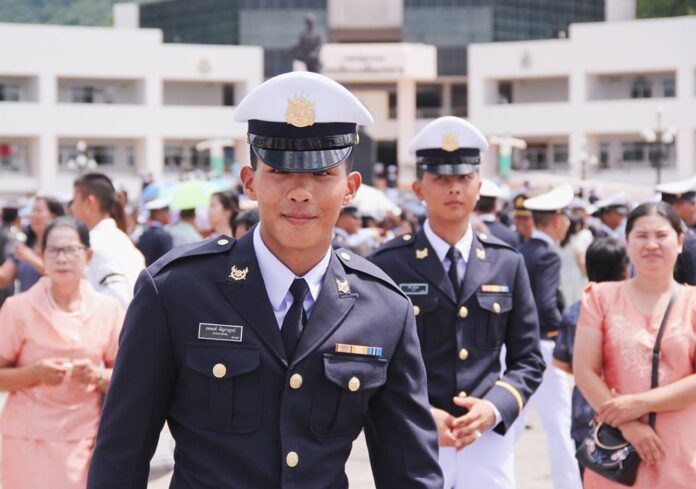 BANGKOK — Forensic officials said Wednesday it was perfectly legal to keep the internal organs of an academy cadet who died under suspicious circumstances without informing his family it had done so.
The military maintain that 19-year-old Pakapong Tanyakan died of natural causes after his family raised suspicions of foul play after discovering his brain, heart, stomach and bladder had been removed prior to the return of his body. Some of his ribs were broken, and his brain had been replaced with wadded tissue paper.
"The evidence so far leans toward abnormal function of the heart," Col. Narut Thongsorn, a physician at the army-owned Phramongkutklao Hospital, said at a Tuesday news conference. He added that a full inquiry into Pakapong's October death has not yet concluded.
Narut said his team concluded the bruises and indications of broken ribs weren't enough to explain Pakapong's death, so they had cut him open while conducting an autopsy. He decided to freeze the heart, brain and stomach for further inspection, he said.
The colonel said he also took out and cut open Pakapong's bladder, but found nothing out of the ordinary, so he sewed it up and sent it back to the lab. Narut said he did not know where it ended up.
Pakapong's family could not be reached for comment Wednesday.
Somn Promaros, director of the Central Institute of Forensic Science, said his agency is cooperating with the military hospital in the ongoing autopsy. He said the three organs will be sent to the institute on Thursday.
"It will take a week for a complete report. It shouldn't be later than Nov. 30," Som said. "Or at the latest, it won't be later than early December."
Institute spokeswoman Panchai Wohandee said it's not against the law for doctors to keep such organs without informing Pakapong's family.
"The collection of tissues and flesh, if it's beneficial to justice and case procedures, can be done without informing relatives," Panchai said.
Asked whether doing so is ethical, Som said there's Thailand has no ethical standards for organ collection. He blamed the controversy on "miscommunication."
"I understand that the doctors who performed the initial surgery had good intentions," Som said. "Because this case is important, so they want to store them for close inspection. But there might be a lack of communication with the family."
'Don't Sign Up Then'
The armed forces have a long history of physically abusing recruits and cadets, with occasional deaths resulting. These deaths are rarely explained, and families who seek the truth have been met with silence from the authorities or even prosecution.
In a diary shown to the press by his family, Pakapong said he was subjected to punishment several times in his training, including being punched in the belly. His sister also said in Tuesday's news conference he once fainted and had to be revived by CPR in August after he was ordered stand on his head as punishment for walking in a wrong way.
Defense minister Prawit Wongsuwan said physical punishment is normal in the military. Even he went through the ordeal when he was the cadet 50 years ago, the general said.
"But I didn't die," Prawit said today.
Prawit maintained Pakapong died because of a pre-existing health condition. He said any deaths that take place in military facilities are routinely investigated.
Asked how the military could stop further tragedies resulting from punishment, the defense minister had simple advice: Don't come.
"Don't sign up then. Don't become a soldier. We only want people who are fully willing," he said.
"So punishment is part of the military?" the reporter pressed.
"Oh yes. Of course," Prawit said.