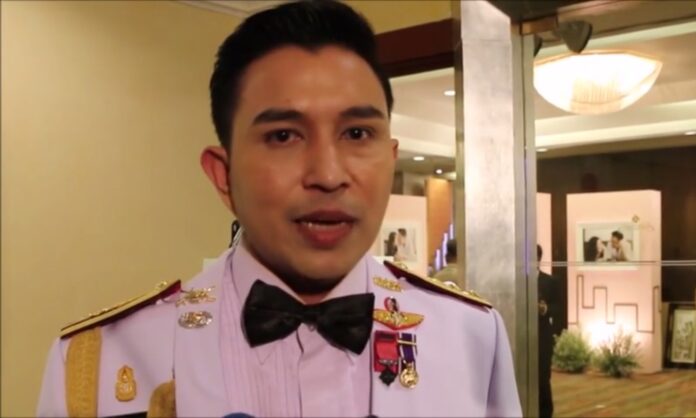 KHON KAEN — For those late to work Thursday morning in Khon Kaen, an army colonel would like to say he's so, so sorry for blocking the province's largest road for his wedding.
Lt. Col. Phitakphon "Seh Pete" Chusri said he thought sealing off part of Mittraphap Road for the ceremony would only cause a minor inconvenience. The roadblock resulted in rush hour traffic chaos that prompted commuters to vent their anger at the officer on social media.
"I accept my error. I didn't expect the traffic would be that bad, and the people had to suffer," Phitakphon said at his wedding reception Thursday night. "I'd like to take responsibility for what happened. Please don't blame the bride's family. They don't know anything about it."
The mayhem on Mittraphap Road started at about 8am and continued for an hour, according to reports on social media. Many complained that only one lane of the road was open to traffic, while two other lanes were occupied by motorcades of vehicles.
They were soon outraged to find out that the motorcades were there for kan mak, a traditional procession in which the groom and his entourage make their way to the family home of the bride to ask for her hand in marriage.
"I was wondering, hey, was there a car crash? Half an hour later, I arrived at the scene in front of a certain restaurant. Ohhh!!! It was a #Wedding you guys! Procession for the wedding!!" wrote Facebook user Pui Massalin.
According to images of the wedding posted online, the bride is a daughter of "Je Lek," owner of a major Khon Kaen seafood seller.
Another commuter caught in the traffic jam was physician Warisa Sathirathanakorn, who said she ended up being late to the hospital due to the wedding.
"Who are you? What power do you have that you close down Mittraphap Road and cause a traffic jam? Other people have to go to work," Warisa wrote. "If you're so rich, why didn't you just hold it at a hotel, so other people wouldn't have had to suffer? Or do you think now that there's a military government, you can do whatever you like?"
It's not the first unpopular decision made by the commander of the junta's provincial security wing.
After the junta seized power in May 2014, Phitakphon's unit imposed a curfew that forced all concerts to end before 1am. The ban led to protests from mor lam folk musicians who said their traditional performances last until early dawn.
Phitakphon was also the officer who filed royal defamation charges against pro-democracy activist Jatupat Boonpattararaksa, or Pai Dao Din, for sharing a BBC Thai article about the king. Jatupat has been jailed since December.
Upon hearing the news, Jatupat's father posted a scathing message addressed to Phitakphon.
"Congratulations to Seh Peach [sic], who is now married and has a family," Wiboon Boonpattararaksa wrote. "If he has a child, he will know how closely parents bond with their child, and he will understand even more how painful it is for parents when a child is bullied in an unjust and merciless manner."
Lt. Col. Phitakphon told the media he only ordered a single lane closed. He also said he had obtained permission for the closure from local authorities.
Meanwhile, junta spokesman Winthai Suvaree outright denied the road was blocked. He said traffic simply built up because there were many cars in the wedding procession Col. Winthai aded that anyone affected by the traffic jam could file a formal complaint to the army.
"People who criticize the military on Facebook can submit letters to us," Winthai said. "Army spokespeople are willing to mediate and create understanding."