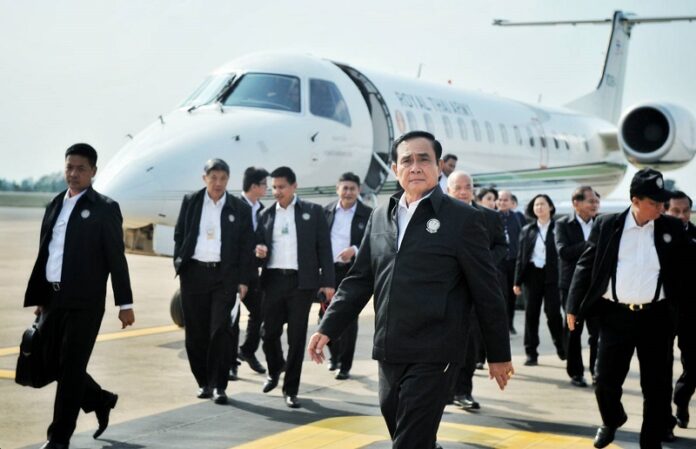 BANGKOK — Just a few hours before Prime Minister Prayuth Chan-ocha touched down to survey flood-devastated Khon Kaen this afternoon, local officials repaired a key retaining wall that had been broken for four days.
Repairs to the 30-meter-wide embankment, which breached Saturday due to powerful flooding and immediately submerged over 5,000 rai of rice fields – were completed this morning as the junta chief scheduled an afternoon visit.
The flood crisis which has persisted for a month has killed 10 people and afflicted more than 325,000 people in 17 provinces, according to the Disaster Prevention and Mitigation Department.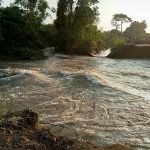 Arriving around 3:30pm, Prayuth got a situation report from the provincial governor before heading to see the now-repaired wall.
Prior to boarding his plane, Prayuth told reporters the amount of water was the same as in 2011, when some of the worst flooding in modern history caused over a trillion baht in damages, affected more than 12 million people, killing more than 800.
Six years after 65 provinces were declared disaster zones, Prayuth said the amount of water today is the same, but his government was doing its best to limit the effect. Flood disasters have been declared in 17 provinces.
Prayuth's trip comes after his government drew some fire over the persistent flooding. A spokesman for the opposition Pheu Thai party condemned the government Monday for being too slow to act or solve the situation. Acting deputy spokesman Anusorn Iamsa-ard urged Prayuth to go visit and bring aid to affected residents as soon as possible.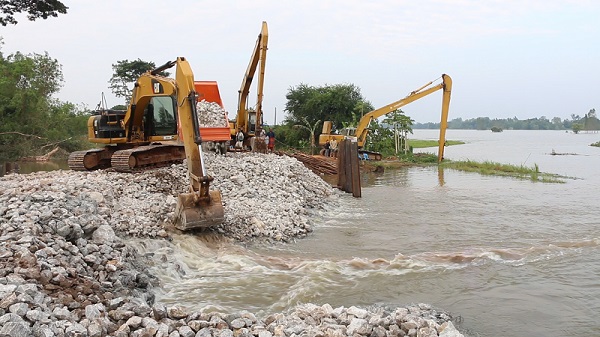 Last week, Prayuth thanked farmers in the central heartland upstream from Bangkok for the "sacrifice" of their farmland and rice fields as buffers to absorb excess water. Doing so helped keep the capital dry during an elaborate funeral for the late King Bhumibol last week.
Many areas in the central and northeastern region have been flooded for over a month.
While insisting his government was doing its best to push water into the gulf before a storm surge expected today through Friday, Prayuth said it was also preparing for the same in the south.
Yesterday, Prayuth went to Ang Thong province to visit flooded residents, some of whom evacuated. He repeated the claim that the flooding was as bad as 2011 and took credit for it not being worse, saying it was because of his superior management.
He also advised Ang Thong's governor to encourage farmers there generate alternative income by taking up fishing.
Related stories:
Flooded Provinces Shield Bangkok From Calamity at Sensitive Time
Storm Warning For Bangkok as Flood Crisis Deepens in Provinces, 7 Dead
After Floods, Veggie Prices Soar as Festival Begins
Rescuers Unable to Free Elephant Swept Into Creek by Flash Flood
Why Was Bangkok Not Warned of Flooding?
Rain Check: Another Wet Week, Flooding Continues
As North Floods, Major Dam at 100% Capacity