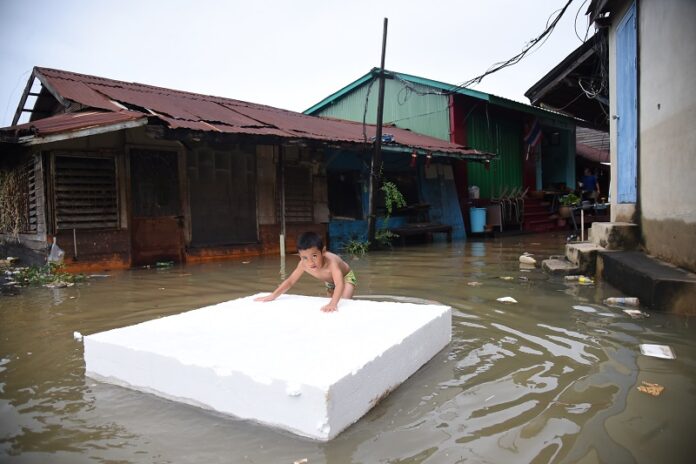 BANGKOK — Water levels remained critical in three flooded regions Wednesday as the prime minister thanked flooded provinces in the central region for their sacrifice.
With the capital safe from flooding on the eve of an important historical event, Prime Minister Gen. Prayuth Chan-ocha thanked farmers in central provinces Tuesday for the "sacrifice" of their farmland and rice fields as buffers to absorb excess water.
"Some sacrifice has to be made for the majority. I know that everyone was afflicted but what can I do? If we did not release, it would be all flooded," he said. "When we release, the water floods only some areas."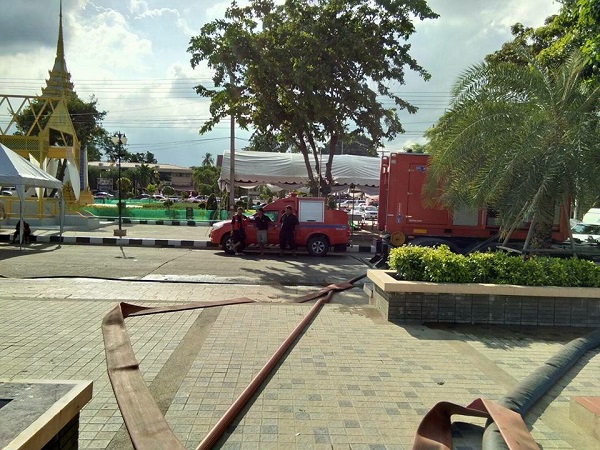 Located upstream from Bangkok, such areas often hold back water that would otherwise inundate the capital, which Thursday will host the cremation of King Rama IX in an elaborate ceremony months in the planning.
"The government has tried to make it affect people the least," Prayuth said. "When the water cannot be held any longer, it must be released. People outside the retaining wall might be affected, but the government has measures that will remedy it."
It was left unspoken that the farmer's forbearance is helping prevent flooding in the capital at a critical time.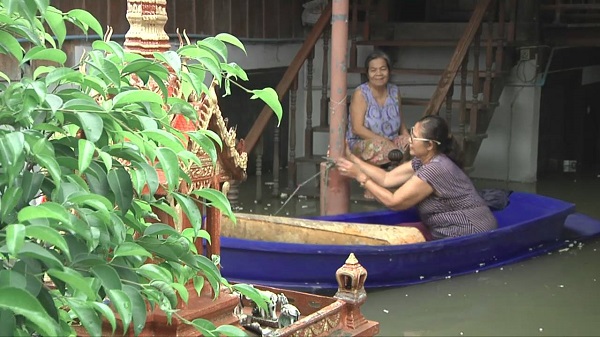 Since Oct. 10, flooding has killed nine people and affected more than 300,000 residents.
Interior Minister Gen. Anupong Paochinda said Tuesday the ongoing flooding in 19 provinces would not impact regional royal cremation ceremonies.
Still, preventive measures were taken. In Pathum Thani province, workers set up sandbag walls and pumps to secure the replica crematorium there.
Many areas in the central region, such as Ayutthaya and Suphan Buri provinces, have been flooded for over a month.
There are currently 1,300 million cubic meters of water spread over those two provinces, which is more than can be held by the nearby Pa Sak Jolasid Dam, said government hydrologist Sanya Saengpoompong.
This massive amount of water is funneling toward Bangkok's neighboring provinces of Pathum Thani and Nonthaburi, some portions of which are already submerged, especially outside the temporary retaining wall.
It will take 30 to 45 days until the central region's flooding is resolved, Sanya said.
In the northeast, floods have shifted from Khon Kaen province to Kalasin province.
The Wang Yang Dam in Kalasin is only 40 centimeters short of equalling to the amount it held during the flooding disaster of 2011.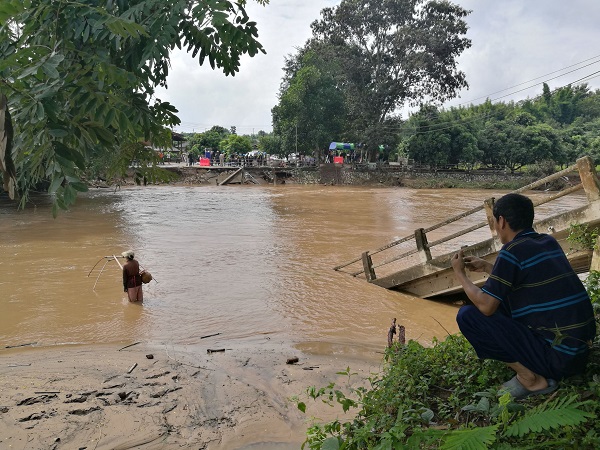 Related stories:
Storm Warning For Bangkok as Flood Crisis Deepens in Provinces, 7 Dead
After Floods, Veggie Prices Soar as Festival Begins
Rescuers Unable to Free Elephant Swept Into Creek by Flash Flood
Why Was Bangkok Not Warned of Flooding?
Rain Check: Another Wet Week, Flooding Continues