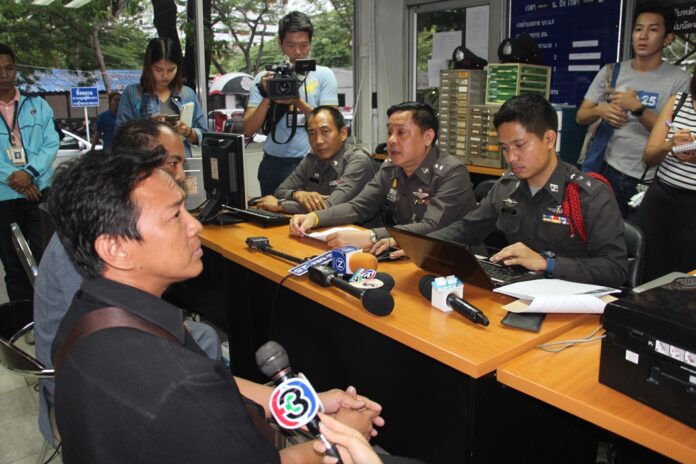 BANGKOK — A motorcyclist who slammed into the lead singer of rock band Flure and then fled the scene yesterday morning said he was afraid he would be late for work.
Chumpol Choopradit, 41, surrendered to police Wednesday evening, hours after he hit Suveera "Q" Boonrod and his friend with his motorcycle in Thonglor. The impact left both men seriously injured, with the 35-year-old musician requiring an immediate operation for a brain injury. Doctors said he's now in stable condition.
"He stopped and helped the victim a bit, and when other people came to help, he went on his way to work," Jirakrit Jarunphat, deputy chief of Thonglor police station, said by telephone Thursday. "He said he was in a hurry to go to work. He was afraid he would be late."
Chumpol, who was said to work as a driver for a Japanese company in Chonburi province, has been charged with reckless driving causing severe injury to others and not reporting an accident to law enforcement officers.
Col. Jirakrit added that he did not believe Chumpol was intoxicated at the time of the accident.
Q was hit by Chumpol as he was crossing a street with a friend in Soi Thonglor 13, a moment captured by CCTV:
His friend, Tharathep Khansongkij, suffered injuries to his skull and legs.
Brain surgeon Krissanee Karnchanapandh said Q underwent surgery just in time to prevent him from entering a coma, or worse.
"It was fortunate that we operated on the patient in a timely manner," Krissanee said. "If it had taken [slightly] longer than that, his life would have been threatened."
The surgeon said it's too early to say when Q will leave the ICU.
Related stories:
Hit-and-Run Van Driver Confesses to Killing German
Hit-and-Run Suspect Admits to Running Over Tourist on Samui
BKK Hit-and-Run Driver Charged, Released From Police Custody