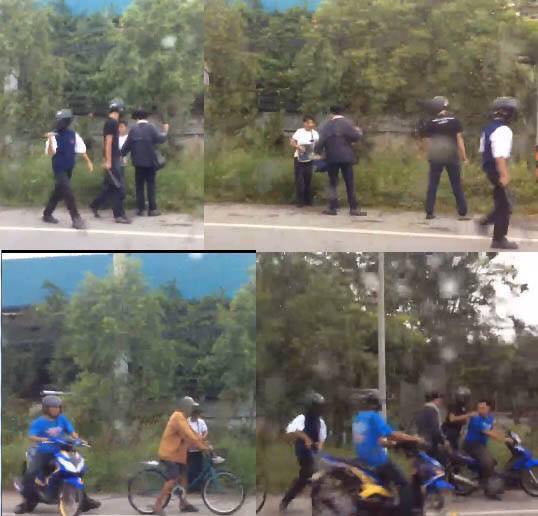 SAMUT PRAKAN — Three of six vocational students suspected of slashing the face of a 20-year-old factory worker turned themselves into police Thursday morning.
Eakarin Thurapat was left with deep facial wounds by six students who thought he was from their rival school on Wednesday afternoon as he was riding to his factory workplace in southwestern metro Bangkok. Along the way, he was chased by six men on three motorcycles who blocked his way and asked which school he was from. Eakarin did not answer but attempted to flee. The group gave chase and slashed his arm with a knife, causing him to lose control and crash his motorcycle.The gang then stopped and slashed his face.
"They said they misunderstood that he was from a rival school because of the shirt uniform he was wearing," said the commander of Phra Samut Chedi police, Col. Anan Chaichan.
The shirt Eakarin wore was his uniform as an employee of Thailand Iron Works PCL.
The incident caused a big sensation online after a rescue worker who witnessed the incident posted video showing Eakarin's attack. It had been watched nearly four million times by Thursday morning.
In the video, two of the three attackers' identities are concealed by helmets.
Police inspected footage from a roadside CCTV camera and identified six suspects, all students from the Phra Samut Chedi Industrial and Community Education College, Anan said. He declined to disclose their names, saying it was because they were under 20.
Three of the suspects turned themselves in Thursday morning and reportedly confessed. They were charged with assault.
"We expect the other three to surrender to police today too," Col. Anan said.
Related stories:
Bangkok Man Says He Slashed Stranger Because He Was Drunk, Confused