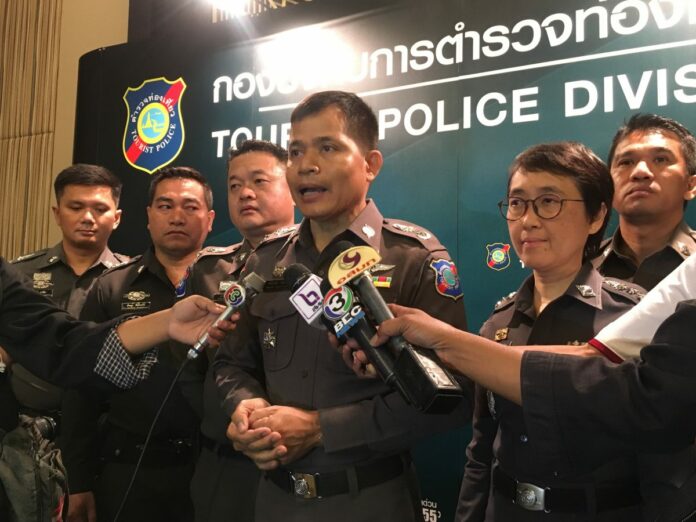 BANGKOK — Tourist police held a public press conference Wednesday near Suvarnabhumi Airport to warn the public about the dangers and methods used by thieves who steal luggage off of luggage carousels and aircrafts.
Police said the past year has seen almost 300 cases of criminals who fly into Thai airports pretending to be tourists and stealing expensive-looking luggage from airport carousels and airplanes as well as from the Airport Rail Link.
"Of the 300 cases, 120 happened to foreigners. Fewer foreigners have filed police complaints because of tourists' language barriers and them having to catch their flight home," Maj. Gen. Prasert Ngeunyuang of the tourist police said.
As for the nationality of the majority of luggage criminals, Prasert said he "cannot mention the country names because it may impact international relations. However, they're mostly from neighboring countries to the north of Thailand."
Read: 'Overhead Bin' Thief Suspected of 460,000 Baht In-Flight Theft
"We catch the perpetrators in pretty much all the cases. They're traceable,
Lt. Col. Chaya Phanakit of the Tourist Police said. "Sometimes foreigners who have already flown home even emailed us asking us to find their luggage, and we found it."
Prasert said tourist police are sending out uniformed and plainclothes police on foot, car and segways to monitor international airports round the clock. He said the tourist police is working with immigration police, airport taxi drivers and hotel operators to catch suspects.
The initiative has been named Ta Supparot or "Pineapple Eyes," referring to the network of people across careers who have agreed to cooperate in helping police find suspects. Similar missions are often named Ta Supparot.
Prasert says the thieves are targeting expensive brand name bags on luggage belts and planes in order to resell them or use the credit cards inside. The thieves allegedly fly from airport to airport collecting enough bags while pretending to be tourists before returning home.
Luggage and wallets have also been stolen on the Airport Rail Link and tourist attractions where tour buses stop before going to the airport. Trade events that attract wealthy customers such as jewelry shows are also a target for such thieves, said Prasert.
In April 2016, a Vietnamese man was arrested for stealing a bag from Suvarnabhumi Airport. A month later, a Chinese man was caught trying to make off with almost half a million baht from a bag in the overhead compartment of a flight inbound from Dubai.
Related stories:
'Overhead Bin' Thief Suspected of 460,000 Baht In-Flight Theft
Vietnamese Man Accused of Lifting Luggage at BKK
Taxi Driver Busted for Stealing Tourists' Bags at BKK Airport