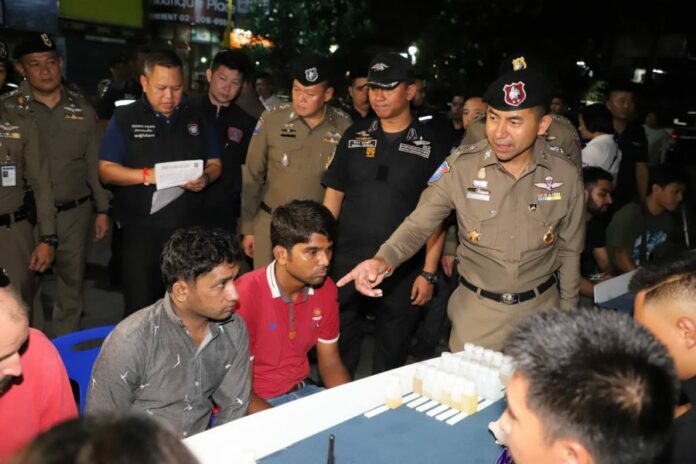 BANGKOK — Police announced early Friday morning the arrest of 123 foreigners suspected of various visa infractions.
In the latest police action as part of a sweeping crackdown on foreigners in the capital, regular and tourist police officers raided 49 schools and 59 hostels throughout the capital Thursday in search of people who entered the kingdom illegally or overstayed their visas.
"Some foreigners come in to do criminal activities under the guise of tourists. There are networks to make fake credit cards, marriage scams, sell fake gems and drug-related groups," said deputy tourist police chief Maj. Gen. Surachet Hakpal, who led the raid.
Of the 123 suspects paraded before the media at about 1am this morning, 17 were accused of overstaying their visas: nine Indians, two Cambodians, two Pakistanis, and one person each from China, Myanmar, Kenya and Egypt.
A total 91 people were found to have entered the country illegally: 62 Burmese, 14 Laotians, four Cambodians, three Vietnamese, three Indians, three Pakistanis, one Belgian and an Australian.
The 14 others were charged with various other offenses.
Thursday's raids were the fifth in an operation police are calling "X-Ray Outlaw Foreigner." Its stated purpose is to remove people who have overstayed their visas, though raids targeting "black people" began under the banner of "Operation Black Eagle" last year. Police say they have arrested 490 people under the new campaign, and acknowledge they are going after "dark-skinned people."
Related stories:
75 Foreigners Arrested in Soi Cowboy Crackdown
Africans, Indians Arrested in Latest Raid on 'Black People' (Video)