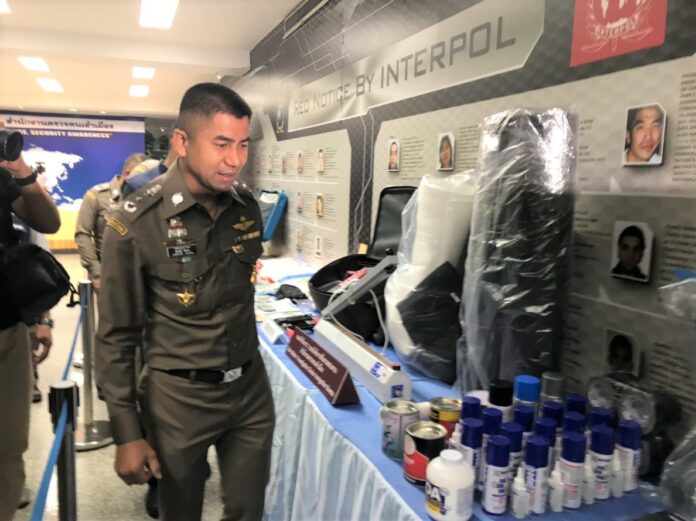 BANGKOK — An Iranian man was arrested in Bangkok and accused of being involved in an international crime ring tricking Japanese tourists to smuggle drugs into Asian and European countries, police said Monday.
Police said they detained Mohamad Ali Ezazi, 43, on Friday and seized several kilograms of methamphetamine from him following a complaint from a Japanese tourist. The tourist told authorities he was given the contraband after arriving in Thailand last week on a free tour he won from a travel website in his home country, deputy immigration police chief Itthipol Itthisarnronchai said.
The raids of Ezazi's rooms in Bangkok found suitcases packed with clothes soaked in liquid methamphetamine, including about 3 kilograms of crystal meth, police said. He was charged with illegal drug possession.
The unidentified tourist told immigration police and the Japanese Embassy that he was awarded a trip to Bangkok, Shanghai and Frankfurt along with about 200,000-baht pocket money. After landing in Thailand on Wednesday, he told police that the website's staff asked him to pick up a suitcase to bring to China, claiming it had been forgotten by another tourist arriving before him.
Maj. Gen. Itthipol said the Japanese man alerted authorities after he opened the suitcase and found the clothes inside had a suspicious texture. The Immigration Bureau then instructed him to pretend to be too sick to travel. He asked to return the luggage and Ezazi was arrested when he showed up to reclaim it.
The investigation later confirmed the clothes in the suitcases were doused with liquid methamphetamine, Itthipol added.
According to police, Ezazi confessed to preparing the suitcases and delivering one of them to the victim, and said he had worked with Iranian associates and a network of Yakuza crime syndicates tricking Japanese tourists and using them as drug mules going into Asia and Europe for about two years.
Ezazi told police that the group specifically targeted Japanese tourists as the their passport is now the most accepted, with visa-free or visa-on-arrival access to 190 countries.
Itthipol said further investigation will be conducted to crack down on the network.