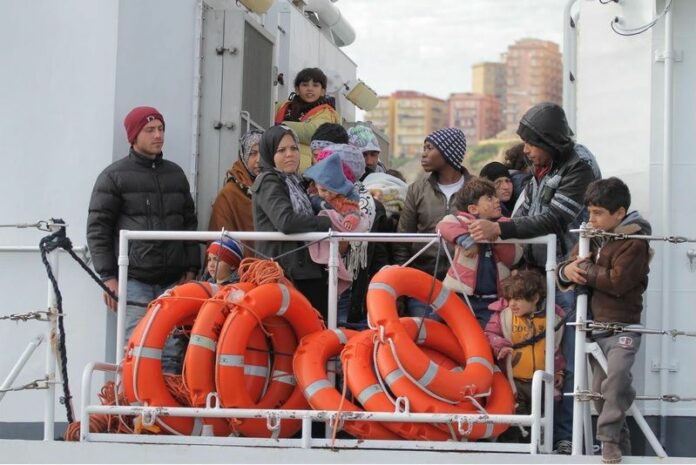 ROME (DPA) – Hundreds were feared drowned Sunday after a ship packed with migrants capsized off the Libyan coast, the Italian Coast Guard said.
Coast guard vessels rescued 28 people after the accident was reported around midnight. A total of 24 bodies have so far been recovered.
"The rescue operation continues without pause," a statement from the coast guard added.
Media reports said the ship was carrying around 700 migrants when it capsized, some 200 kilometres south of the Italian island of Lampedusa.
The migrants on board likely rushed to one side of the boat to flag down a passing Portuguese vessel, prompting the ship to overturn, the Italian Coast Guard said.
The accident comes days after Save the Children said nearly 400 people were missing from another shipwreck off the coast of Libya as Italy pleads with European partners for more help in managing the steady flow of migrants heading for its shores from North Africa.
Outrage and concern about the fate of migrants trying to reach Europe has grown since a pair of shipping disasters in October 2013 left more than 350 dead off the coast of Lampedusa.
"We have been asking for more than a year and they haven't responded," UNHCR spokeswoman Carlotta Sami told Italy's Sky TG24 television.
"If the toll from this latest tragedy is confirmed, the number of dead in the Mediterranean in the last 10 days will be over a thousand," Sami said.
Amnesty International called on European governments to take responsibility for the repeated shortfall in specialist search and rescue teams in the Mediterranean.
"What we are witnessing in the Mediterranean is a man-made tragedy of appalling proportions," said John Dalhuisen, Amnesty International's Director for Europe and Central Asia. "These latest deaths at sea come as a shock, but not a surprise."
EU foreign policy chief Federica Mogherini said she would add the accident to the agenda of a Foreign Affairs Council meeting on Monday and would present a set of proposals for Libya, one of the main routes of illegal trafficking of migrants.
"We need to continue to work on the root causes of migration and most of all on the instability of an area that is broader and broader, from Iraq to Libya," Mogherini said.
French President Francois Hollande told French broadcaster Canal+ that the accident is one of the worst migrant catastrophes in the Mediterranean this year and called for more surveillance boats.
The rescue operation for the capsized vessel is being carried out by Italian coast guard, navy, air force and merchant vessels with assistance from Maltese authorities.
For comments, or corrections to this article please contact: [email protected]
You can also find Khaosod English on Twitter and Facebook
http://twitter.com/KhaosodEnglish
http://www.facebook.com/KhaosodEnglish