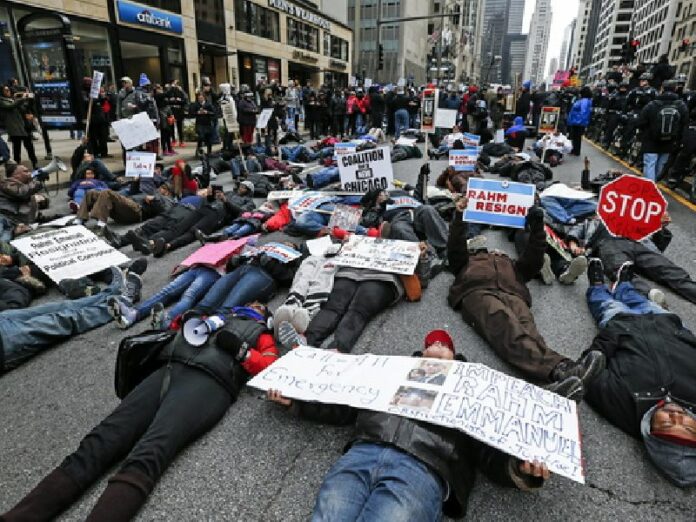 WASHINGTON — Last-minute Christmas shoppers in central Chicago were met Thursday by protesters calling for the resignation of the mayor over the handling of the investigation into the police shooting of an African-American teenager.
The protesters blocked the entrance to several stores along the city's most famous shopping street and held signs calling for Mayor Rahm Emanuel to resign.
They held "die-ins" in the street and tussled with police as they staged what they called Black Christmas in response to the shooting of 17-year-old Laquan McDonald.
Chicago police lined up to protect the entrance to the Apple store on the Magnificent Mile, a commercial stretch of in the city centre. Protestors also blocked the entrance to a shopping mall and at one point caused all lanes of the street to be shut down as they marched and chanted.
More than a hundred people took part in the protest, according to the Chicago Tribune. The newspaper said the store entrances were blocked for only a few minutes at a time.
The protest is the latest in a series of demonstrations in Chicago following the release last month of a police dashboard camera video showing a white officer shooting McDonald 16 times in October 2014.
One officer has been charged with first-degree murder in the case.
The delay in the release of the video has raised questions about whether the police department properly investigated the case.
Story: DPA
To reach us about this article or another matter, please contact us by e-mail at: [email protected].