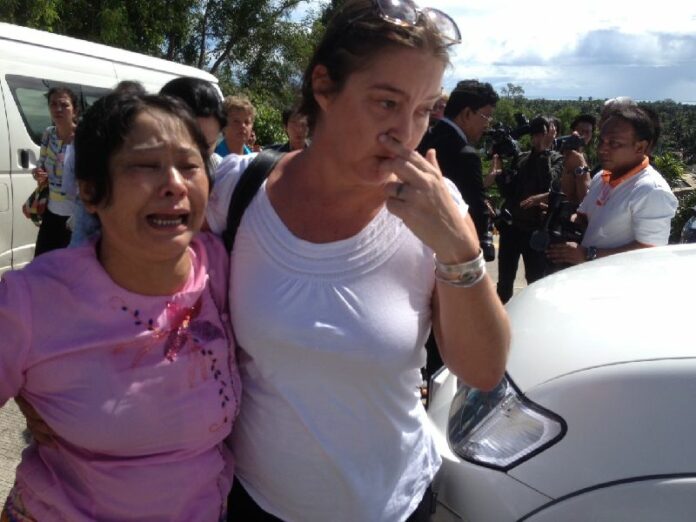 YANGON — The Thai embassy in Myanmar issued a statement Thursday warning Thais in Myanmar to take safety precautions, amidst the outrage that followed the court verdict in Samui that sentenced two Myanmar men to death for murder.
In the statement, the Royal Thai Embassy in Yangon warned its citizens to be careful when traveling and avoid identifying themselves as Thais in public.
The notice was issued on the same day a court in southern Thailand found two Myanmar men, Zaw Lin and Wai Phyo guilty of killing two British tourists on Koh Tao in September 2014. The pair were both sentenced to death.
The statement issued by the Royal Thai Embassy in Yangon.
Sek Wannamethee, a spokesperson for the Ministry of Foreign Affairs, said the verdict prompted a small protest outside the Thai embassy in Yangon on Thursday afternoon. Around 30 Myanmar protesters gathered for about an hour before dispersing peacefully, Sek said.
Sek also said that Myanmar authorities have placed 20 police officers around the embassy as a safety precaution. So far there have been no reports of any Thais in Myanmar being affected by the protest or any other incidents.
Irrawaddy, an online news site that covers Myanmar and Southeast Asia, reported on Dec. 24 that the director of the President's Office, Zaw Htay, wrote on his Facebook account that the Myanmar government would support the two defendants during their expected appeals.
Meanwhile, Migrant Worker Rights Network activist, Andy Hall, who has been providing assistance to the defense, said he, his organization, the two defendants and the defense lawyer team respect the court ruling.
But he added that he and his team disagree with the verdict, and will adhere to the rule of law in appealing the case.
Related stories:
Two Myanmar Men Convicted of Koh Tao Murders and Rape; Death Sentence For Both
Koh Tao Murders: Defense Asks Court to Drop Charges
Koh Tao Murders: DNA on Weapon 'Does Not Match' the Accused
Lack of Evidence, Local Media Coverage Adds to Mystery of Koh Tao Murder
Koh Tao Trial Resumes, Court Shown Footage of Victims' Final Night
Koh Tao Murders: Top Forensic Scientist to Testify for Defense