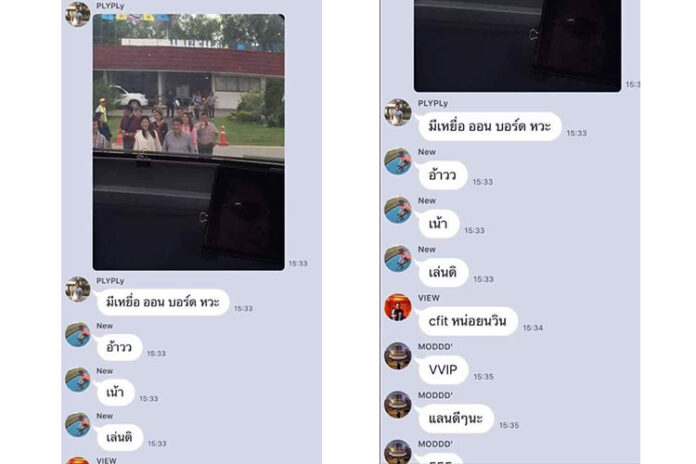 BANGKOK — Two years after her government was deposed, former premier Yingluck Shinawatra remains a hated figure for some, including the commercial airline pilot flying her home on Sunday.
The latest scandal arose when a pilot of Nok Air flight DD8005, which was flying Yingluck from Phrae to Bangkok on Sunday afternoon, sent messages via Line into a group of at least four people that he or she should crash the plane because Yingluck was aboard.
"We have prey on board," someone wrote in the message exchange after posting a photo of Yingluck and her group heading to the plane. "Get her!" came the reply, followed by the pilot requesting a "CFIT."
CFIT is an acronym for Controlled Flight Into Terrain – technical language for crashing an airplane.
The unidentified messages to the pilot's friends were later seen by Yingluck's niece Chayika Wongnapachan and cousin Panthongtae Shinawatra.
"I am saddened and didn't expect such a thing to happen," said Chayika, who is a close aide of Yingluck and was among the dozen others aboard the flight.
Trying to sound magnanimous, Chaiyaka said she thought it was a joke.
"The passengers have become the first prey while the [airline] management became the prey of a pilot who can't differentiate between personal politics and work."
Not everyone took it so well.
"I think the first and only step is to fire [the pilot] because we can't have a pilot flying with such a mental state," said Ekachai Chainuvati, a law lecturer at Siam University and a die-hard Yingluck supporter.
Joke or not, the pilot's behavior comes as Thailand is trying to satisfy concerns of international aviation authorities to lift a "red flag" placed on its civil aviation sector for failing to meet safety standards.
Last year a new civil aviation law enacted more stringent penalties in line with international standards for anyone who makes statements, serious or not, about a potential aviation threat.
According to Article 15 of the Civil Aviation Crimes Act, that law applies to anyone on the plane and is is punishable by imprisonment between five to 10 years or a fine between 200,000 baht to 400,000 baht, or both.
A spokeswoman for the Civil Aviation Department, Aparat Yaithongbu, said they would likely wait for Nok Air to come file a report on the matter first.
Nok Air CEO Patee Sarasin issued an apology and vowed to investigate the matter, adding that there's no discrimination at Nok Air, an airline already struggling to stay aloft this year after the departure of many pilots and a strike among those who remained, which left many passengers stranded.
"I'll call to apologize Yingluck myself. At Nok Air, there's no politics. I definitely won't take it," Patee tweeted Sunday night.
Ekachai said he would boycott Nok Air, saying the incident undermined his confidence in the airline, whether its pilot's hatred was expressed toward Yingluck or someone else.
"I'm shocked and in fright," said Ekachai. "I think I will seek out alternative airlines. Such prejudice means it's hard to expect justice for Redshirts."
Additional reporting Chayanit Itthipongmaetee
Related stories:
Thailand Scrambles to Improve Aviation After FAA Downgrade
US Downgrades Thai Air Safety Rating
Thai Aviation Safety Downgrade 'May Affect Charter Flights'
Thailand to Miss UN Aviation Agency's Safety Deadline