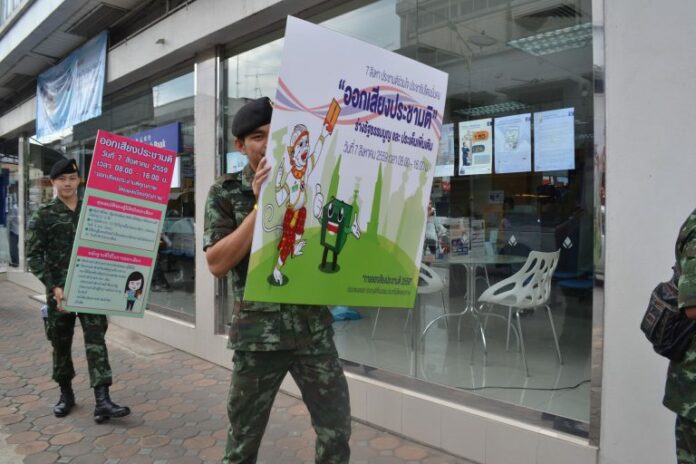 BANGKOK — Organizers of the upcoming referendum, in which millions of Thais would decide whether to accept or reject a new constitution, were dismayed to find that only a fraction of those voters signed up for voting outside their hometowns.
Although there are 20 million Thais living outside their registered residences, only 230,000 of them – or around one percent – signed up to be eligible for voting by Thursday, the last day of registration, Election Commissioner Sawaeng Boonmee announced.
"It means that people who live outside their registered electoral areas have little interest [in the vote]," Sawaeng lamented.
UN Refutes Rosy Thai Account of Meeting Over Referendum, Rights
Apart from the possibility that millions of voters may not bother to travel home and miss the votes on Aug. 7 altogether, a civil rights group also warned earlier this week that many members of the public do not even know when the vote will take place, or what will be asked in the referendum.
Speaking to reporters on Thursday, Sawaeng said his agency will use several measures to reach the goal of an 80 percent turnout rate, such as dispatching local administrators to "knock on doors" of residents and encourage them to show up to vote.
He said he will also ask for cooperation from employers across the country to let weekend-shift workers have a day off on Aug. 7 so they can travel to their home provinces and vote.
"As for other measures, right now they are being discussed by the central body of the Election Commission," Sawaeng said.
The referendum on Aug. 7 will ask voters to accept or reject the new constitution drafted under the military government that seized power two years ago. The junta wants the public to endorse it, while its opponents are urging otherwise.
Also asked in the same referendum is a vaguely-worded question about whether voters would allow the Senate and the House of Parliament to select a non-elected person to serve as Prime Minister in the upcoming "five years of transition period."
But according to a group opposed to the charter, most people don't even know what will be asked. In a survey of 158 people published Sunday by the Internet Law Reform Dialogue, or iLaw, 90 percent of respondents said they didn't know about the second question in the referendum.
In the same survey, conducted between June 29 and July 1, 70 percent of respondents could not correctly identify the date of the referendum.
"It indicates that people still lack sufficient information to cast their ballot at the referendum with understanding of the issues," Jon Ungpakorn, founder of iLaw, said in a press release.
Related stories:
International Concerns Mount Over Referendum Restrictions, Arrests
iLaw Sues to Get 'One-Sided' Referendum Show Taken Off Air