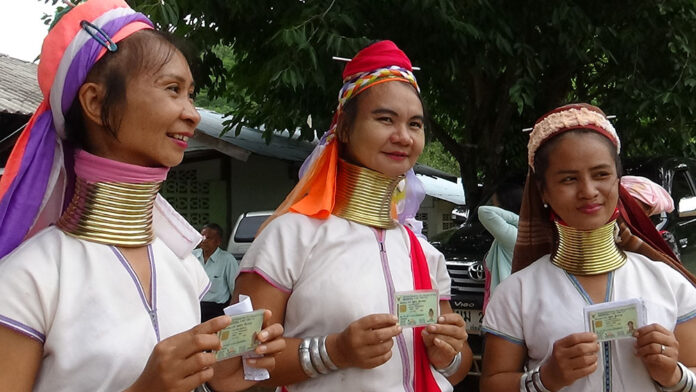 It's all hands on deck at Khaosod English for Referendum Day. Our central news team will be monitoring the poll and related developments and will post items of note throughout the day here. We will take advantage of our sister organization, Khaosod, which has reporters located throughout the nation. Khaosod English reporters have been sent to poll stations in and out of Bangkok. Got something you want to share? Use #ThaiReferendum on Twitter.
6:50pm That's a Wrap!
Apart from updating with more returns, we're concluding our live blogging for today's referendum vote. Thanks for tuning in!
Read: Returns Show Landslide Win for Junta in Charter Poll
6pm Returns Suggest Landslide
By 6pm, 66% of the returns entered showed the charter supporters ahead 62%, suggesting a massive landslide and big win for the military regime.
4:50pm LIVE: Election Commission News Conference 
Early returns will start being shown about 5:30pm
Results expected around 6pm and 7pm
Official results Wednesday, Aug. 10
Some ripped ballots from 26 provinces, only one torn intentionally
Piyarat Chongthep, the activist who ripped his ballot in defiance of the poll's legitimacy, will be charged under Article 59 of the Referendum Act, while his friends filming from outside will be charged under Article 60 for instigating unrest
Expect 70% turnout, an which would be an increase over 2007 referendum's 57%
5:15pm No Voters Turned Away, Khon Kaen Official Says
A local official working with the Election Commission in Khon Kaen said no voters were turned away there. Thanawuth Kornjaijitra said officials roped off the entire area where voters were queuing so all could cast their ballots in time. Not one voter was turned away, he said.
4:25pm Voters Turned Away From Crowded Polls
Due to long lines, some voters at Khon Kaen's polling station Nos. 4-9 couldn't cast their ballots in time. They were turned back when the poll closed at 4pm. Only those who managed to queue inside the area roped off by election officials were allowed to vote after 4pm.
Referendum observer group We Watch earlier criticized the organizers for placing a disproportionately high number of voters for the six polling stations. Whereas other stations have no more than 800 voters registered, those six had as many as 1,700.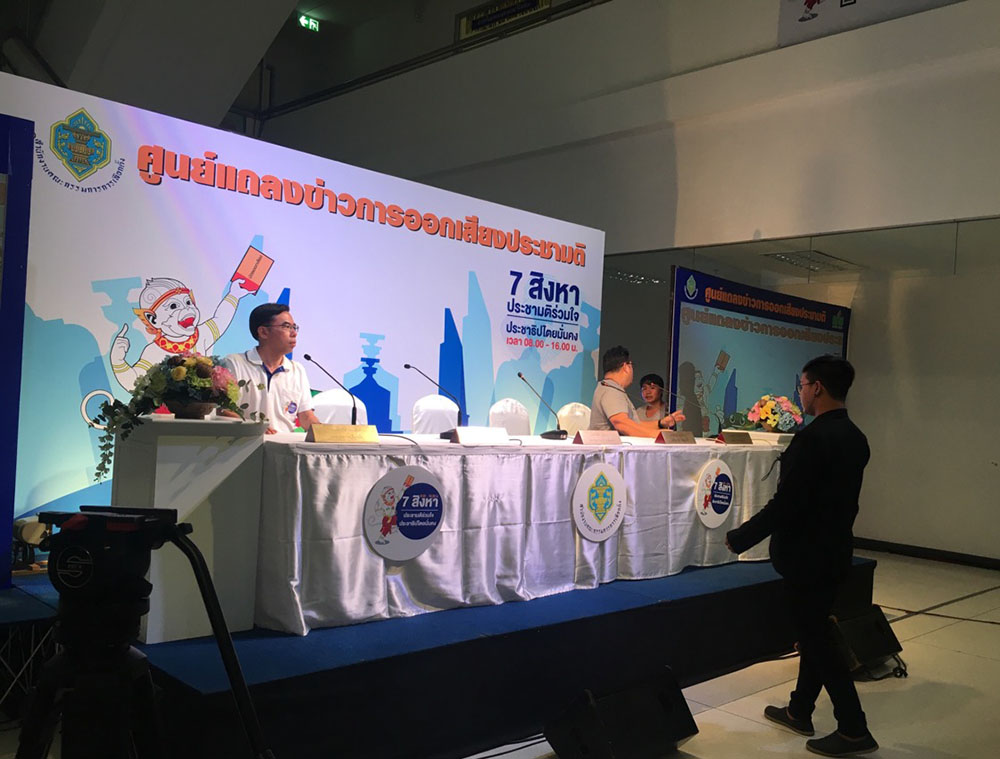 4pm Polls Close
Following protocol, each of the 95,000+ polling stations will begin counting their votes, which will be displayed to people outside the poll. Those results will be entered into a smartphone app for transmission to the Elections Commission headquarters at the Chaeng Wattana Government Complex in Bangkok. As announced last week, only up to 95 percent of the returns will be made public as part of those "unofficial results." For more details, read out write-up: How Referendum Sunday is Supposed to Go Down, Step-by-Step. The commission will hold a news conference shortly.
3:30pm Few Observers Report 'Very Normal'
Several elections monitoring groups complained the Election Commission slow-walked their applications until it was too late for them to participate. One of those, the Asian Network for Free Elections, or ANFREL, ended up fielding 11 unofficial observers to six provinces. There are 95,000+ polling stations nationwide.
"Everything is very normal," said ANDREL Executive Director Ichal Supriadi, adding that the group may issue a statement Sunday night.
Pongsak Chanon, the network's coordinator for Thailand, said the repressive climate leading up to the referendum would factor into the network's decision to endorse the referendum results.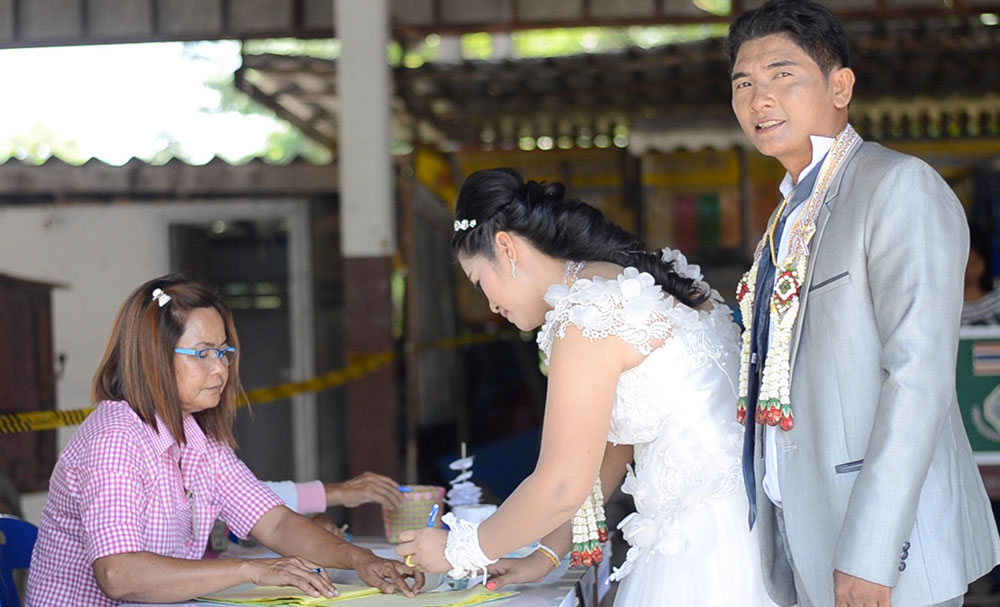 3:20pm Just Married
Arriving in her wedding dress, Kamkanueng Seksuwong said she and groom Rungroj Samranmak hurried to vote from their wedding ceremony earlier today because they were afraid of missing out.
"Today is an important day in my life because I got married, and I get to do my duty as a Thai citizen," Kamkanueng said.
Read: Referendum Day: Turnout Strong, Knowledge Low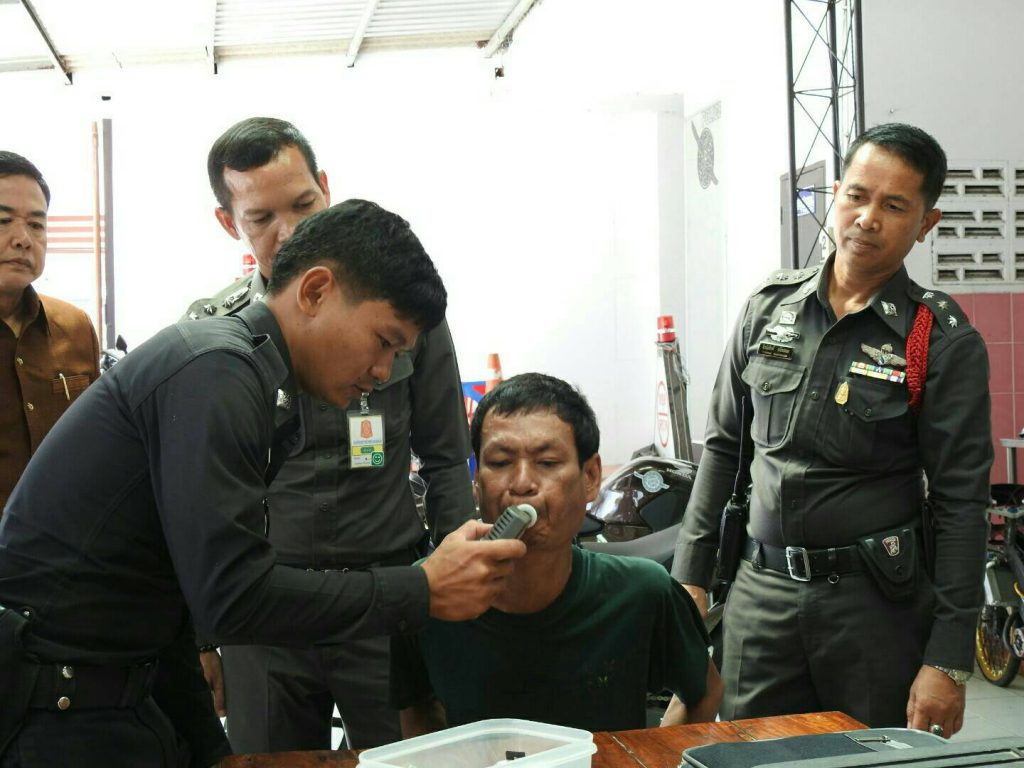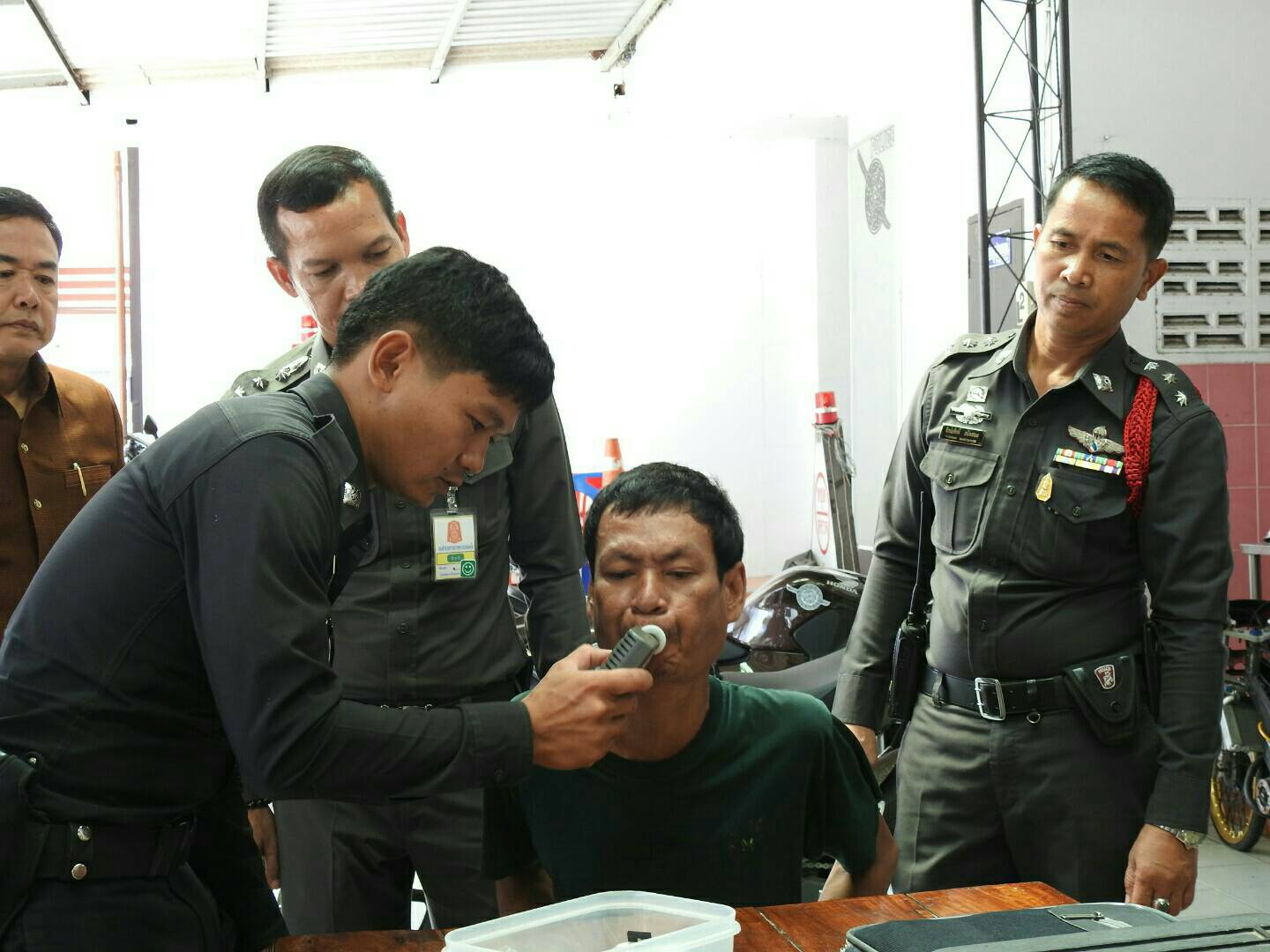 2:39pm Voting Under the Influence
Despite a day-long ban on alcohol sales throughout the country, a 42-year-old voter in Surin province still managed to help himself to some booze and get to the polling station drunk. Sombat Boonsalee was arrested after he shouted incoherent remarks and tore his ballot.
Cops took Sombat to a police station where a breathalyzer confirmed he was highly intoxicated. Sombat reportedly confessed to drinking moonshine prior to voting.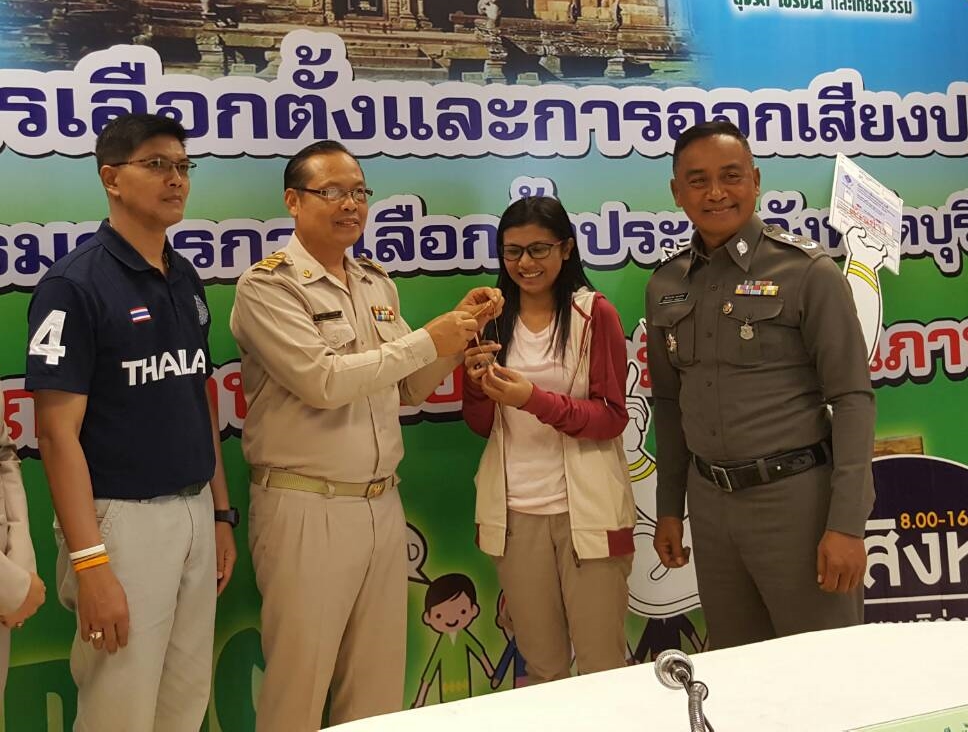 2:31pm Lost and Found
A 26-year-old civil servant left more than her ballot paper at a polling station in Buriram province, having accidentally dropped a gold necklace worth 10,000 baht near the booth.
Sureerat Sarapol said she realized the necklace was missing while driving home and turned around.
Luckily for her, another voter spotted the necklace and gave it to police officers stationed there, so Sureerat was reunited with the jewelry.
1pm Break!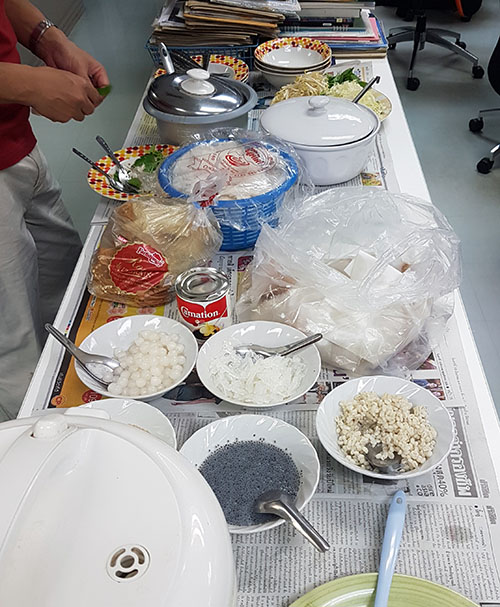 Kanom jeen break in the newsroom. Will resume blogging shortly.
Thumbs Up / Down for Selfies
Voters had their thumbs fingerprinted at polling stations today, an unprecedented measure not seen in previous elections.
For the selfie and Snapchat generation, it's a chance to show they've exercised their right to vote by posting their ink-stained thumbs on social media.
#sananthachat #ประชามติ #ThaiReferendum pic.twitter.com/bITIChLboj

— Mystar Box (@mystar_box) August 7, 2016
https://twitter.com/ppiimna/status/762151997218787328
ออกเสียงประชามติร่างรัฐธรรมนูญ ที่โรงเรียนสวัสดีวิทยา ถ.สุขุมวิท 31 (7 ส.ค.2559) pic.twitter.com/aOvctZCt2g

— Abhisit Vejjajiva (@Abhisit_DP) August 7, 2016
Ousted leader #Yingluck urges Thais to vote in #ThaiReferendum as PM Prayut is heckled https://t.co/WNNfMw6pph pic.twitter.com/Cgep9q2A76

— The Straits Times (@STcom) August 7, 2016
12:34pm Weather Havoc
Foul weather destroyed six polling stations southwest of Bangkok in Samut Prakan province.
12:29pm Ballot Defiance
Pro-democracy activist Piyarat Chongthep was immediately arrested after ripping his ballot in half at a polling station to protest the referendum process, which he said was repressive and unfair. "Down with Dictatorship, Long Live Democracy," he shouted as he tore the ballot.
12:18 NDM Returns-Watching Party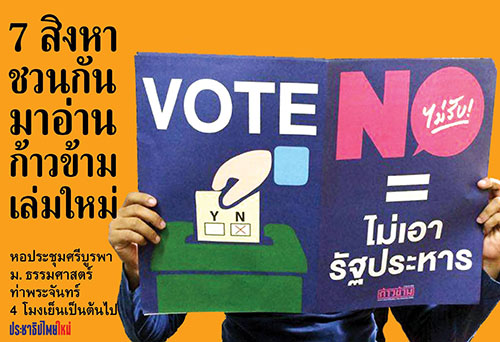 The New Democracy Movement calls upon their supporters to gather at Thammasat University's Tha Prachan campus in the Sri Burapha Auditorium to watch live coverage of the referendum results together starting at 4pm.
11:55 High Turnout?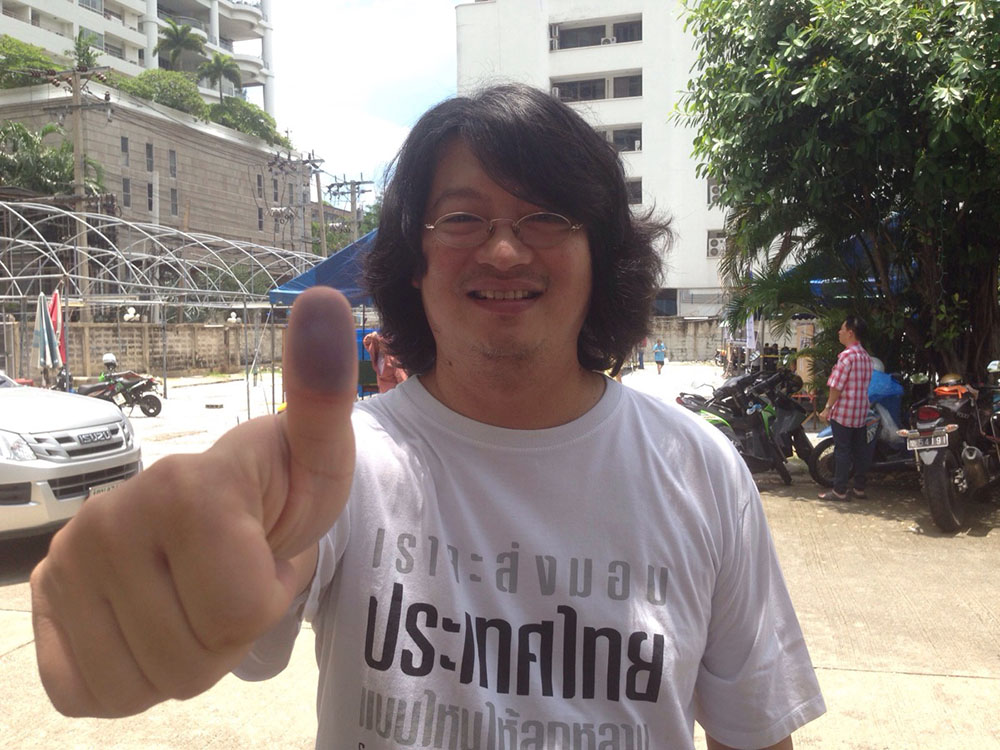 Early, anecdotal reports of relatively high turnout have been coming in from around the country. No confirmed information is available yet.
The turnout for the 2007 charter referendum was 57.6 percent.
Most optimistically, the Election Commission predicts turnout as high as 80 percent, but some critics are doubtful. Redshirt leader Weerakan Musikapong believe more than half of voters will stay home.
Reported so far before noon (developing):
30% in Ubon Ratchathani, according to governor
20% Nakhon Sri Thammarat, according to governor
40% 1 Ayutthaya polling station, according to poll worker
15% at Section 14 polling station in Prachinburi, 50% at Section 16 station.
20% Bangkok's Section 14 in Khlong Toei, according to officers
11:57 1st Vote for Hill Tribe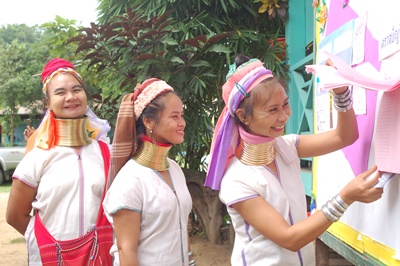 Twenty members of the Kayan tribe in Mae Hong Son province voted for the first time since they became Thai citizens, officials said.
11:44am Booze Busts

https://twitter.com/LesleyKane167/status/762149759566045185
Police said three staff members at a Korean restaurant in Si Saket province were arrested for selling alcohol, a violation of the ban on such sales that will last till midnight.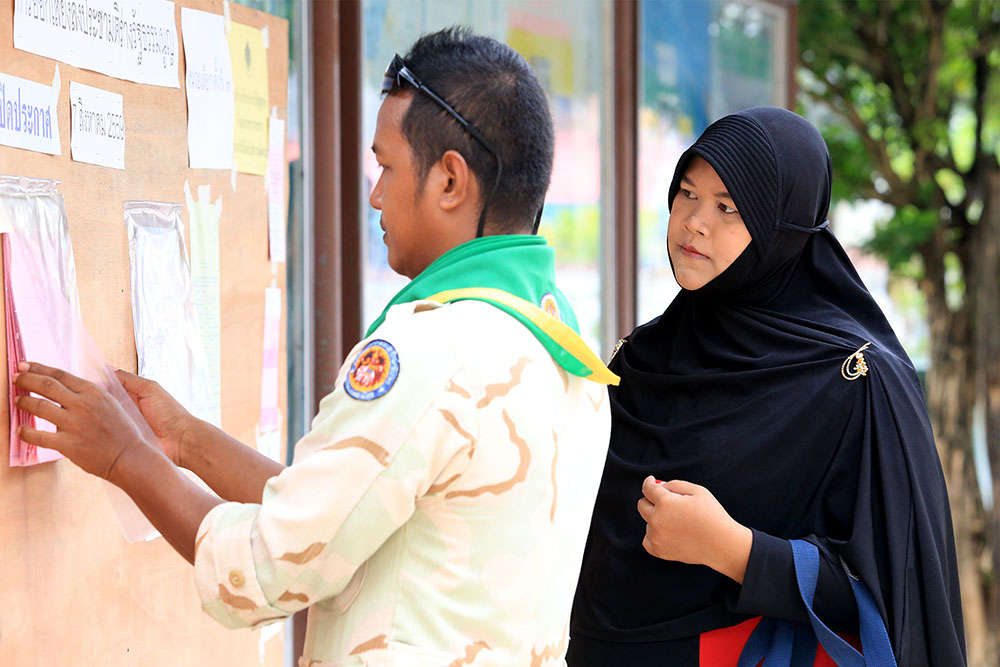 11:20am Weather Warnings
Weather may play a role in turnout, as Satun Gov. Pattarapol Ratanapichetchai said he's worried some voters on his province's 17 far-flung islands may get caught in a storm predicted to lash the sea Sunday afternoon.
The Meteorological Department warns of stormy weather along the Andaman Sea coast in the south.
Rainstorms are expected in the north, northeast and central regions later today.
10:55am Crackdown Continues
After the polls close today, legal prosecution of those who campaign against the charter will likely continue.
In fact, on the eve of the vote, two activists from the anti-junta Dao Din group were arrested in Chaiyaphum province as they handed out Vote No leaflets in a market. Chaturapat Boonyapatraksa, 25, and Wasin Prommanee, 23, were charged with violating the referendum law, which bans "misleading" the public into voting for or against the draft.
On the same day, police in Lampang province said they'll ask the court to issue arrest warrants for three people in connection with a group of former politicians and bureaucrats in northern Thailand who allegedly sent letters criticizing the constitution draft to their supporters.
10:43am Two arrested
Reports say a 69-year-old man and 67-year-old woman were arrested in Bangkok and Pathum Thani, respectively, for tearing up their ballots. Police say the two, whose names were not released, misunderstood the process and thought they made to make a tearing mark on the ballots.
The Election Commission will be alerted about the incident, and officials from the EC can choose to file charges against the pair, according to police.
Damaging ballots and other voting equipment carries a maximum penalty of five years in in prison.
9:30am
Constitution Drafting Committee Chairman Meechai Ruchuphan shows his thumb to reporters after casting his vote in Bangkok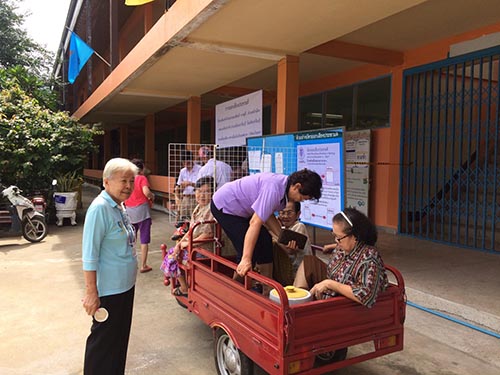 Pokemon Warning
In case it needs to be said: It's illegal to use your phone inside the polling stations, so don't be tempted to catch a wild Vaporeon even if it appears right next to your ballot. Election Commissioner Somchai Srisutthiyakorn said as much in a news conference on Sunday.
"I'd like to advise Pokemon Go players, in the case a rare type of Pokemon appears inside the polling station, please refrain from playing the game in the vicinity," Somchai said.
Military Vote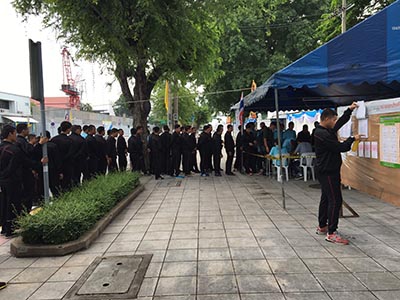 Voting is not only a matter for civilians, members of the armed forces also show up in droves in some polling stations to cast their votes. Military commanders have said troops are free to vote for whatever option they like.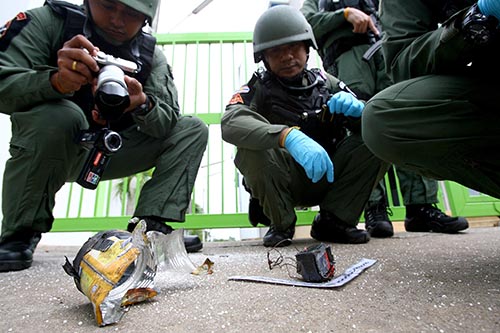 Deep South
Although no confrontation is expected to break out during the referendum, there was an uptick in violence in Narathiwat province on Saturday night, where seven bombs reportedly went off almost simultaneously.
Narathiwat is one of the southern border provinces known as the Deep South that local Muslim separatists want to secede and form a breakaway state. A recent message apparently left by the insurgents suggested the independence movement isn't happy with the junta's new constitution being put to vote today.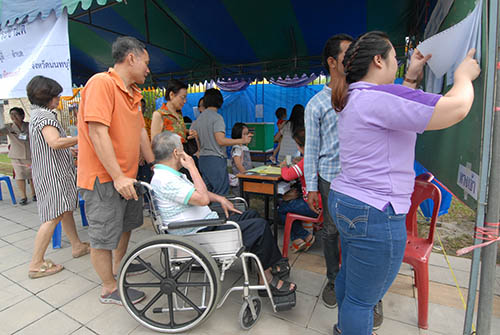 8am Polls Open
Polls open across the country!
Election Commission expects the unofficial result to be available by 7 pm, three hours after the poll closes, while its sec-gen Boonyakiat Rakchartcharoen said the result could be delayed as far as 9 pm if counting encounters any "technical errors" such as server failure.
Some key political figures from both sides already cast their ballots, such as junta chairman Prayuth Chan-ocha, his deputy Prawit Wongsuwan, palace adviser Prem Tinsulanonda and Vote No campaigner Rangsiman Rome.