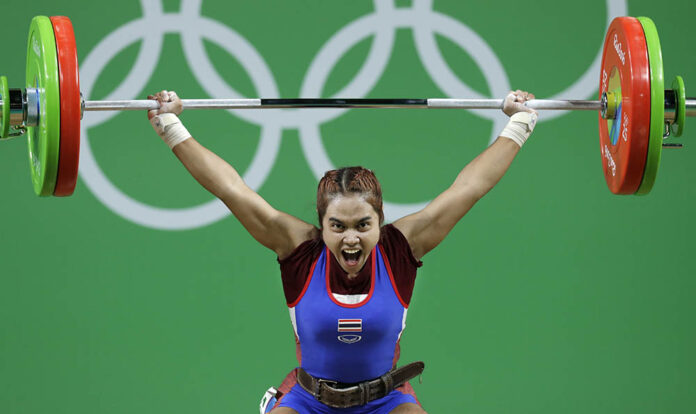 RIO DE JANEIRO — In her Olympic debut, Sopita Tanasan came away with gold.
The Chumphon native won the women's 48-kilogram category Saturday in the first weightlifting event at the Rio de Janeiro Games.
Tanasan snatched 92 kilograms and lifted 108 kilograms in the clean and jerk for a total of 200 kilograms. It was her first time competing on the world level at that weight class.
Read: Here Are Our Olympic Hopefuls Competing in The Rio Games
On her first lift in clean and jerk, Tanasan easily succeeded at 106 kilos to take the lead. She lifted 108 kilos on her second attempt, but failed at 110 kilos on her final try.
In a last-ditch bid to snatch the gold, Sri Wahuni Agustiani of Indonesia twice tried to lift 115 kilos to overtake Tanasan. She failed on the first try and Tanasan celebrated by hugging her coaches in the green room.
"I didn't know what to think," Tanasan said. "I didn't think she would be able to lift it."
Agustiani was able to lift the bar on her second attempt and her coaches screamed in celebration, but she couldn't jerk the weight. She said she's lifted 118 kilos before in practice and thought she'd maybe pull it off for the gold.
"It just wasn't meant to be," she said.
Agustiani won silver and Hiromi Miyake of Japan took bronze.
Morghan King failed to end the United States' 16-year streak of not medaling in the 48kg category, finishing sixth. Tara Nott was the last American to medal, winning gold in 2000. Still, King sent an American record. Her lift of 83 kilos in the snatch broke the U.S. record of 82.5, which had been set by Nott in Sydney. King added 100 kilos in the clean and jerk for a total of 183 kilos.
"The snatch was something I've been working on for a long time. The clean and jerk, I knew it was going to be a lot tougher. But, I'm happy," King said. "I still have to pinch myself that I was out there. You are in the moment and focusing on your lift, then just trying to do your best, and then it's all over. It's kind of surreal."
The event became somewhat wide open after the sudden withdrawal of favorite Hou Zhihui of China. Predicted by many to win the gold, the 19-year-old left Rio with what was described as a knee injury. But there was speculation that the injury — whatever its severity — helped China decide to replace her on the team with over-75kg lifter Meng Suping.
https://www.youtube.com/watch?v=rNGyLGMbbD4
With the Russian weightlifters banned from participating, Meng became a favorite in the heavier division.
So with Hou out of the way, the competition became a crapshoot that Tanasan quickly took control of as the last lifter in the snatch division.
She easily lifted 88 kilos on her first attempt — best of the round — and then bettered her mark twice to 90 kilos then 92 kilos.
Thi Huyen Vuong of Vietnam failed to advance past the snatch round after three unsuccessful attempts at 83 kilos and 84 kilos. It trimmed the field to 11 lifters vying for the medal, all chasing Tanasan.
The 22-year-old Tanasan dropped down from the 53kg class to make her Olympic debut. She lifted 195 kilos to win the junior world championships in that class in 2014, and she was fourth overall at the world championships last year after lifting 210 kgs.
No previous data was available for Tanasan in the 48kg class.
Story: Jenna Fryer