BANGKOK — With the capital on alert for a possible terror threat as an international conference wraps up, security was tight and police raided buildings in three areas on Tuesday, arresting nine people.
Mostly denying the raids were related to an alleged car bomb plot, police, military and SWAT officers broke into an apartment building in Soi Ramkhamhaeng 65, announced raids on eight other area buildings, returned to a suspected bomb den from a 2015 attack and searched a condominium in Samut Prakan province.
Read: Police Memo Warns of Car Bomb Plot at Suvarnabhumi Airport
Police Maj. Gen. Surachet Hakphan said Tuesday that the operation was part of a confidence-boosting effort while Bangkok hosted the Asia Cooperation Dialogue, an international conference.
Surachet said it was unrelated to the memo warning of car bomb attacks on Bangkok landmarks.
In the Ramkhamhaeng area, the morning raid on the Romklao Mansion netted eight men accused of possessing Kratom, a banned stimulant.
Despite frantic police action, officials sought to play down any link to the threat of terrorism – even after making the link themselves.
Surachet said the Romklao Mansion was searched for people who bought guns illegally last week from gun sellers arrested last week in Samut Prakan.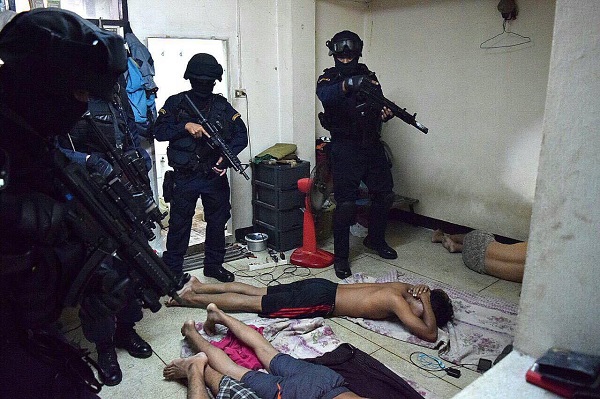 Authorities on Tuesday also raided an apartment in Minburi district where they captured a man now on trial for allegedly planting the Erawan Shrine bomb in August 2015 that killed 20 people.
In southeastern Bangkok's Samut Prakan province, police retreated from an earlier assertion the terror threat drove them to search a condo there.
Preecha Samalee, a 39-year-old native of Yala, a southern border province, was taken into custody without charge. Few additional details were provided as to why Preecha was arrested.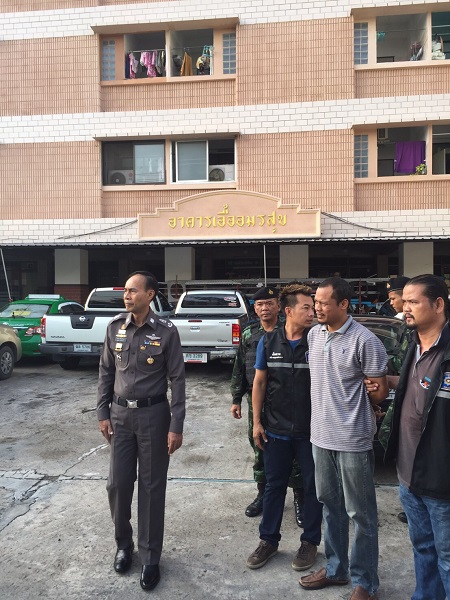 "He is now being taken for questioning by the military," said police Col. Wasan Booncharoen. He said Preecha was taken into custody under the junta's extralegal authority because he was suspected in a matter of national security.
Police said Preecha owns a mobile phone shop and was a suspected member of the Southern Insurgency, because he sent phones into the Deep South several times.
Several of the raids were in neighborhoods with concentrations of Muslim residents. While the evidence has pointed to southern insurgents being behind the August Mother's Day attacks, officials have said they can't find a link.
The August 2015 shrine bombing, ascribed by many security analysts to Muslim ethnic Uighurs, has been described by Thai officials as criminal retaliation and not a terror attack.