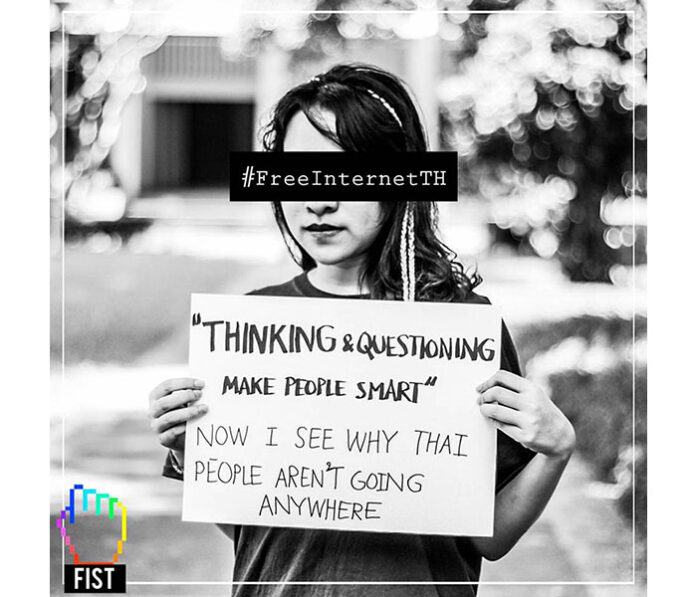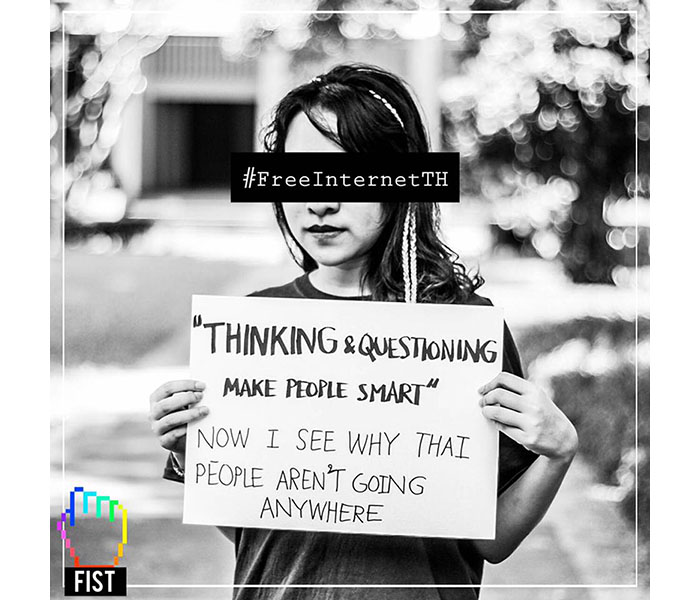 BANGKOK — There are only two ways to deal with those opposed to the Computer Crime Act, according to the army chief. First, try to make them understand. If they don't, then prosecute them.
Army chief Chalermchai Sittisart on Friday played down the effects of this week's online attacks on the government, saying they resulted in little damage. He warned the attackers, who he described as mostly youths, that it was not worth losing their futures if caught and punished.
"The junta website was also attacked but was not damaged much," Chalermchai said at an army event in Bangkok. "It only slowed the site down a little bit."
The attackers were being tracked down and would be prosecuted under the law, he added.
Online opposition group Citizens Against Single Gateway has continued to call for such attacks throughout the week. They demanded junta chief Prayuth Chan-ocha use his absolute power to cancel the law recently passed despite significant opposition on the grounds of privacy and online freedoms.
While much of the methods are believed to be typical denial-of-service attacks, members of the group have also posted documents they claim prove they have penetrated servers belonging to government agencies, police and the military. Most of the data seemed to consist of staff information.
The group announced it would expose details about army spending at 8pm on Friday.
Traffic police on Thursday confirmed their site had been hacked and was offline until they could fix the problem. The Defense Ministry site, among those attacked since Monday, has remained down all week.
At a conference on the controversial law held Friday at Chulalongkorn University, a lawyer who helped write it said people's lives will be the same, and possibly better, when it comes into effect in March or April.
"Starting then, the court will dismiss all defamation cases being tried under the Computer Crime Act," Paiboon Amonpinyokeat said.
Paiboon has maintained throughout the process of rewriting the 2007 cybercrime law that its most problematic section was improved to prevent it from being misused to prosecute online defamation cases. Rights activists and experts say it is still vague and ripe for abuse.
Right activists at the forum said passage of the Computer Crime Act 2.0 was another illustration of problems with the junta-appointed legislature.
Arthit Suriyawongkul of the Thai Netizen Network said the law ultimately places the burden on the courts to decide what is illegal or not, which compromises the supposed separation of powers between the three branches of government.
"We put most of our hopes on law enforcement and the courts," he said  "Why didn't we write it more precise in the first place?"
A prominent journalist said the law reflects the thinking behind hundreds of laws being drafted by the military regime.
"It reflects the idea of centralization," Prasong Lertratanawisute said Friday. "If we can't defeat this idea, then we have to continue holding forums like this every time they issue a new law."
Related stories:
Gov't Payment System Offline As Hacktivists Focus Online Assault
Dismissive Prayuth Tells Hackers to Knock it Off
Computer Crime Act 2.0 Passes Unanimously
Single Gateway 'Still Necessary,' Deputy PM Prawit Says
'Back Door' in CCA Not Trojan Horse for Single Gateway, Drafters Say
New Cybercrime Regs Would Open Back Door to Censorship
Website Shutdowns Soar After King's Death
Why Thailand Should Worry About an Improved(?) Computer Crime Act
Thailand's Draconian Cyberlaws Tipping Toward Totalitarian
Computer Crime Act Has Issues, Google Tells Censorship Committee